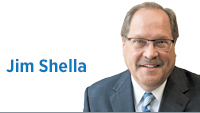 The Andrew Luck retirement news was a big story. No one disputes that, however, lots of people questioned the way it was reported and especially the timing of the first bulletin.
It came from ESPN reporter Adam Schefter, who put out a tweet at 9:28 p.m. on Saturday, Aug. 24, during a preseason Colts game when Luck was standing on the sidelines.
"Filed to ESPN: Andrew Luck has informed the Colts he's retiring from the NFL, per source," he tweeted.
Moments later ESPN shared the news in a scroll along the bottom of the TV screen during a college game. I was watching that game with friends and found the news hard to believe.
So, I went to Twitter and located the tweet. Game over. Schefter is good reporter and, while he didn't give a name, he had a source.
It didn't take long for confirmation to come from Luck but some Colts fans were rubbed the wrong way. Why was it necessary to tweet it out during a game? Why couldn't the news wait until Luck released it himself? Why take away the Sunday afternoon platform that Luck envisioned for his announcement?
As someone who has broken big stories over the years (maybe not this big, but I did break the story that Gov. Mitch Daniels was heading to Purdue) I can tell you that Schefter and his bosses didn't consider any of that. ESPN's sole concern was to inform the public and to do so before any of their competitors did.
That's the way the news business works, especially in a social media age. There was a time when a newspaper, scoop in hand and confident that other media outlets would not catch up, could wait overnight to publish a story. TV stations used to sit on breaking news until the 6 p.m. newscast for optimum impact. No longer.
When I confirmed the Daniels to Purdue news in 2012 the first reaction from my boss was to ask, "Should we hold it till 6?" My response was something akin to "Are you kidding?" And so, the boss said, "Let's break in!"
The next thing you know I was interrupting The Price is Right. We gave no thought to how that bulletin might affect the vote on the Board of Trustees or Purdue's plans for a public announcement. That's just not a consideration.
So, back to the Luck story. Who was the source of the leak? We will never know. Reporters don't disclose that sort of information. I've been given a subpoena to appear in court in the effort to identify a leak. I wouldn't answer the question and no decent reporter will. The ESPN source, no doubt, requested and was given anonymity likely because it was someone Schefter knew and trusted.
What we do know is that Luck told teammates his plans and some of them knew for a day or two. And the Colts knew. It's hard to keep that kind of information under your hat. That means fan anger likely should point in the direction of Andrew Luck. (Was there bad advice from the Colts? Maybe. But it was Luck's secret to keep.)
Meantime, national newscasts were still playing the story Monday evening and sports shows discussed it for days after. Nobody missed out.
File the complaints about Schefter and his timing under the categories of emotional reaction/shoot the messenger.•
__________
Shella hosted WFYI's "Indiana Week in Review" for 25 years and covered Indiana politics for WISH-TV for more than three decades. Send comments to ibjedit@ibj.com.

Click here for more Forefront columns.
Please enable JavaScript to view this content.