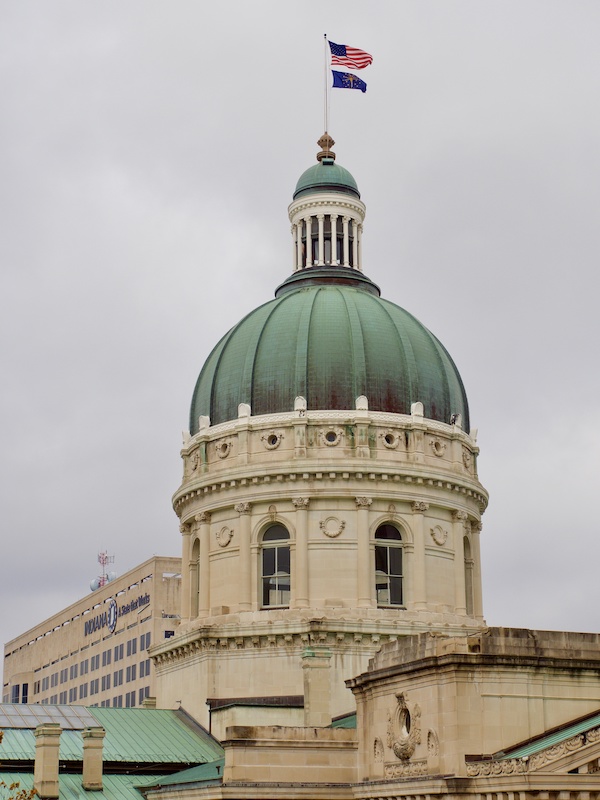 During more than six hours of contentious and emotional debate Thursday night, the Indiana Senate defeated a barrage of proposed changes to a bill that would ban most abortions in the state, including one amendment that would have eliminated exceptions for cases of rape and incest.
But the Republican-dominated chamber did answer the call of anti-abortion groups to toughen enforcement of the proposed ban, finding a way around Democratic Marion County Prosecutor Ryan Mears' pledge not to prosecute abortion-related cases if the Legislature criminalized the procedure.
The completion of the Senate's amendment phase after midnight now sets up a floor vote on the full measure on  Saturday.
The most contentious arguments of the evening came when Sen. Mike Young, R-Indianapolis, proposed eliminating exemptions to the proposed abortion ban for cases of rape and incest.
"There are babies waiting for us to speak," said Young, who earlier this week left the GOP caucus in part because he didn't believe the bill was restrictive enough. "And, just to think, all we need is 24 people for the courage to stand up for what they believe in."
The amendment failed 28-18, with 18 Republicans joining 10 Democrats to defeat the measure.
Republicans joining Young in voting for the amendment were Sens. Kevin Boehnlein, Liz Brown, Brian Buchanan, Jim Buck, Gary Byrne, John Crane, Stacey Donato, Blake Doriot, Mike Gaskill, Eric Koch, Dennis Kruse, Rick Niemeyer, Jeff Raatz, Linda Rogers, Jack Sandlin, Jim Tomes, and Andy Zay.
While Senate Bill 1 maintains exceptions for rape and incest, it limits the time frame to 12 weeks into a pregnancy for victims under 16 and eight weeks into a pregnancy for anyone aged 16 and older. The measure also provides exceptions to protect the life of the mother.
The Senate declined to remove those exceptions, but it did respond to anti-abortion activists' calls to toughen enforcement of the proposed ban.
One adopted amendment is directly aimed at Mears, the Democratic prosecutor who has pledged not to prosecute abortion-related crimes under the proposed abortion ban.
The amendment from Sen. Aaron Freeman, R-Indianapolis, would allow the Indiana attorney general to enforce criminal penalties in cases where county prosecutors refuse to do so. The move also would apply to Mears' decision not to prosecute low-level marijuana crimes.
"The role of a prosecutor's office is to prosecute crimes," Freeman said. "Their job is not to pick and choose which laws they enforce."
Earlier in the week, the legislation was also amended to establish a Level 5 felony for doctors who perform any illegal abortion, including any procedure that falls outside that limited timeframe. Those convicted of the crime would face anywhere from one to six years in prison.
In an unusual twist for the Republican-dominated Senate, Lt. Gov. Suzanne Crouch was called upon as president of the Senate to cast the tie-breaking vote on an amendment presented by Sen. Liz Brown, R-Fort Wayne, that requires any affidavit signed by a pregnant rape or incest victim to receive an abortion also be signed by a notary. The amendment passed by a 24-23 vote.
Brown said the amendment was designed to prevent sex traffickers from bringing in women from out of state and forcing them to have abortions.
Several Republican senators voted against the measure, including Sen. Vaneta Becker, R-Evansville, who was concerned the provision would remove the confidentiality of the affidavit. Brown argued that HIPPA laws already ensure the victim's right to privacy.
Democratic lawmakers proposed dozens of amendments throughout the evening that attempted to guarantee access to birth control, strip criminal penalties for doctors who perform illegal abortions, expand social services to pregnant mothers and their children and leave the state's current abortion law intact, which allows abortions up to 22 weeks into a pregnancy.
One success came for Sen. Mike Lanane, D-Anderson, who proposed allowing a pregnant minor who is raped by their guardian to get an abortion without their guardian's consent.
The debate became heated at times and even spilled into the Senate hallways, especially during debate over whether to remove exceptions for rape and incest.
Moments after the floor debate on that issue, Senate Minority Leader Greg Taylor, D-Indianapolis, and Sen. Mike Bohacek, R-Michiana Shores, were involved in a brief shouting match outside the chamber.
Taylor later apologized to his colleagues for his behavior in the incident.
"I disrespected somebody today because he disrespected me, and that's small of me," Sen. Taylor said. "So I'm going to stand up in front of this body and apologize for disrespecting you, Sen. Bohacek."
If the Senate approves the abortion-restrictions bill on Saturday, it would move to the House for further consideration.
Please enable JavaScript to view this content.