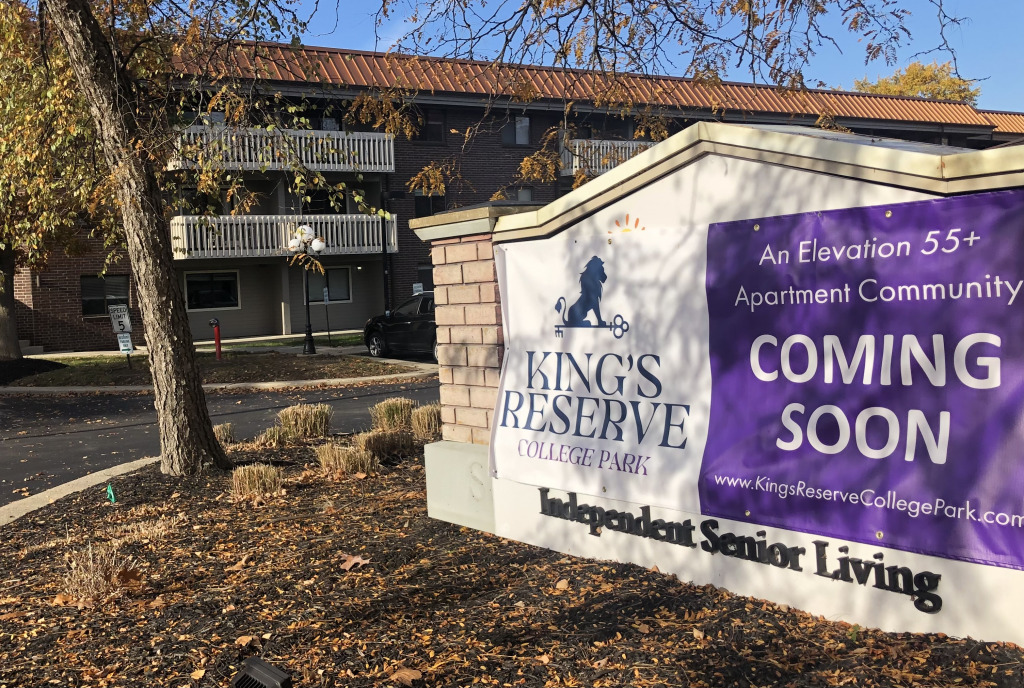 It was a deal that seemed too good to pass up.
When Sally Smith decided last year to move into a senior living community on the northwest side, she was attracted by the wide range of services included in her rent, including housekeeping, van service to nearby shopping, and meals in a community dining room.
"We came in with the idea that we would get three square meals a day," said Smith, 84, a retired accountant who moved into a one-bedroom unit at Discovery Commons College Park in March 2021. "We would have transportation. We would have all these services."
So she was stunned to learn a few weeks ago that many of those services are being dropped after the property was sold to a new owner, Elevation Financial Group LLC, a private equity real estate investment company based in Orlando, Florida.
The seller, Discovery Senior Living Holdings LLC, based in Bradenton, Florida, sent letters on Sept. 30 to all residents in the 147-unit, independent-living senior complex, on Colby Boulevard off of West 86th Street, near The Pyramids office complex, that it was terminating all rental agreements effective Oct. 31.
That meant residents, most of whom are in their 70s and 80s, would have one month to find a new place and move out, or sign a new, one-year lease with the new owner.
But if they stayed, it would be in a different type of living arrangement. Elevation Financial Group is converting the property from a full-service senior community, with dining room and other amenities, into an apartment complex for people 55 and older.
"With this change, dining and housekeeping services will no longer be provided," said the letter from Discovery Senior Living. "Elevation will also implement a rent structure in line with the fully independent lifestyle offered."
It's the latest example of a trend sweeping the senior-living community: fewer services and more shopping and cooking for yourself, not to mention cleaning and getting around town.
It's a segment sometimes called "active adult communities," where simpler operations sometimes translate to smaller staffs and lower rents.
"Most independent-living senior communities don't offer premium services anymore, especially food service, which can be pretty expensive," said George Tikijian, multifamily property broker with the Indianapolis office of Chicago-based Cushman & Wakefield. "It's been moving that way for a while."
Active seniors increasingly want to live independently without the additional costs of food and beverage service, nursing services and other amenities, "which results in a lower monthly rent expense," according to a Sept. 14 article in Multi-Housing News, an industry publication.
The active adult communities require less labor than traditional, full-service models, according to a May article in the Boston University School of Hospitality Administration's magazine.
"The reduced service operating model (no food service or transportation) requires an onsite staff of five to eight employees compared to 50+ employees in higher acuity seniors housing setting," Michael Hartman, principal of active living at Capital Seniors Living, a private-equity-backed real estate acquisition and development firm based in Washington, D.C., told the publication.
Toehold in Indianapolis
That's a model embraced by Elevation Financial Group, which entered the Indianapolis market in December 2019 when it bought Crestwood Village East, a 496-unit senior complex five miles east of downtown, for $20 million.
The property included 71 assisted-living units and 425 independent-living units. Elevation shut down the assisted-living services, including food service, and renamed the property Serenity Manor at Indianapolis.
"Due to lower occupancy in the assisted living portion, Elevation will convert all assisted living units to independent living units," the company said in a press release at the time. "This will decrease operational expenses and offer a greater number of highly desired affordable independent living homes to seniors in the area."
In fact, the seller, Justus Rental Properties Inc., had filed a notice just four months earlier with the Indiana Department of Workforce Development that it planned to put the complex, located near North Shadeland Avenue and East 10th Street, up for sale, and warned that dozens of nursing aides, activities coordinators, cooks and other workers could lose their jobs.
Now, Elevation is getting another toehold in the active adult segment, with the purchase of Discovery Park for $8.4 million.
In a press release last month, Elevation said it would "reimagine the struggling property," built in 1985, as a fully independent age-restricted apartment community.
The complex once had assisted-living and memory-care units. Both were discontinued in recent years by the previous owner.
On its website, Elevation calls itself an operator of "affordable apartment communities for independent seniors and families."
Elevation is in the process of rebranding Discovery Commons as King's Reserve College Park.
It has told residents it will upgrade all apartments with "elegant kitchens with new appliances," white cabinets with matching hardware, and new countertops and light fixtures, according to a large poster displayed in the dining room. It also plans to refresh corridors with new flooring and lighting and common areas with "beautiful and cozy furniture."
Rent decrease?
Elevation spokesman Ben Friedman told IBJ the complex's occupancy has been hovering around 50% in recent years. He called it a "distressed property" and said the best way to make it profitable was to convert to senior apartments, which are in high demand.
He said the decision to drop food service, transportation and other services is part of an emerging business model that is catching on around the nation. In return for lower rents, residents are happy to give up many traditional services, he said.
"The feedback that we received is, 'Oh, yeah, to be perfectly honest, I never really liked the food, and I actually liked to cook for myself,'" Friedman said.
Residents have said that having more money they can spend on food for themselves "instead of having to eat whatever is just given to me every day is actually kind of nice," he added.
Friedman said rents will drop for many residents. "We have residents in this property who are going to see their monthly costs go from over $3,000 a month to as low as $1,000 a month," he said.
But that kind of sharp decrease was news to more than a dozen residents interviewed last week at the complex by IBJ. Many said their rent was dropping modestly or staying the same.
Smith, the retired accountant, said her monthly rent is falling by only $10, although she declined to state the amount. She maintained she was "blindsided" by the new owner's decision to drop food service, transportation and other services.
"Now I happen to be one of the fortunate ones," she said. "Even though I'm in my 80s, I don't need help. I cook my own meals. I walk. I don't drive a car anymore, but I have a daughter that lives nearby who can take me shopping."
Still, she added, as people get older, socializing is harder, and the meal service that brought people to the central dining room several times a day was a way to get them to mingle with others.
Social time
Alan Truman, 85, a retired mining-supplies businessman from West Virginia who moved into Discovery Commons in 2020, said his monthly rent is remaining the same at $1,300, even though he is about to lose his meals and transportation.
"All of us old folks, we depend on that," he said, as he nibbled on chicken tenders and french fries.
Ken Gates, 74, a retired evangelical pastor who moved in two years ago, said his monthly rent is increasing $225, although that might be due to the fact that he was able to negotiate two reductions in recent years, saying he didn't need three meals a day.
He said mealtime is important to many of his friends in the complex, giving them a chance to socialize.
"When you take away things like this, you don't just take away food services," he said as he finished a pancake breakfast in the dining room. "You take away a built-in social interaction that just happens on a regular basis."
"This is an important part of our life here," said his dining companion, Lois Schmidt, 78, a retired nurse's aide who moved into Discovery Commons in July. "And that's why so many have moved out."
On a recent morning, two moving vans were parked by the front door, with workers hauling away furniture from the rooms of people who chose not to stay. Several residents said moving vans have been a near-constant sight in the parking lots the past two weeks.
Elevation Financial acknowledged that some people will move out rather than lose services. But it said it was counting on high demand for apartment complexes for active people 55 years and older to make up the difference.
"Most of our buildings that are senior apartments are actually fully occupied," Friedman said. "And we have buildings around the country that actually have waiting lists of over a year to get in."
Elevation's history
The company was founded in 2007 by Chris King, a lawyer in Winter Park, Florida, and his brother, Michael.
"I didn't have any experience," Chris King said in a video on the company website. "I didn't have any capital. But I made the decision this is something we wanted to do and shortly thereafter … we made the big plunge out of law and into the business world."
Elevation Financial set up a series of funds and raised millions of dollars to capitalize the business. Over the next 16 years, it bought 19 housing communities with more than 2,800 units in 10 states.
The company has poured $100 million into the rehabilitation of affordable housing, most of it for people 55 and older, according to a May story in the Orlando Sentinel. This spring, Elevation Financial Group launched its eighth investment fund to purchase distressed or failing senior-living communities.
In addition to pushing his luck in the business world, King has made a run in the political world. In 2018, he ran unsuccessfully for the Democratic nomination for governor of Florida. The winner of the nomination, Andrew Gillum, tapped King as his running mate for lieutenant governor. The two lost narrowly to Ron DeSantis, the Republican candidate for governor.
Even as it buys and rehabilitates properties, often dropping services along the way, King's company has proved to be lucrative for both him and his investors.
"When Elevation eventually sells the properties, the value has often increased substantially, bringing investors an internal rate of return of 12% to 24%," the Orlando Sentinel story said. "The newest fund will require investors to leave their money in for at least seven years."
It could take years to see whether the company's newest purchase in Indianapolis turns out to be that kind of a moneymaker. In the meantime, some residents say they plan to sit tight to see if Elevation makes good on its promise to upgrade the property and keep rents low.
Claudia Wilch, 70, a retired executive secretary who moved into a studio apartment last fall, said her rent recently was cut $110, to $1,190.
"I am staying with the contingency that I will check to see if they really do," she said, "what they say they're going to do."•
Please enable JavaScript to view this content.