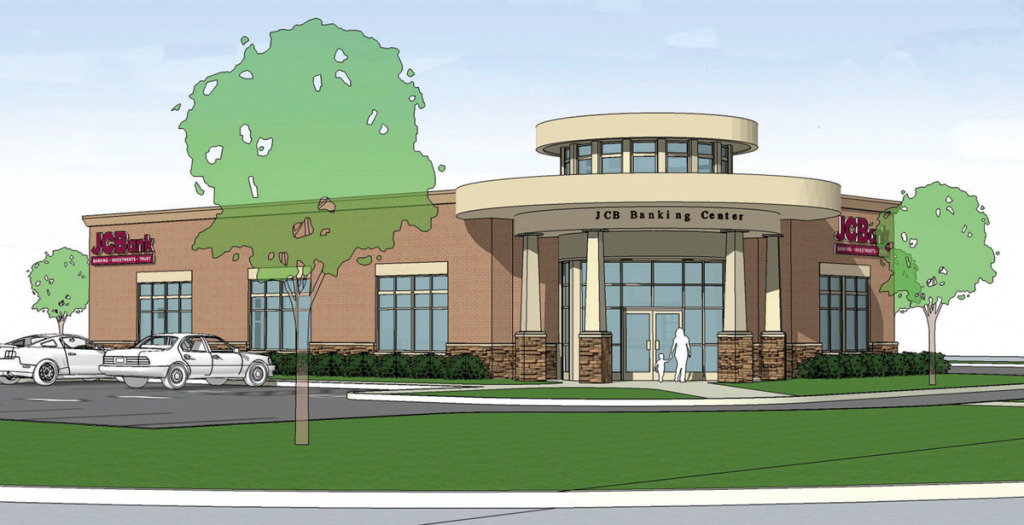 Seymour-based JCBank plans to open its first physical branch in the Indianapolis market—in Greenwood later this year.
The 4,800-square-foot office is being built in the Swartz Crossing Development at the corner of State Road 135 and Stones Crossing Road. Bank officials expect the branch to be open for business late in the third quarter or early in the fourth, offering personal banking services, commercial lending, mortgage lending and wealth management.
The bank said it is opening an office in Greenwood because of its success in cultivating customers and community relationships in that area.
"We are excited about our recent growth trends in commercial banking, and plan to support this growth with our wealth management and mortgage divisions," President and CEO Marvin Veatch said in a prepared statement. "Over the last three years, the Johnson County market has been an important part of JCBank's success."
This will be JCBank's 12th branch, its fourth to open in the last five years and its northernmost office. The bank currently has three branches and an investment services office in Seymour, three branches in Columbus, two in Bloomington and one each in Bedford, Brownstown and North Vernon. The bank has assets of $780 million.
JCBank is not the only bank eyeing growth opportunities in Greenwood.
In January, Jasper-based German American Bank announced its plans to open a loan production office in Greenwood by the end of this quarter. The bank did not specify where the office would be located. The Greenwood office will be German American's first in the Indianapolis area. Currently, German American's closest locations are in Monroe, Bartholomew and Decatur counties.•
Please enable JavaScript to view this content.