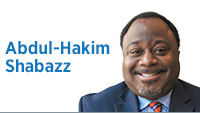 Now that thousands of Indiana teachers, educators and their supporters have rallied at the Statehouse over teacher pay, testing and professional development, it's time to drop some facts.
No offense, guys and gals, but whomever you've been listening to has done you a disservice. You all have been misled, miseducated and misdirected on this issue.
I've already talked about teacher pay and the fact that 47% of the money schools spend on personnel ends up in the classroom. I've said that, over the past couple of decades, while the student and teacher populations have grown less than 10%, non-teaching staff has grown nearly 60%.
So let's focus on professional development and testing.
When I heard Indiana teachers were not happy with a new professional licensing rule that requires they do 15 hours of an "externship," I did raise my eyebrows just a bit. I am an attorney, and my wife is a physical therapist assistant, so we both have to complete professional continuing education hours to keep our licenses current. But I was a little taken aback by the new requirement for teachers—then I went and got the facts.
First of all, these are not additional hours. They are included in the 90 hours of certification a teacher must receive, and this requirement can be accomplished over five years (so, three hours a year). Second, teachers don't have to go to a job site; a company can come to teachers at the school to tell them what they need to know.
Also, teachers can fulfill the externship obligation by participating in a professional development program hosted by the state, a local business, or a community partner that provides opportunities for schools and employers to partner in promoting career navigation. Or they can participate in a professional development program that outlines the current and future economic needs of the community, state, nation and globe and how these needs can be disseminated to students. The point of all this is to make sure teachers are in tune with the workforce needs of their community.
Most important, again, we are not talking about 15 additional hours of certification. They're included in the 90 hours teachers must get already. And if you think about it, schools that used professional development day so teachers could protest at the Statehouse could have used that day instead to knock out six or seven hours of that externship professional development requirement.
There is one area for which I have a lot more sympathy for teachers. With all the problems Indiana has been having with its testing procedures, I don't blame them for wanting to be held harmless as to the results—at least for now. (By the way, the governor and top legislative leaders have already said they plan to do just that.)
Now, demands that Indiana stop spending an estimated $100 million on testing and use that for teacher pay is probably one bite at the apple too many. Under federal rules, Indiana must conduct testing; the trick is to figure out how to meet federal regulations and not spend every class day preparing for an exam.
When teachers and their supporters used Organization Day to protest, I offered them a big round of applause for peacefully expressing what they perceive as their grievances with their government.
However, the next time they come to the capitol, it would be nice for them to do their homework so they're not misled, misdirected and miseducated.•
__________
Shabazz is an attorney, radio talk show host and political commentator, college professor and stand-up comedian. Send comments to ibjedit@ibj.com.

Click here for more Forefront columns.
Please enable JavaScript to view this content.