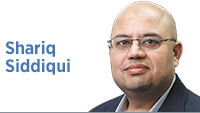 As anyone who has been in an argument knows, finding consensus is not easy. It doesn't leave you happy in the immediate term but brings forth the possibility of long-term progress.
Missing from the national public-policy discourse since the election of President Barack Obama has been the idea of bipartisan policymaking. Early in Obama's administration, Sen. Mitch McConnell vowed obstruction to make Obama a one-term president. This followed a series of midnight and delayed votes on the debt ceiling (that prevented the United States from defaulting on its obligations), the filibuster being removed on cabinet and judicial appointments, a government shutdown and failure to bring forth for consideration and a vote a U.S. Supreme Court nominee.
Even more deeply disturbing was the failure to enact meaningful bipartisan policies that would make the lives of citizens, businesses and not-for-profits better. The result has been decade-long policy atrophy that has made us look diminished across the world. The world doesn't respect bluster—it respects a nation that can preserve and use its democratic institutions to solve the problems it faces. We have failed to do this for over a decade.
It is therefore refreshing to see 10 GOP senators (including Indiana Sen. Todd Young) reach out to President Joe Biden on a new stimulus deal. Democrats can pass through their version of a bill using budget reconciliation provided they stay united. However, this might not be best in the long-term interest of our nation. It might not even be best in the long-term interest of Democratic senators in swing states who will look better to independent voters (albeit not as much to their base) if they legislate through consensus.
Is the GOP offer sufficient? No. But I hope it is a start to a conversation that will require all sides to find a middle ground. Failure to urgently find a middle ground still provides Democrats the opportunity to trigger budget reconciliation at least twice this year.
It is reasonable to find real-world solutions to meaningful problems. Vaccine distribution is uneven. Some sites have too many people seeking the vaccine, while others seek to give away vaccines.
States like Indiana are relying upon volunteers to assist them with COVID-19 vaccinations. While using volunteers for a problem that is the responsibility of government should push us to admire those who step up to volunteer, it should also be seen as a shortcoming of fiscal conservatism that has hollowed out state and local government over the last two decades. It also suggests that our federal, state and local governments were either caught unaware or were ill-equipped to manage the COVID-19 vaccination.
People who are suffering need relief. Most Americans doing their taxes today are likely seeing a decline in their household income last year. This will result in local, state and federal tax revenues also falling. This decline in income comes at a time the pandemic calls upon government to do more.
A meaningful stimulus should focus on spending wisely. This doesn't mean spending too little or too much. It means providing targeted relief that can be easily explained to the nation to bring back confidence in government.
This stimulus deal is not the first one of this pandemic and doesn't have to be the last. Each of the previous stimulus deals have been bipartisan but haven't seemed as such. It would be great if we could use this stimulus deal to show our nation what civil public discourse looks like when urgently reaching a public-policy solution.•
__________
Siddiqui is assistant professor and director of the Muslim Philanthropy Initiative at the Lilly Family School of Philanthropy at Indiana University, senior fellow at the Center for Global Politics and founder of the Center on Muslim Philanthropy. Send comments to ibjedit@ibj.com.

Click here for more Forefront columns.
Please enable JavaScript to view this content.