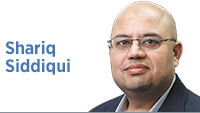 According to the Institute of Social Policy and Understanding, 1.1% of the U.S. population is Muslim. Muslim Americans are a highly diverse minority with no one ethnic group making a majority. Muslim Americans are largely a community of color, with African Americans, Asians, Arabs and Latinos making up the largest proportion of this small minority population.
Muslim American households have a lower average income than the average American household. Prior research by ISPU shows that Muslim Americans are under a great deal of stress and face a great deal of external prejudice and Islamophobia.
Despite this external hatred of Islam and Muslims, a new report by the Muslim Philanthropy Initiative, Muslim American Giving 2021, shows that Muslim Americans are vibrant contributors to American philanthropy and, in particular, causes within the United States. Despite being only 1.1% of the population, they make up 1.4% ($4.4 billion) of individual giving.
The study investigated the opinions of Muslims and the general population regarding faith customs, donation practices and attitudes, volunteer work, COVID, uncertainty, intolerance, financial well-being and discrimination. The survey also looked at how Muslims made decisions about donations. Overall, the team surveyed 2,005 respondents, including 1,003 Muslim respondents and 1,002 general-population adult respondents.
Despite Islamophobic tropes suggesting that Muslim Americans are more aligned with international causes, only 15% of their giving is focused on such causes while 85% of their gifts support American charitable causes. Despite being poorer than the average American household, Muslim Americans participated in charitable giving and volunteering at higher levels than the average household.
Overall, the survey found that Muslims give more toward both faith-based causes and non-faith-based causes than do non-Muslims. Overall, Muslim Americans gave $3,200 for charitable giving compared with $1,905 for the general population.
The study also finds that Muslims spend more hours volunteering every year when compared with non-Muslims. Muslim Americans spend 66.61 hours volunteering for faith-based causes and 45.93 hours volunteering for non-faith causes.
Muslim Americans give less to houses of worship than does the general population. The strongest motivation for American Muslims is a feeling of compassion toward people in need (average 4.31 out of 5). On the other hand, among the non-Muslim population, the strongest motivation is the willingness to help others who are less fortunate (3.93). Compared to the general population, Muslims have a more positive image of the charitable sector (4.08 versus 3.58).
The lowest motivations to give for both Muslims and non-Muslims were getting a tax credit, recognition, financial strain and the belief that giving money to charities is wasted. Overall, the motivations among Muslims and non-Muslims were pretty similar.
Finally, Muslim Americans have been on the front lines of COVID-19. Muslim Americans make up only 1% of the national population, but they play a more significant role in the front lines of COVID-19. For example, 15% of physicians and 11% of pharmacists in Michigan are Muslim Americans. In New York City, Muslim Americans make up 10% of the city's physicians, 13% of the pharmacists and 40% of cab drivers—designated essential workers. Muslim Americans' top recipients of charitable gifts other than houses of worship were domestic poverty relief, COVID-19-related charities and civil rights.
Muslim Americans are stepping up to play an important role in making our world and nation a better place. Foundations must step up and further invest in this community. They have shown that they can do a great deal with very little.•
__________
Siddiqui is assistant professor and director of the Muslim Philanthropy Initiative at the Lilly Family School of Philanthropy at Indiana University, senior fellow at the Center for Global Politics and founder of the Center on Muslim Philanthropy. Send comments to ibjedit@ibj.com.

Click here for more Forefront columns.
Please enable JavaScript to view this content.