How do we achieve unity after such a divisive election?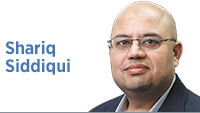 Four years ago, the days after were among the worst in my life. I felt horrible!
Donald Trump had won, and I felt his racism, bigoted and hateful rhetoric had been endorsed by my fellow Americans. I asked myself whether my family and I—Muslims and people of color—had a place in this country.
This year, many Americans also feel horrible. More people voted in this election than ever before. President Trump received the second highest number of votes in history! And to the surprise of many, he made gains among minorities.
According to the American Muslim Poll fielded by the Institute of Social Policy and Understanding in the weeks after the COVID-19 pandemic started, nearly 1 in 5 Muslim Americans supported President Trump. These were largely white Muslim Americans and those who skewed wealthier. This was up from 6% support in 2016!
And in this year's election, Trump support among Muslim Americans grew to 35%, according to NPR.
Many in my circles ask: How could people vote for Trump, despite his horrible rhetoric against minorities? But all I could think about is how bad those Trump supporters must feel right now. I am sadder that they are in pain, than I am that they voted for Trump.
As a Muslim, I am taught that only God knows the intent behind our actions. I cannot assume that fellow Americans who voted for President Trump are all racists. More likely, they prioritize a social conservative agenda.
It's problematic. But in the midst of deep polarization, you don't find common ground by being right—you seek a place to have conversations, which can lead to areas of mutual agreement and agreement to disagree.
There are limits to this search for common ground. Racism, prejudice and misogyny can never be an area of compromise. We can't find common ground with people who believe in racial supremacy, gender inequality or violence. They are wrong.
But my faith teaches that God has created diversity among humans so we can know and love each other.
The voting phase of this election is over. I am delighted that we elected Biden/Harris nationally and Holcomb in Indiana. Both results (one Democrat and one Republican) bode well for our nation and state. Common sense, inclusive rhetoric and compassion will be at the core of state and federal government again.
But I know that there are others that are sad today. Let's give them time. Let the votes be counted, let the states certify the elections, let the legal challenges run their course and come together on inauguration day to usher in a new day.
Those who oppose Biden's policies should organize for the midterms and the next presidential election. Those who support Biden's policies should find ways to support the work ofhis administration.
All of us should find common ground to further policies that we can all support. Consensus and common ground result better sustainable policies. Dr Fady Qaddoura is an example for us all.
We should be proud that we elected the first Muslim American, Fady Qaddoura, to the Indiana Senate. A fellow alumnus of the Lilly Family School of Philanthropy, he has served in both GOP and Democratic administrations—not focused on politics but how he can make the world a better place.
This is a time to remind ourselves that we are all Americans. Only God knows what is in our heart. Let's treat each other with kindness and respect.•
__________
Siddiqui is assistant professor and director of the Muslim Philanthropy Initiative at the Lilly Family School of Philanthropy at Indiana University, senior fellow at the Center for Global Politics and founder of the Center on Muslim Philanthropy. Send comments to ibjedit@ibj.com.

Click here for more Forefront columns.
Please enable JavaScript to view this content.