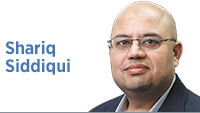 May coincided with the holy month of Ramadan, when Muslims across the world fast from food, water and intimate relations from sun up to sundown.
This is also a time of community engagement, philanthropy and service. Many Muslim American not-for-profits raise the vast majority of their annual budget during this month. Traditionally these not-for-profits have relied upon events and congregational prayers as a source of fundraising.
This was a difficult Ramadan compared to previous years—but not because of the hunger, thirst or sleep deprivation. It was because of the isolation caused by social distancing. Better to be isolated and pray alone than make another sick. In Islam, we are taught that saving one life is like saving all of humanity; taking one life is like killing all of humanity.
But that meant Muslim not-for-profits had to find new ways to engage with their donors. And many Muslim Hoosiers who have found themselves isolated from the community and family due to COVID-19 tried to find online communities for spiritual upliftment. Traditional late-night community prayers were replaced by families praying together.
May 24 marked Eid al Fitr, the end of Ramadan. The day starts with huge congregational prayers followed by visiting family and friends. Children receive presents and the entire day is marked by community. None of that was possible this year.
Congregations arranged drive-through Eid celebrations. People came to the mosque and children received gifts from volunteers who wore masks and gloves. Families sent care packages rather than having open houses. Zoom meetings created community and families met in parking lots and in cars to insure that our children could celebrate Eid.
Some gathered at local Islamic centers or mosques to pray. They heeded advice from Gov. Eric Holcomb and health officials. They stood six feet apart, they wore masks and gloves, they brought their own prayer mats and they made sure to stay away if they were sick.
This Eid al fitr was marked by another different experience. As most Muslim Hoosiers were wrapping up their Eid at the end of day, a mosque was subjected to a drive by shooting. No one was hurt but the bullets hit the mosque and parked cars.
Sadly, this is not new for Muslim Americans. There have been an increased number of attacks, threats and incidents of vandalism reported by mosques within Indiana and neighboring states since 2016. It was only last year when the Indianapolis Muslim community buried Mustafa Ayuobi, who was killed in an act of hateful rage. Muslim communities in Indiana and elsewhere in the U.S. live in constant fear. Armed security guards are a staple at most mosques where local administrators share tales of vandalism, attacks and threats.
Muslims have come under increasing attack under the administration of President Trump. Sadly, people I look up to (Gov. Holcomb, Sen. Todd Young) have remained silent to those attacks. I know that neither of these leaders share those ideas. I proudly worked with Eric Holcomb for over a decade fighting prejudice against Muslims. He is a Mitch Daniels Hoosier Republican. Todd Young has reached out to Muslim Hoosiers, broken bread in our homes and has sought to understand our community.
But that isn't enough. We need you to stand up to the hateful rhetoric that emanates from the White House and by many within your party. Mitch Daniels once told me that leadership was about more than winning elections—it was about doing the right thing, fighting for those who can't fight for themselves and the elections sort themselves out. We need the Mitch Daniels brand of leadership today.•
__________
Siddiqui is assistant professor and director of the Muslim Philanthropy Initiative at the Lilly Family School of Philanthropy at Indiana University, senior fellow at the Center for Global Politics and founder of the Center on Muslim Philanthropy. Send comments to ibjedit@ibj.com.

Click here for more Forefront columns.
Please enable JavaScript to view this content.