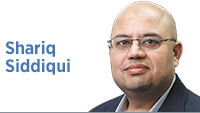 I can't remember the exact moment I realized I had the power to change the world. The moment I realized that—with my donations, my time and my voice—the world could be a better place. The moment I realized that, while I alone could do so much, collectively with others I could do so much more.
It is that realization that resulted in a life-long love affair with philanthropy and the not-for-profit sector. My love for philanthropy and not-for-profits is not because of what I can do for them but what they do for me and my dreams of a better world.
It is because of that deep love that I also am afraid for the sector. Research shows that, at times of economic and stock market decline, donations will decline. And that could come as the coronavirus means people need more from the not-for-profit sector.
Not-for-profit and philanthropic leaders are stressed. They have to keep their people safe, they have to keep their mission going, and they know their funding and resources will likely decline if there is an economic downturn. This is not fearmongering—it's history.
The question I've asked myself is, what can I do to take care of this sector I love? What can I do to make sure my vision of a better world is safe? After all, I support philanthropy not for what I do for it but what it does for me. Philanthropy and the not-for-profit sector are just as vital as my daily bread.
Here are some reminders about why I support not-for-profit organizations.
◗ I donate to not-for-profits not because they need money but because we have a vision of the world that they can help achieve.
◗ At times of crisis, these not-for-profits are not just fighting for the causes we are passionate about but are also challenged by the crisis in delivering on those causes.
◗ COVID-19 didn't end poverty, racism, the need for education, the need to save the environment, etc. These causes remain relevant.
How can we help?
◗ Not-for-profits are stressed. Be proactive, reach out to your portfolio of not-for-profits and commit early.
◗ Ask your not-for-profits how you can help them virtually.
◗ Amplify your favorite causes through your digital and social media.
◗ Offer guidance and advice to your not-for-profits should they need it.
◗ Consider giving more to your portfolio of not-for-profits—not less. Don't get distracted from the causes you have relied on to further your vision of social good.
◗ If you have charitable funds in Donor Advised Funds, use them for a philanthropy stimulus.
◗ Consider going easy on your not-for-profits on reporting and stewardship.
◗ Include your not-for-profits and the people involved in your prayers.
I know this is a time of great stress for people across the world. Jumah prayers and daily congregational prayers have been canceled. Important meetings have been postponed, canceled or moved online.
The world was already suffering due to war, poverty, inequality, prejudice. Now we must find a way to confront a new challenge that risks infecting and killing many. Not-for-profit leaders, as stewards of their organizational mission, have to find ways to navigate this global challenge; protect themselves, their staffs and families; and deliver on the solutions their organizations were established to solve.
Coronavirus has not wiped away poverty, inequality, suffering, islamophobia, racism, domestic violence or hunger, to name just a few of the challenges our not-for-profit organizations were created to fight.
We must do our part in helping not-for-profits and philanthropy navigate this challenge.•
__________
Siddiqui is assistant professor and director of the Muslim Philanthropy Initiative at the Lilly Family School of Philanthropy at Indiana University, senior fellow at the Center for Global Politics and founder of the Center on Muslim Philanthropy. Send comments to ibjedit@ibj.com.

Click here for more Forefront columns.
Please enable JavaScript to view this content.