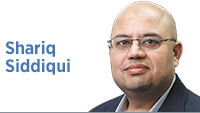 "Social distancing" might end up as the phrase of the century. Finding ways to communicate, work, buy groceries, exercise, teach, govern and transact are just a few things "social distancing" complicates.
In the midst of social distancing and the pandemic, Muslim Hoosiers on April 24 joined over 1.6 billion Muslims across the world to celebrate the holy month of Ramadan.
Ramadan is a month on the Muslim lunar calendar that requires Muslims to fast from food, drink and sexual activity from dawn to dusk. In central Indiana, families wake up around 4 a.m. to have breakfast so they can start their fast by sun-up (before 5:30 a.m.). The fast ends at sundown (or around 8:30 p.m.).
But Ramadan is more than a time of hunger, thirst and sleep deprivation. It is a time when Muslims must find ways to recharge faith and character, to find ways to be better and to remind themselves of the very best they can be. Centered around this are congregational prayer, community and acts of compassion.
Muslims tend to give a majority of their philanthropic donations during Ramadan. In central Indiana, this has traditionally meant fundraising iftars (evening meals to break the fast), congregational fundraising around community prayers and volunteering time to commit acts of compassion. Ramadan is a time for Muslims to refocus and magnify their attention to the poor. All of this is challenged during the pandemic and by social distancing.
According to research by the Institute of Social Policy and Understanding and Indiana University Lake Institute on Faith and Giving, Muslims prioritize domestic poverty relief as their most important focus of philanthropy, after supporting their places of worship.
The Muslim American not-for-profit sector has found ways to help Muslim Americans navigate the pandemic's challenges. The Plainfield-based Islamic Society of North America helped establish a National Muslim COVID-19 Taskforce. Included in this taskforce are Muslim health care organizations. While Muslims make up around 1% of the U.S. population, they make up more than 5% of the physicians in the country.
Locally, congregations and community organizations came together to develop a local Muslim COVID-19 Taskforce. Congregations provided food and iftar supplies using drive-through services rather than community meals for people that need food.
The Muslim Philanthropy Initiative at the Lilly Family School of Philanthropy established the Community Collaboration Initiative through a grant from the Waraich Family Foundation. CCI brings 26 Muslim American not-for-profits together to find ways to collaborate to further their missions while navigating challenges like the pandemic.
National religious bodies like the Association of Muslim Jurists of America and Fiqh Council of North America provided religious rulings declaring that it was permissible for Muslim businesses and not-for-profits to apply for programs under the CARES Act, even though the loans have interest, which is considered a violation of Islamic law.
Initial research findings by the Muslim Philanthropy Initiative suggest that, while many Muslim not-for-profits have applied for federal emergency funding, few have received it. The research also suggests that Muslim not-for-profits are facing deep financial challenges.
While Muslims, like their fellow Americans, are finding unique and innovative ways to celebrate holidays and to keep the focus on the poor, they also need help.
Due to the population's small size, incredible diversity (no one ethnic group is majority) and demographics (generally very young and therefore relatively poorer) the Muslim American not-for-profit sector is likely more vulnerable than the broader not-for-profit sector.
Traditionally, these organizations have been overlooked by American foundations. But those foundations and philanthropists must find ways to diversify their giving portfolios to include Muslim Americans. Doing so will help preserve this small, yet important, part of our American not-for-profit community.•

Click here for more Forefront columns.
Please enable JavaScript to view this content.