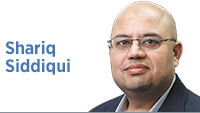 An estimated 3.45 million Muslims live in the United States, according to Pew. Muslim Americans are highly diverse, with no one ethnic group constituting a majority. African Americans, Arabs and Asians making up the largest ethnic groups. Latinos are increasingly becoming Muslim. Yet, Muslim Americans are considered a racialized minority, rather than a religious minority, by the broader society.
Muslim Americans are also very diverse in terms of their religious beliefs and socio-economic status. Muslim Americans are proud to be Americans, they believe hard work brings prosperity and report that they are generally happy with their lives. However, two-thirds report that they are dissatisfied with the nation's direction, and three-quarters believe Donald Trump is unfriendly toward Muslims. In contrast, under President Obama, Muslims felt the nation was moving in the right direction, and they felt welcomed by his administration.
The entire nation was affected by the pandemic, but communities across our country have been disproportionately so. Data from the U.S. Centers for Disease Control and Prevention revealed that COVID-19 death and infection rates for minorities are much higher than the national average. African Americans and Asian Americans, two groups that make up a substantial proportion of the Muslim American community, face greater health risks compared to whites because of disparities in access to health care.
Similar racial disparity exists in American unemployment as COVID-19 spreads. While the U.S. unemployment rate is 14.5%, the rate for African Americans is 16.6%; Latinos, 18.2%; Asian Americans, 13.7%; and white Americans, just 12.8%.
Furthermore, research suggests that socio-economically disadvantaged groups are disproportionately hurt. According to the Institute of Social Policy and Understanding, a third of Muslim Americans live below the poverty line.
Despite these disparities, new research from the ISPU shows the incredible contributions Muslim Americans are making in responding to COVID-19. "Community in Time of Corona: Documenting the American Muslim Response to the COVID-19 Crisis" provides an in-depth and intimate picture of how this very small, highly diverse and persecuted community is rising to serve its communities and our nation.
Muslim Americans make up only 1% of the national population, but they play a more significant role in the front lines of COVID-19. For example, 15% of physicians and 11% of pharmacists in Michigan are Muslim Americans. In New York City, Muslim Americans make up 10% of the city's physicians, 13% of the pharmacists and 40% of cab drivers designated essential workers.
Furthermore, a sampling of Muslim American not-for-profits focusing on poverty relief show an increase in fundraising and an even higher demand for services. Among the examples is incorporating mosques into the work done by American Muslim Health Professionals, providing food and financial support through programs like ICNA Relief and Islamic Relief, providing mental health support through Zakat Foundation of America's Halil Center, and helping develop new technologies like testing kits, ventilators, and new sterilization and sanitization processes.
In addition, the Muslim Public Affairs Council and EmGage are working to make voting safer, and Muhsen is ensuring that people with disabilities are not overlooked during this pandemic.
Muslim Americans are rising to the challenges we face through philanthropy and civic engagement.•
__________
Siddiqui is assistant professor and director of the Muslim Philanthropy Initiative at the Lilly Family School of Philanthropy at Indiana University, senior fellow at the Center for Global Politics and founder of the Center on Muslim Philanthropy. Send comments to ibjedit@ibj.com.

Click here for more Forefront columns.
Please enable JavaScript to view this content.