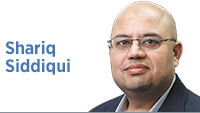 We are a polarized nation in a polarized world. Across the world, the role of government, business and philanthropy is being debated. At one extreme is the argument that we should have no government, and at the other, that government should control everything.
Both positions are purely academic.
Neither political party in the United States nor any mainstream politician is arguing that we adopt either of these. Our public-policy discussions center on the level of involvement each of these sectors should have on daily lives.
Whether it is health care, education, welfare, national security, economic security or any other national issue—the discussion isn't whether government should be involved but how much government should be involved.
Sadly, the national rhetoric around public policy has been brought down to sound bites and slogans rather than an honest dialogue over solving our problems. Think of the debate over $2,000 stimulus checks. Great for Twitter and will be partially helpful but doesn't solve a problem. No one at the national level is brave enough to honestly have a conversation on how to do that.
Many countries try to grapple with this level of polarization through national unity governments. That is unlikely in the United States today.
However, with the Democrats on the verge of controlling the White House and Congress, they have an important choice to make: 1) Ram through policy positions that speak to their core base; or 2) find centrist positions that would result in meaningful long-term change.
For example, President Barack Obama—despite having a filibuster-proof Senate—sought to engage moderate Republicans in the final product of Obamacare. This included dropping the public option; seeking fiscally responsible solutions like the mandate and taxes; and greater state control. While none of those senators voted for the final bill, I believe their voice made the final product possible and allowed it to stand the test of time.
For all the challenges Obamacare has faced, it remains the law of the land a decade later. It is more popular today than at its passing. Conservative states like Indiana, which offers the Healthy Indiana Plan 2.0, have been at the forefront of furthering Obamacare using local innovation.
We have an opportunity to consider some incremental solutions that might speak to progressive issues in a way that doesn't drive away independents.
On higher education, consider eliminating past interest on student loans, making student loans interest-free and actually implementing the current public loan-forgiveness programs.
On immigration, immediately pass the Dream Act while also dramatically increasing work visas. This could be a down payment on a broader discussion on comprehensive immigration reform. Immigration makes our economy and communities stronger.
On infrastructure, use the need for upgrading our roads, bridges and existing public transportation and expanding internet connections as a way to spur our economy.
When I speak to my conservative and progressive friends, they all agree that something needs to be done about each of these issues. The challenge is finding common ground on what can be done.
Common ground does not mean slowing things down until the next election. Common ground means finding incremental solutions to fast-track into public policy before the next election.
Our national politicians have a choice: Attempt to reduce polarization through meaningful public policy or further the partisan political industrial complex.
My hope is that they will put our nation and its interests first. This hasn't happened for decades.•
________
Siddiqui is assistant professor and director of the Muslim Philanthropy Initiative at the Lilly Family School of Philanthropy at Indiana University, senior fellow at the Center for Global Politics and founder of the Center on Muslim Philanthropy.

Click here for more Forefront columns.
Please enable JavaScript to view this content.