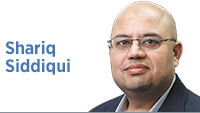 The terrorist attacks on Sept. 11, 2001, changed our nation in profound ways. My four children have never lived in a reality that has not been influenced by how we responded to the attacks that day.
Like most Americans, Muslim Americans were impacted by these terrorist attacks. In the beginning, Muslim Americans were seen as a visible outlet to channel our anger and pain. Political calculation and national ignorance sought to find ways to connect Muslim Americans to geopolitics. Another step in declaring that this small group of people didn't belong.
According to the Institute of Social Policy and Understanding (ISPU), there are approximately 3.45 million Muslims in America. A highly diverse community largely made up of Black, Asian, Arab and Hispanic Americans in which no one ethnic group makes up a majority. This community had to find ways to fight back against external bigotry, build internal cohesion and provide services to a community of color that had been largely invisible except when needed to be targets of bigotry or islamophobia.
Muslim Americans felt this hatred, reaction and bigotry in their professional, personal and civic lives. To counter this new reality, we saw a growth in the number of Muslim-led not-for-profits that sought to serve this small community under attack.
According to a study published by the Center on Muslim Philanthropy and ISPU, the number of mosques grew from 1,209 then to nearly 2,800 in 2020. Muslim Americans established other not-for-profits to help deal with internal and external challenges. These external interfaith and civic partnerships resulted in greater understanding among not-for-profits led by people of other faiths and no faith. Similarly, we saw a transformation in government by the election of Muslims to various offices at federal, state and local levels. A Muslim American managed the presidential campaign of Sen. Bernie Sanders. Muslim Americans were appointed to executive, judicial and other roles. While we have a long way to go to be a more inclusive country, we are starting to see some movement on inclusion.
However, the philanthropic sector continues to have failed to be transformed by the impact of 9/11 on Muslim Americans. While there have been a few investments by major foundations, most have stayed on the sidelines. This might be due to their ignorance of Muslim Americans and their challenges, fear that an investment might inadvertently help a bad actor (victory for islamophobes is apparent), or lack of knowledge on how to engage with meaningful investments to help Muslim Americans deal with a post-9/11 world.
In order to deal with this challenge, the Waraich Family Fund, the Muslim Philanthropy Initiative at the Lilly Family School of Philanthropy at Indiana University, Illinois Muslim Civic Coalition, and the University of Illinois' Institute for Policy and Civic Engagement have launched a Year of Learning. The Year of Learning seeks to engage philanthropic foundations about Muslim Americans, their challenges, the way they are working to make our country a better place, and ways to engage with this community.
The goal is to have philanthropic foundations recruit Muslim American board members and staff to make meaningful investments that are inclusive of Muslim-American-led initiatives and to further our national pursuit of inclusion.
The year-long initiative seeks to help foundation leaders and philanthropists realize that an investment in this small minority to fight against bigotry is an investment in the very best ideals and values of our nation. We cannot meet our goals of inclusion if we don't include Muslim Americans.•
__________
Siddiqui is assistant professor and director of the Muslim Philanthropy Initiative at the Lilly Family School of Philanthropy at Indiana University, senior fellow at the Center for Global Politics and founder of the Center on Muslim Philanthropy. Send comments to ibjedit@ibj.com.

Click here for more Forefront columns.
Please enable JavaScript to view this content.