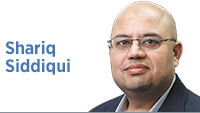 All across the world, we witnessed the murder of George Floyd. All across our nation, we were compelled to do something. Even conservatives like GOP U.S. Sen. Mitt Romney were compelled to embrace the idea that Black Lives Matter.
Finally, we were able to accept the fact that, when people say Black Lives Matter, they aren't saying other lives don't. They are saying the story of George Floyd is not an anomaly and this racially unjust reality is not acceptable.
As I witnessed this horrible murder, I was compelled to ask myself what part I played in the existence of such a reality.
I am an immigrant Muslim American. Muslim Americans are considered a racialized minority. Despite this status, I recognize that, like all people, I have my own bias and prejudice. My faith requires me to examine my internal biases and to find ways to rise above the basest of my instincts.
The Institute of Social Policy and Understanding's 2018 American Muslim Poll suggests that 66% of Muslims who identify as Black or African American and 75% of Black Americans in the general public report experiencing racial discrimination.
Though less frequent, according to the ISPU survey, Black Americans, including Black Muslims, also experience racial discrimination within their own faith communities. In 2017, one in three Black Muslims and Black Christians said a fellow believer discriminated against them because of their race in the past year at least once.
According to ISPU, although American Muslim communities are not free of racism, Muslims are the most likely faith group studied to consider bigotry and civil rights as one of the most important issues facing our country today.
This sentiment translates into 35% of those who donate to a Muslim cause donating to civil rights organizations, as well as robust (66%) support for the Black Lives Matter movement, higher than the general public or any other faith group. Young Muslims, Muslim women and Asian Muslims report levels of support for Black Lives Matter on par with Black Muslims and the larger African American community, with at least 70% of each group reporting support for the movement.
The reality is that Muslim Americans are highly diverse. No one ethnic group has a majority status.
The Muslim faith has many instances in which racial equality has been highlighted as vital.
The Prophet Muhammad stated in his last sermon before his death, "All mankind is from Adam and Eve, an Arab has no superiority over a non-Arab nor a non-Arab has any superiority over an Arab; also a white has no superiority over a black nor a black has any superiority over a white—except by piety and good action."
In the Quran, we are taught that we were created as nations and tribes so we can recognize each other not despise each other.
As a Muslim, I could point to the words of the prophet and the Quran to say racism isn't a problem within my religion.
As a Muslim American, I could point to the ISPU statistics that bias in the Muslim community is lower than in the general public.
As an American who happens to be part of a minority racialized group facing prejudice and bias, I could say I am a victim rather than the problem.
But the Quran and the prophet spoke about racial inequality because there was the need to address a problem that existed and would continue to exist.
The ISPU statistics tell me that, while Muslim Americans might have fewer instances of racial bias, the level of prejudice is unacceptably high.
As a human being, I am flawed. That flaw includes racial bias and prejudice. It is my responsibility to confront these weaknesses and become a better human being.
Racism is everyone's problem and is everyone's weakness.•
__________
Siddiqui is assistant professor and director of the Muslim Philanthropy Initiative at the Lilly Family School of Philanthropy at Indiana University, senior fellow at the Center for Global Politics and founder of the Center on Muslim Philanthropy. Send comments to ibjedit@ibj.com.

Click here for more Forefront columns.
Please enable JavaScript to view this content.