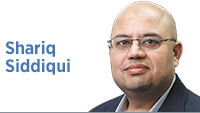 As the United States becomes increasingly diverse, religious, political and social differences are recognized as everyday norms. Yet, stigmatization, discrimination and animosity between groups persist. Negative stereotypes about U.S. Muslims are also widespread.
To better understand practices of religious pluralism, the Muslim Philanthropy Initiative released a new report, "Pluralism in Muslim American Philanthropy," that focuses on the subpopulation of U.S. Muslims and compares them with the general population. The report examines tolerance in the U.S. and its connection to giving and DEI.
In this report, the Muslim Philanthropy Initiative at the Indiana University Lilly Family School of Philanthropy collected data through a national survey of 1,024 U.S. Muslims and 960 people in the general population. The report finds that U.S. Muslims give to a wide variety of faith-based and non-faith-based organizations and causes that reflect the diversity of the Muslim community in the United States. As a scrutinized, racialized community often the victim of intolerance, U.S. Muslims provide a unique opportunity to learn about tolerance, pluralism and philanthropy in the United States by minority groups. U.S. Muslims are a highly diverse racial, ethnic and religious demographic, and this diversity is reflected in their theological beliefs, religious and civic practices, cultural traditions, and opinions. Muslims make up around 3.45 million Americans and are projected to become the second-largest faith-based group by about 2040. Twenty-eight percent of Muslim Americans are Asian, 22% are Black, 8% are Hispanic and the remaining 48% are white (Anglo/Caucasian, Persians, Arabs and Kurds), with no single ethnic group forming a majority.
U.S. Muslims report giving as much to causes within as they do to causes outside their faith. Furthermore, Muslims give less to houses of worship than does any other faith community. They prioritize domestic and international poverty relief and education over civil rights, despite facing challenges from stigmatization, surveillance and discrimination. Finally, while more than half of U.S. Muslims are foreign-born, they spend approximately 85% of their charity within the United States. In many ways, U.S. Muslim giving patterns resemble those of Jewish Americans.
The key findings of this report were:
◗ Regarding diversity in religious beliefs, Americans perceived their faith traditions and local faith communities as the most likely to hold this value, followed by their family and local communities at large.
◗ U.S. Muslims and non-Muslims indicate higher levels of tolerance with higher inclusivity, diversity and donation motivation.
◗ Muslims, on average, perceive themselves to have higher levels of tolerance, donation motivation, diversity perception, inclusivity and religiosity than their non-Muslim counterparts.
◗ When asked about political ideology, U.S. Muslims with high and low levels of political conservatism perceive themselves as the most tolerant.
While commitment to diversity, equity and inclusion is increasingly being communicated, this study suggests that we have more to do to ensure that our stated commitment to tolerance and furthering diversity, equity and inclusion connects with our giving. Philanthropic foundations and educational institutions should consider more programming to educate the general population about the benefits of tolerance, diversity, equity and inclusion. We should all look at how U.S. Muslims navigate these issues as a way to further our national pluralistic values.•
__________
Siddiqui is assistant professor and director of the Muslim Philanthropy Initiative at the Lilly Family School of Philanthropy at Indiana University, senior fellow at the Center for Global Politics and founder of the Center on Muslim Philanthropy. Send comments to ibjedit@ibj.com.

Click here for more Forefront columns.
Please enable JavaScript to view this content.