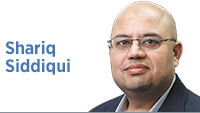 Despite the national, regional and local examples of systemic racism, civil rights causes continue to be left behind by American philanthropy.
Research by the Institute of Social Policy and Understanding suggests that Muslim Americans are subjected to high levels of prejudice, discrimination and hatred in the form of islamophobia.
The murder of George Floyd, Black Lives Matter protests, and the pandemic have exposed systemic racial disparities across America. These disparities extend to religious minorities on account of their religion and accompanying racialized status.
As we examine ways to eradicate discrimination and promote the equitable inclusion of racialized communities, we must understand the relationship between funding and civil rights organizations. These organizations advocate for social change and protect the rights of racialized minorities. They also receive public support for their work. However, they remain chronically underfunded as compared to the overall not-for-profit industry.
A new study by the Muslim Philanthropy Initiative at the Indiana University Lilly Family School of Philanthropy finds that civil rights are an important priority for Muslim American philanthropy. The new study, Muslim American Giving 2021, was funded by Islamic Relief USA and examines the size, scope and motivations of giving by Muslims in America.
How Muslims in America react, resolve and engage with various issues provides us important lessons for the future, when demographers believe the United States as a nation will have no majority ethnic group.
Despite being a small community, Muslim Americans are finding ways to support civil rights organizations that are needed to help the United States be a more equitable society. Civil rights protections for the members of their community is something on which Muslims spend quite generously. On average, Muslims give nearly 8.47% of their contributions to faith-based civil rights groups, compared with the general public, which gives 5.31%.
According to the Indiana University study, Muslim Americans have prioritized not just the civil rights of Muslims in their giving but also civil rights for other groups. Muslims also are more likely than the general public to give to non-faith-based civil rights causes (11.87% for Muslims versus 5.45% for the general population). Furthermore, Muslim Americans are more likely to support the Black Lives Matter movement than is the general population.
Muslim Americans also contribute their time and voice to bolster civil rights in the United States. Muslim Americans volunteered nearly double the amount of their time to civil rights causes outside their faith community than did the average American household. Muslim Americans and the general population had similar levels of volunteerism toward civil rights causes within their own faith community. Despite the national, regional and local examples of systemic racism, civil rights causes continue to be left behind by American philanthropy. In the recent report of the top 100 not-for-profits in the United States by the Chronicle of Philanthropy, organizations led by people of color and civil rights organizations were clearly being left behind.
Fighting racism and prejudice needs to be an important national priority. American values and ideals can only be realized if we truly take the needed steps to further civil rights and root out racism. For far too long, we have relied upon the persecuted to take on this responsibility.
Jewish, African, Latino, LGBTQ, Muslim and women have made some important strides, but we have so far to go. We must all join this fight. It is important that we rise up as a nation and contribute our voice, time, talent and treasure to be a more perfect union.•
__________
Siddiqui is assistant professor and director of the Muslim Philanthropy Initiative at the Lilly Family School of Philanthropy at Indiana University, senior fellow at the Center for Global Politics and founder of the Center on Muslim Philanthropy. Send comments to ibjedit@ibj.com.

Click here for more Forefront columns.
Please enable JavaScript to view this content.