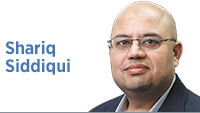 In March 2020, we were horrified to learn that a pandemic we thought was far away could have a real impact on our lives. None of us could have predicted then how profoundly our lives would change.
As a scholar of philanthropy and other not-for-profit organizations who specifically looks at Muslims, I was deeply concerned. Muslim not-for-profits raise a majority of their funds during the Muslim holy month of Ramadan. During this month, Muslims fast from dusk to dawn and find ways to connect with God. Philanthropy is a big part of this.
My concern in March 2020 was that the predicted economic slowdown would catastrophically damage Muslim American not-for-profits. Muslim American not-for-profits would be the first to feel the impact of COVID. I joined a chorus of not-for-profit and philanthropy leaders and scholars to ask donors, foundations and government to act. I held a series of webinars that were attended by nearly 1,000 Muslim American not-for-profit leaders.
Fortunately, government, foundations and donors came through and Muslim American not-for-profits saw an increase in funding. For the past two years, we have seen an artificial "COVID philanthropy bubble" in the Muslim American not-for-profit space due to actions of government rescue plans, private donors increasing giving (especially through their donor-advised funds) and foundations that increased their giving or removed restrictions on existing grants. Muslim Americans just finished observing Ramadan in April. My sense is that donations are down this year due to rising inflation, stagnant wages, a volatile (or depressed) stock market and fears that economic indicators suggest another recession is on its way. Muslim American not-for-profits might be the first hurt by a post-COVID economic bubble bursting. I pray that I am wrong, but I worry that complacency may harm not-for-profits that not only provide important social and human services but are 10% of our national economy.
The reality is that the Reagan Revolution reengineered our economy so that not-for-profits are asked (and funded) to provide services previously provided by government. It is no surprise that government is the largest funder of not-for-profits in the United States. Many not-for-profits might be subsidized by philanthropy but depend upon government. It is reasonable to make the case that COVID-related measures cannot continue forever. They cannot be a permanent part of our national economy. But it is also reasonable to expect that, once government and major philanthropists have "juiced" our economy, they can't go "cold turkey"; the consequences on our country's most vulnerable would be devastating. It is possible that I am misreading the national economic figures, but I am not misreading the donation numbers that came in this past Ramadan. Muslim Americans might be an anomaly or barometers for a national challenge faced by American not-for-profits. Regardless, prudent public policy dictates that we do something to make sure we have a plan to end a "juiced economy" without unnecessary pain. Some steps that we can take:
◗ Use unused COVID funds to help not-for-profits.
◗ Donors who have more, especially those who have money in their donor-advised funds (DAFs), should give more but give strategically.
◗ Foundations should reach out to their grantees to see how they can help.
◗ Don't forget that marginalized communities, like Muslim Americans, are not within existing funded networks by government and foundations. Government and foundations should proactively be more inclusive.
Not-for-profits play an important part in our economic and social fabric. Protecting them should be a national priority.•
__________
Siddiqui is assistant professor and director of the Muslim Philanthropy Initiative at the Lilly Family School of Philanthropy at Indiana University, senior fellow at the Center for Global Politics and founder of the Center on Muslim Philanthropy. Send comments to ibjedit@ibj.com.

Click here for more Forefront columns.
Please enable JavaScript to view this content.