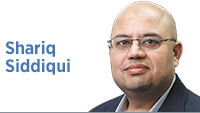 February and March have been exhilarating and deflating times for Americans following the Democratic nomination process for president. With Super Tuesday behind us, the Democratic nomination boils down to two major sides: Sen. Bernie Sanders' supporters and those opposing Trump. The Trump opponents have coalesced around Vice President Joe Biden.
Sanders seems to have a passionate group of voters behind him that resemble (in intensity) the campaigns of Sen. Barack Obama in 2008 and Donald Trump in 2016. The intensity of his campaign and those who seek a Trump alternative have drowned out some stronger choices for president.
Until now, this primary season was complicated by the number of candidates in the race that diluted the conversation and also made it viable for the race to continue until the Democratic convention. Super Tuesday made this a two-man competition for the nomination.
The question I am confronted with is: Who will be my candidate at a time research shows an overwhelming number of Americans question whether Muslims can be part of American society? According to Pew, nearly half of Americans believe there is a conflict between Islam and America, and half believe American Muslims can be part of the American fabric. The Institute of Social Policy and Understanding has developed an entire set of research-based toolkits to confront Islamophobia.
President Trump has clearly declared his dislike of Muslims. His policies seek to limit the role of Muslims in America. However, his bigotry goes further to include a broader group of people, particularly immigrants.
The Democratic field has been disappointing largely because of the candidates' ignorance of Muslim Americans. Sanders being the exception, perhaps influenced by his Pakistani-Muslim American campaign manager.
Biden has chosen as his "Muslim outreach coordinator" a non-Muslim who has associated with Islamophobic groups. It is unclear what strategy is being employed by the campaign. That places Muslim Americans like me in a difficult position.
I can choose Trump, who I believe is bad for our country in many ways. Chief among my concerns is that he is taking the imperial presidency to unprecedented levels. The checks and balances our Founders established have long been undermined by a series of Democratic and Republican presidents.
However, they seem to have been thrown out completely by this administration, by a GOP Senate that places partisan loyalty over constitutional duty, and by a court that has failed to protect the judiciary from attacks by Trump's Twitter account. We are far from the courage of Marbury vs. Madison.
I worry that Sanders might use this expansion of the imperial presidency to adopt policy positions because he will find few partners in Congress. He is likely to further expand the role of the presidency rather than to reset it.
As I ponder these issues, I find wisdom in advice from my 11-year-old son. Zaki was a passionate Pete Buttigieg supporter. One day I asked him why that was the case. He responded, "He is most likely to protect the LGBTQ community." I followed this up by asking Zaki what Mayor Pete would be like for Muslim Americans. His answer: "Abbu, it is the responsibility of Muslims to fight for the oppressed. It is other people's responsibility to fight for us."
His answer provides me a clear direction. It is my responsibility, as a Muslim American, to think of the greater good of our nation and for others who are being oppressed, rather than dwelling upon who will protect me. That responsibility falls on you.•
__________
Siddiqui is assistant professor and director of the Muslim Philanthropy Initiative at the Lilly Family School of Philanthropy at Indiana University, senior fellow at the Center for Global Politics and founder of the Center on Muslim Philanthropy. Send comments to ibjedit@ibj.com.

Click here for more Forefront columns.
Please enable JavaScript to view this content.