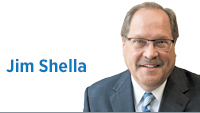 GOTV. Anybody who works in or around politics can tell you that's shorthand for "get out the vote." Campaigns, candidates and political parties talk about their GOTV efforts all the time. It sounds high-minded, but what they don't tell you is that the political parties don't want everyone to vote. They don't even pretend they do.
The goal of partisan get-out-the-vote efforts is to identify people who support a party or a candidate or a point of view and make sure those people get to the polls and cast a ballot that will help that side win.
Often, there are less visible, parallel efforts to suppress the vote of people who disagree with that party or candidate. (For example, Democrats in Indiana have long insisted that voter ID requirements are designed to reduce the minority vote, which generally goes in their favor. Republicans often complain about intimidation at polling places.)
For the partisans, it's about winning, not participation. (The opposite of Little League.)
By contrast, Bill Moreau wants everyone who is eligible to get out and vote. The Indianapolis attorney is behind a large-scale effort to increase the number of Indiana voters in the 2020 election. It's already underway.
"Involved citizenship starts with registering and then voting," Moreau said.
He is retiring from the law firm of Barnes & Thornburg at the end of the year to take on a project he calls "The Indiana Citizen," a not-for-profit, nonpartisan effort to increase voter turnout.
Moreau has a background in Democratic politics. He worked for both Sen. Birch Bayh and Gov. Evan Bayh, but insists his motives are pure. He says he is entering a "post-partisan" phase of life. His board members include noted GOP contributor Bob Grand and Trevor Foughty, who managed Todd Young's successful GOP campaign for U.S. Senate in 2016. Moreau has already received sizable donations from Republicans and Democrats.
He's developed a website at Indianacitizen.org. "Our goal is to load as much public information as we can find about Hoosier officeholders," he said. "As we get into 2020, we'll supply information about the candidates who will appear on your ballot."
You will be able to register and check your registration using tools on the website. You will also be able to locate officeholders who represent you by simply typing in your address.
Moreau also hopes to sponsor public forums and purchase public service announcements in an all-out effort to increase not just voting, but also civic engagement.
"Indiana consistently ranks in the bottom 10 of states for both civic literacy and engagement," he said. "This means many Hoosiers aren't voting and aren't accessing information about the candidates and issues."
States with greater participation often have laws that encourage it. For example, Minnesota has same-day registration at the polls. In Indiana, you must register 30 days in advance. Many states have longer voting hours. Indiana sticks to a traditional 6 p.m. closing time.
Moreau has no desire to fight the public policy and partisan battles necessary to change those rules. He simply aims to see how far public education can go to improve the circumstances.
Ultimately, he has just one goal, but it's a lofty one.
"Our goal is nothing less than to take Indiana from the bottom 10 to the top 10 of states in 2020."•
__________
Shella hosted WFYI's "Indiana Week in Review" for 25 years and covered Indiana politics for WISH-TV for more than three decades. Send comments to ibjedit@ibj.com.

Click here for more Forefront columns.
Please enable JavaScript to view this content.