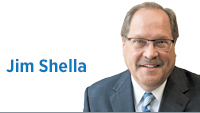 My interest in politics goes back to grade school, but I have never been one to take sides. In my small Minnesota hometown, elections were nonpartisan.
And so, one day, out of curiosity, I asked my dad if he was a Republican or a Democrat. I didn't know. He was unwilling to label himself but said he usually voted Republican.
Why? I asked. He said Republicans are more likely to support small businesses and he owned a small business.
He's not around anymore, but I can't imagine a simple answer like that one now. I also can't imagine that, as a Marine who fought in Korea, he would have any time for someone who praised Vladimir Putin.
What's become of the GOP?
It's a question that might also apply to the modern-day Democratic Party and our politics in general, but the behavior of Republican leaders in recent weeks is just alarming. And the lack of real leadership is disturbing.
Two GOP members of Congress, Liz Cheney and Adam Kinzinger, were censured by the Republican National Committee for their roles on the Jan. 6 commission. That's because, from my vantage point, they are doing exactly what you would expect elected officials to do: identify crimes, investigate them, and make sure responsible parties are punished appropriately.
The party members who opposed censure did so quietly.
As mentioned, Donald Trump, Mike Pompeo and others praise Putin, and GOP members of Congress are afraid to criticize their behavior. Sure, many of them, including Trump, have seen the parade lining up to support Ukraine, and they are running to get to the front of it, but it's too late.
Indiana GOP congressman Jim Banks and others go to great lengths to complain about what they perceive to be Joe Biden's weakness on the world stage giving comfort to our enemies. That old rule about politics stopping at the water's edge is out the window.
All of this stems from Trump's America First policy, which has his supporters calling for the United States to ignore the crisis in Europe to concentrate instead on domestic problems. It is short-sighted beyond belief.
It takes me back to 1996 and the abbreviated campaign for president run by the late Sen. Richard Lugar. I watched one day as Lugar, a Republican and a former chairman of the Foreign Relations Committee, explained America's position in the world to a town hall meeting in New Hampshire. I cannot replay the details here, but suffice it to say he was eloquent in pointing out how we need to work with allies in all parts of the world in order to preserve democracy here.
Trouble is, it's hard work that involves complicated diplomacy that can't be summed up in a soundbite on Fox News.
Now, Republicans are so focused on opposition to the Democrats that they are willing to watch Marjorie Taylor Greene and Paul Gosar, two GOP members of Congress, appear before a group that supports white supremacy with little condemnation.
In the backdrop, you have the 2022 off-year elections and the struggle for power on Capitol Hill. Democrats, who currently control the House and the Senate, have been in disarray, and the GOP sees opportunity. That explains some of this behavior. But these are perilous times, and we need leaders who put their own ambitions aside.
My message is as simple as my dad's answer to that question in the 1960s: Do the right thing, and the future will take care of itself.•
__________
Shella hosted WFYI's "Indiana Week in Review" for 25 years and covered Indiana politics for WISH-TV for more than three decades. Send comments to ibjedit@ibj.com.

Click here for more Forefront columns.
Please enable JavaScript to view this content.