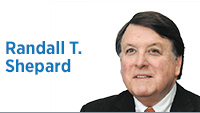 The tone of our national life is increasingly agitated. We seem more divided and combative than at any time in recent decades. I'm happy to report actual evidence that Indiana's civic health rates far better than that of the nation as a whole.
Over the last eight years, the Indiana Bar Foundation has undertaken to analyze the quality of relationships in Indiana's neighborhoods and families, our commitment to community work and local institutions, and our political participation. Much of this analysis is made possible by information collected by the U.S. Census Bureau.
The foundation is joined by a solid group of partners, including Indiana University, the Indiana Supreme Court, and the National Conference on Citizenship. Chuck Dunlap of the foundation and professor Ellen Szarleta of Indiana University Northwest are the laboring oars.
The Indiana Civic Health Index has now been issued four times, first in 2011 and most recently just a few weeks ago.
The latest report shows Indiana is a place where people interact with one another in a host of healthy ways. We rank 12th in the country, for example, in the frequency with which we discuss political, social or local issues with friends or family. And, we more often have dinner together with the family than most other states.
We rank 20th in volunteering for local organizations. We're near the top in posting views on social or political issues. And we're 17th in talking or spending time with people of different racial, ethnic or cultural backgrounds.
Indeed, on these measures and a good many others, Indiana has been improving its record as the years have gone by.
Where we're not doing so well—indeed doing very poorly—is on voting. Our turnout in the recent midterm elections was 49%, and that placed us 43rd among the 50 states. Our turnout in the last presidential election left us ranked 41st. Our performance has been below the national turnout since about 1990. We're only 3 or 4 percentage points below the other states, but that's enough to put us regularly in the bottom quintile.
On both community involvement and voting, there are major differences that relate to education and locale. People in urban and suburban areas tend to be more connected than those who live in rural counties. And older citizens tend to have higher turnout rates in elections than young people, though they've been doing better lately.
Previous editions of the Civic Health Index have focused on establishing a baseline from which trends might be identified over time that would suggest possible actions aimed at improvement. This edition proposes two such actions.
First, the foundation plans to convene a civic education task force to study methods of instruction, programs and educational projects aimed at improving civic education opportunities for all ages. The task force would prepare specific recommendations to improve civic education in Indiana. The plan is to launch this effort in early 2020.
Second, as we head into the 2020 elections, Indiana should aspire to increase voting turnout substantially, with the goal of moving from the bottom 10 to the top 10 of states.
Ann and Bill Moreau have created the Indiana Citizen Education Foundation to make this happen. Ann is a retired educator and association executive. Bill is a prominent public servant and lawyer who is about to retire from Barnes & Thornburg. They have recruited a remarkable team of directors committed to this cause, which will be firmly nonpartisan in its approach. And a lengthy list of founding contributors demonstrates the credibility of their leadership.
Check out IndianaCitizen.org to find out how you can join in this important effort. And be sure to vote!•
__________
Shepard, formerly Indiana chief justice, now serves as senior judge and teaches law. Send comments to ibjedit@ibj.com.

Click here for more Forefront columns.
Please enable JavaScript to view this content.