Several years ago, many will remember Indianapolis Downtown, Inc.'s branding campaign, which was "Downtown Indianapolis – Amazingly Always New!"
The slogan and accompanying brand narrative found its way onto street pole banners, print ads, radio and TV commercials and so on. It was eventually retired but as we've walked the streets these past few weeks during March Madness, we have been finally buoyed by the fans who have visited and shared such renewed sentiments as "Wow! Everything looks so new, clean and fresh."
These words are music to my ears after what has been such a dark time for Downtown since last March. It has truly been an honor to welcome thousands of visitors and locals BACK DOWNTOWN—a Downtown that has been literally aching for smiling pedestrians, diners, shoppers, and event attendees reminding us that once again, Downtown Indy definitely (and amazingly) feels renewed.
Although our name has been slightly altered (Downtown Indy, Inc.) we are still tasked to tackle critical issues that affect the growth, well-being, and user-friendliness of Downtown Indianapolis. DII has been preparing our amazing Downtown for an opportunity such as this not only since things went dark over a year ago, but for years.
With the news that Indianapolis was chosen as the home not only for the Final Four, but the entire 2021 NCAA Div. I Men's Basketball Championship, Downtown has become the rallying point where the community banded together to welcome March Madness and all its excitement—and relief.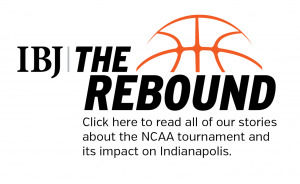 To get ready, we hosted community clean-ups last month with more than 150 volunteers spanning out to high-pedestrian areas of the Mile Square with brooms, shovels and litter pickers to ensure it was spotless to welcome thousands. DII has led teams of volunteers along with our own Street Ambassadors to help maintain cleanliness and hospitality throughout the tournament.
Each competition day through Championship Monday, teams have been deployed in multiple shifts to keep Downtown vibrant. As guests and locals have seen, the cleanliness is complemented by the 9,000 blue, citrus, red and yellow pansies planted in 220 planters throughout Downtown, bringing a smile to all that pass. And each evening, hundreds gather on the Circle where our Shining A Light technology uses artistic video mapping, lighting and sound to feature the new "Indiana's Game: a Basket, a Ball and a Dream" presentation.
This homage to Indiana's love affair with basketball creates an experience that shares the beauty of our story and how basketball is truly part of being a Hoosier. And now the pageantry has come to a close as the NCAA crowned a Men's Basketball champion last night here in Indy.
We reflect on the impact this tournament has had on our Indianapolis community, which goes well beyond the hard courts, event venues and hotel bubbles. The economic, communal and social impact has been tremendous for Downtown Indianapolis and our collective psyche.
Game attendance has allowed fans, visitors and 68 teams the opportunity to experience our true meaning of Hoosier hospitality and what Downtown Indy offers. The economic impact for our restaurants, retailers, attractions and hotels has been astounding. Occupancy rates at Downtown hotels were the highest in the nation. It's exactly the shot in the arm (right next to the COVID-19 vaccine) that Downtown needed to be brought back to life.
We've been given a glimpse into what we have missed and what many, I dare say, had started to take for granted. No more though. We were able to show that Downtown Indianapolis is just as vibrant as ever. Downtown Indianapolis is as safe and secure as ever. Downtown Indianapolis is as clean as ever. And Downtown Indianapolis is as ready as ever to continue to welcome ALL #BackDowntownIndy.
Clearly, our businesses have benefited from basketball for sure, and we are forever grateful. But we still need YOU. The Downtown businesses need your support to ensure they remain open until the pandemic fully subsides and our Downtown workforce return to pre-pandemic levels.
So, don't retreat back inside as basketball fans leave our fair city. Bring your friends and family and stroll the Indianapolis Cultural Trail. Celebrate your birthday, anniversary, new job or just the weekend at your favorite Downtown restaurant or bar. Shop Mass Ave boutiques and sway with Ann Dancing. Take in the Signature Salute offered each night on Monument Circle.
Essentially, it is time to come back Downtown in safe and measured ways and see all that our visitors have raved about.
We believe this is just the beginning to a return to a better Downtown Indianapolis. A Downtown that is, in fact, amazingly always new.
Seiwert is president and CEO of Downtown Indy Inc. and a member of the 2021 NCAA Div. I Men's Basketball Final Four in Indianapolis Host Committee.
Please enable JavaScript to view this content.