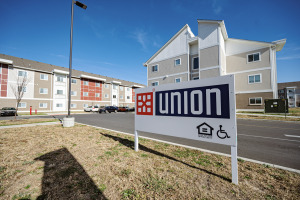 If there's one thing most real estate experts can agree on, it's this: The Indianapolis area doesn't have enough affordable housing.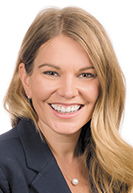 Jana Hageman, principal of T&H Investments, which has been involved in four affordable housing projects over the past five years, said a 159-unit development her firm was involved with in 2020—called Union at 16th—was fully leased within four months. Typically, developers reach 90% occupancy in eight to 14 months.
"There's a massive demand, and we can't get enough units out to meet that demand," she told IBJ.
According to SAVI, a database from The Polis Center at IUPUI, central Indiana had 31,051 subsidized rental homes in 2021. These units ranged from properties classified as permanent supportive housing (typically for those recovering from homelessness) to workforce housing, which targets individuals and families making as much as 120% of the area's median income.
But that affordable housing stock falls far short of the need, experts say. About 81,500 households in Marion County alone are classified as "cost-burdened," which the Indiana Housing and Community Development Authority defines as spending more than 30% of income on housing. The IHCDA supports affordable housing projects and other initiatives aimed at helping individuals and families in need of a home.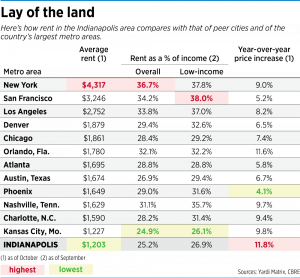 According to Santa Barbara, California-based Yardi, a vendor that tracks real estate data, Indianapolis has seen some of the biggest rent increases in the nation over the past year, 11.8% across all unit types. But it also began with a lower baseline than many other big cities, with average asking rents that were just under $1,100 in October 2021.
In fact, Indianapolis is among the most affordable major metropolitan areas, as renters tend to spend a quarter of their net income on housing. That compares with nearly 37% in New York City and 34% in San Francisco.
Even so, the challenges in providing enough affordable housing have been exacerbated by the rise in interest rates, which the Federal Reserve has continued pushing to curb inflation. Those rates are now around 7% to buy a single-family home, regardless of income, so fewer people are buying homes and freeing up affordable housing units for new renters.
"We're in a housing crisis like we've never seen before—both on the apartment side and the single-family-home side," said Steve LaMotte, an apartment broker in the Indianapolis office of Dallas-based CBRE. "Because of rising interest rates on the single-family side, the door has been closed for a number of would-be homebuyers."
LaMotte said he expects the continued rate bumps by the Federal Reserve to ultimately help slow inflation, but not to fix the housing crisis.
Even if interest-rate increases slow the rising cost of goods as intended, they still make borrowing money more expensive. And poorer households pay the highest rates, because they're based on factors like credit history and income levels.
More expensive financing and a continued rise in construction costs—materials and labor alike—have developers reevaluating projects in their pipeline.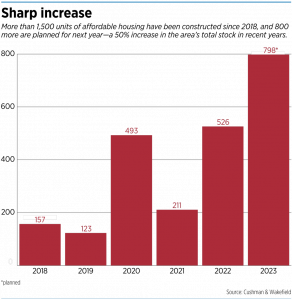 Continued crunch
But construction on just over 6,900 apartment units still got underway across central Indiana this year, according to data from Chicago-based brokerage Cushman & Wakefield's Indianapolis office.
Of those, 526 units are being developed with a focus on affordability. The proportions are expected to improve with construction starts in 2023, as almost 800 of the just over 5,000 units planned will be affordable. Before 2022, there had not been more than 500 affordable units developed in a single year for at least five years.
The need for more affordable housing isn't lost on city officials, either. In recent years, they have tried to spur more affordable housing—particularly mixing market-rate and affordable units in downtown projects—through both grant programs and tax-increment financing.
With TIF, the city issues bonds for a project based on the number of units set aside for people making less than the area's median income; it requires either 5% of the units for those making 50% of the median income or 10% for those making 30% of the median income. (Half of the average median income for a family of four is $45,650.)
But a TIF isn't the only tool at the city's disposal. It also has access to project-based vouchers, federal housing choice vouchers (also known as Section 8) and grant programs from the U.S. Department of Housing and Urban Development, which distributes hundreds of millions of dollars every year for affordable housing initiatives.
The city can also work with not-for-profit developers to establish a payment in lieu of taxes, or PILOT, which lessens the tax burden for certain properties by establishing a fee that would be paid in its stead. Also, the city and development firms can apply for two types of low-income housing tax credits issued by the Indiana Housing and Community Development Authority.
"Not everything is a TIF project," said Rusty Carr, deputy director of the city's Department of Metropolitan Development. "There are lots of opportunities to think about a variety of partner tools, and we do that pretty regularly. We try to align those resources for developers as much as possible, especially now when these projects are getting harder and harder to finance due to market and financial conditions."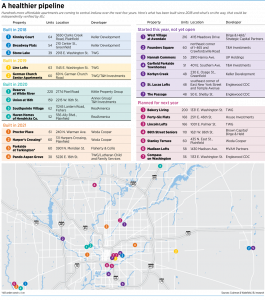 A continued demand
For developers, the most helpful tools are generally the state's low-income housing tax credits, which come in two levels: a 4% credit, which is generally available to any project, and a 9% credit that is far more competitive.
The credits allow developers to sell 10-year, fixed-rate, tax-exempt bonds to finance part of their project. The 4% bonds allow for up to 40% of the development cost to be secured as capital, while the 9% bonds can secure up to 90% of the cost.
While each has its own advantages, the 9% credit is typically reserved for projects that target deep affordability challenges, with most units intended for those making less than 30% of the area's median income. The 4% bonds—which are usually available in spades—have a broader affordability threshold.
"These are very valuable credits," said George Tikijian, executive vice chair of the multifamily brokerage team at the local Cushman & Wakefield office. He added that many more developers in recent years have been using the 4% credits, in part because of an influx in cash from the federal government through COVID relief programs and the like.
But Tikijian cautioned that the intense demand for the credits can't be sustained, which he predicted will also lead to a drop in affordability-minded apartment projects.
"With interest rates going up and the capital markets sort of getting squeezed, [usage] will probably go back down again," he said. "When you see the [current] pipeline, what you're looking at is potentially a temporary blip due to an increased flow of funds from the federal government."
A federal move last month will likely widen the gap between supply and demand. HUD in late November enlarged the pool of people eligible for affordable housing when it updated guidance for the range of area median incomes that qualify. It also raised the limits to how much rent people who qualify can be asked to pay.
Across the board, rent limits saw a significant increase in Marion County. For example, a two-bedroom unit in 2021 had a limit of $551 per month at the 30% AMI level. This year, that limit was $616—an increase of 11.7%.
Not-for-profits step in
LaMotte said housing affordability is likely to be further challenged by the expiration of tens of thousands of low-income housing tax credits across the United States in the coming years, allowing developers to convert many apartments from an affordable designation to market-rate. In central Indiana alone, up to 3,000 units could see that status expire by 2030.
Low-income housing requirements usually expire after 30 years, though some properties can have them removed after 15 years.
Because of that, LaMotte said, "those units will get converted to moderate housing and will be renovated with significantly higher asking rents."
Several not-for-profits are doubling down on their efforts to ensure affordability across Indiana, including the Glick Housing Foundation, a subsidiary of Indianapolis-based Glick Philanthropies.
In 2021, Glick spent $56 million to buy seven affordable housing properties in the state totaling about 1,100 units. The properties—one each in Bedford, Bloomington, Lebanon, New Albany and Shelbyville, and two in Indianapolis—were bought to prevent them from possibly transitioning to market-rate products under for-profit owners.
Glick said it plans to invest in the properties, providing maintenance and improvements aimed at improving the tenant experience. In Indianapolis, the firm said, it plans to use 4% tax credits to spend $40,000 per residence—a total of $14.3 million—to improve a 358-unit south-side complex called Bradford Lake near Stop 10 Road and Madison Avenue.
Doing so will extend the life of the property's affordability another 15 to 30 years, according to Glick.
The company developed Bradford Lake in the 1960s as an affordable property but eventually sold it in order to invest in other properties.
Glick said it plans to heavily invest in social services at Bradford Lake, much of which falls under the federal Section 8 designation for individuals and families making less than 50% of the area's median income.
"Whenever the Housing Foundation purchases a property, it makes a commitment … to really implement more intensive services, including an on-site service coordinator" that oversees programming, said Janine Betsey, director of tax credit operations for Glick.
Most large affordable housing communities offer service coordinators to help with programs like food security, employment and other social service needs.
"We're viewing it as an opportunity to both reposition the physical assets but also reposition how we deliver social services on site to those residents," she said.
In addition, the firm is working with the city to establish a PILOT for the property, which is also expected to result in city-funded infrastructure improvements to the roads surrounding the property at 7626 Portage Ave.
To promote affordability in Indianapolis and the other communities it serves, Glick Housing Foundation generally operates on a "break-even basis," said Adam Richter, executive vice president and general counsel. And it's often on the lookout for more properties it can keep in the affordability window.
Glick officials acknowledged that changing market conditions are likely to continue to make things more difficult. Not only is new affordable housing stock limited, but few owners of existing affordable properties are willing to sell them.
"We wish that there were more properties that we could buy," Richter said. "We have what I think is a really great formula here—that we can acquire properties through a nonprofit, that we can use the 4% tax credits to rehab it, and we can outfit it with a service coordinator.
"As the market changes and interest rates change, that may benefit us, or it may hurt us; we don't really know yet. But we scour the regions in which we work to try to find properties that fit the mold."•
Please enable JavaScript to view this content.