Retail always has been a fickle business, with some chains flourishing and some failing, even in boom times.
Through it all, Simon Property Group stood above the fray—serving as landlord, but not operator of the retail chains themselves, thereby insulating itself from retail's endless tumult.
But suddenly, Simon is veering into retailer ownership in a substantial way, emboldened by its successful partnership with two other firms to buy the teen-oriented mall chain Aeropostale out of bankruptcy court in 2016.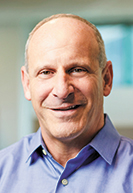 In February, it teamed with two other firms to buy the once-thriving fast-fashion retailer Forever 21 out of bankruptcy court for $81 million. And now, according to Bloomberg and court records, it is part of a group in talks to buy men's clothier Brooks Brothers, which filed for bankruptcy July 8; J.C. Penney, which filed for bankruptcy in May; and denim retailer Lucky Brand Dungarees, which filed for bankruptcy July 3.
Such deals might make sense in some cases but are far from risk-free, said Neil Stern, senior partner with the Chicago-based retail consultancy McMillanDoolittle.
"Owning real estate is very different than successfully operating retail stores," Stern said. "The challenge when you acquire failing or struggling retailers is there are underlying problems beyond having too much debt or paying too much for real estate that still need to be solved.
"People have been trying to 'fix' J.C. Penney for a couple of decades. The problems are not easily fixed, especially in an environment where more sales are going online and there is shrinking core demand for physical retail."
Simon Property Group did not respond to a request for comment. But on a conference call in May, CEO David Simon said his company has no intention of buying retailers with abandon.
"We're only taking inbound calls. So, if people want us to think about something, we're happy to do it. But we are not out there running around soliciting investments," he said.
"I am sure there will be opportunities, and we are in a position to be opportunistic if we think it helps our business."
Alexander Goldfarb, an analyst with Piper Sandler & Co. in New York City, said he isn't concerned. He said Simon is seizing opportunities to buy companies on the cheap at a time ailing retailers have few suitors, and the dollars the company is investing are relatively small.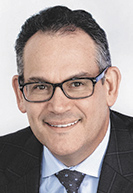 Further, he said, snapping up a firm like J.C. Penney positions Simon to make the best use of the retailer's space—keeping Penney stores open where it makes sense while redeveloping stores for alternative uses, such as restaurants or hotels, elsewhere. Sixty-three of J.C. Penney's 846 U.S. locations are in Simon shopping centers.
"If Simon makes any investments, it is to make money," Goldfarb said. "They can't use their capital to prop up retailers. Eventually, you run out of capital."
The company's returns have been handsome for Aeropostale, David Simon told analysts in February, before the COVID-19 pandemic staggered retailers.
He said Simon invested $25 million and already had recouped $13 million via distributions. At the time, the 575-store chain was valued at $350 million, giving Simon's 50% stake a value of $175 million.
"Our group's successful turnaround of Aero after we acquired it out of bankruptcy in 2016 gives us confidence with our ability to do the same with Forever 21," he said on the call.
In a July 2019 conference call, Simon struck an even more bullish tone. "We're certainly as good as the private equity guys when it comes to retail investment," he said, signaling interest in additional deals.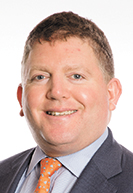 But Stern said Aeropostale was a more manageable turnaround than Forever 21 or J.C. Penney because its stores are 3,000 to 5,000 square feet. In contrast, Forever 21 stores top 20,000 square feet, while most J.C. Penney outposts are 100,000 to 200,000 square feet.
"The larger the store, the tougher to engineer a turnaround," Stern said.
He said righting Brooks Brothers, which operates roughly 3,000-square-foot stores, might be less daunting.
"You could make the argument that it is a perfectly fine company, except for the bad luck of COVID and people not going into the office, but it will be just fine six months from now," he said.
He said Simon has a vested interest in ensuring that its properties have a strong lineup of retailers that draw customers and that they don't have too many anchor vacancies.
"When you lose an anchor, there is potentially a domino effect from it," he said. "How many other retailers leave that mall because you no longer have a [big box] anchor or a fashion anchor? They are trying to protect the space the retailer is occupying and trying to mitigate the damage of vacancies."
In a conference call in February, before the Forever 21 purchase was complete, David Simon said his company's retailer-investment strategy was widely misunderstood.
"We would not have done Aero and we would not be attempting to do Forever 21 for the sole purpose of maintaining our rent," he said.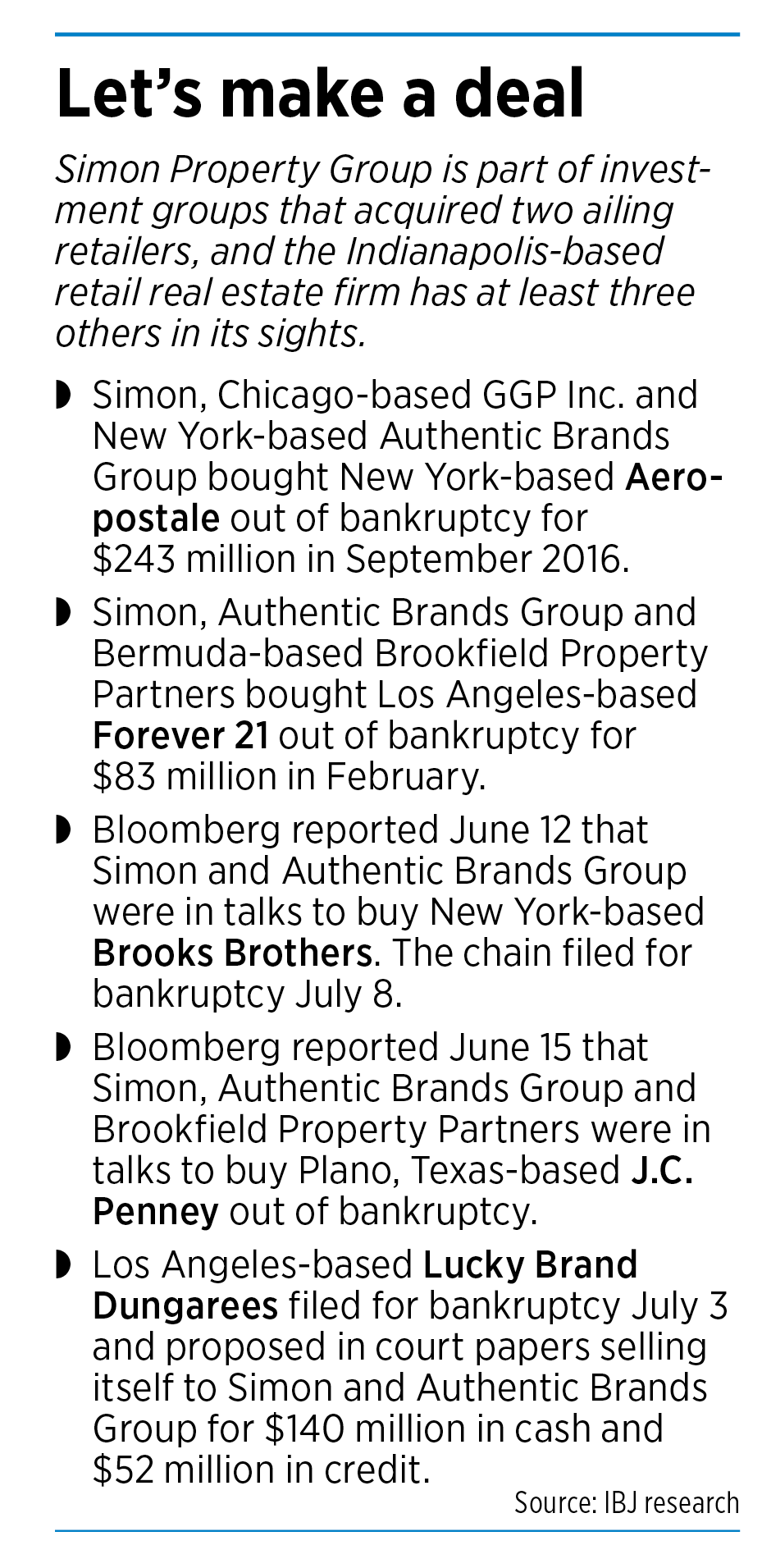 "And that's the biggest misnomer out there when I read various publications and analyst notes and media notes. We make these investments for the sole purpose of, we think there's a return on investment."
Analysts agree that, beyond Simon's return, there is additional upside if Simon can repurpose space occupied by an ailing anchor department store.
Department stores pay almost no rent, and they lack the drawing power they once had, Simon Chief Financial Officer Brian McDade said at an investor conference in March.
"And so what we've had the opportunity to do now is, recapture these department stores and add incremental, exciting uses that we didn't have the opportunity to do five, 10 years ago, when department stores were in a different position from a financial perspective," he said.
"Candidly, it's the single biggest opportunity that we've seen in our business in 25 years, is to recapture this space and drive forward the use of our real estate to what consumers are looking for today."
But Stern said that strategy works only to a point.
"It is a blessing in disguise when they lose a Sears and put in better retailers," he said. "But if a mall loses a Sears, a J.C. Penney and a Macy's, at some point there are not enough things to substitute in anymore."•
Please enable JavaScript to view this content.