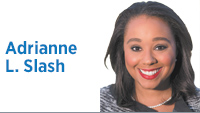 At the dawn of a new decade (I know this is still up for debate on social media), we have quite a tall task of adulting to do. This year brings the Census, general election (featuring every level of government), and the commemoration of women's suffrage. As we plan out the year and make vision boards, let's plan to be intentional as we write history.
It's been 10 years since the U.S. government has attempted to count every person living within the states. This year, the process has changed a bit. The "form" is now electronic and must be completed online. That's right, we're counting everyone that lives in our country using an online form. You'll want to begin checking your mail in March for the instructions. You'll need to account for everyone living in your house (even if it's someone just staying with you at the time). Not getting an accurate count is the same as failing to capture an RSVP for everyone in the country to come to dinner—yet we all still need to eat. Join me, and plan to participate.
It's been 100 years since women gained the right to vote, and women across the country are preparing to spend the year in dedication to getting the opportunity to participate, to have our voices heard and to deal with the issues that come along with that. It's a year of celebration, but also a year of storytelling, remembering a spotted history and understanding the responsibility we have to the women who came before us. Not all women are celebrating 100 years this year. Join me in planning to tell the whole story, welcome new perspectives and setting goals for equity in the century to come.
Now, for the election.
As a young(er) leader, I often get asked: What's next? What motivates me? And why do I continue to be a leader? I do it for times like this. In Indianapolis last year, only 24% of our electorate decided the fate of the city for four years. We cannot let that be our story in 2020! Working to make our city better is something all of us can easily do—the local level often offers the simplest ways to engage.
Let's get to work.
This year, Indy residents may have nearly 20 positions for which to select candidates. That also means nearly 20 positions to learn about and understand who is best qualified for the job. For those who are 18-40 years, our elders are counting on us to sit it out or to just talk about it on social media. I'm personally challenging you to participate like you never have before.
Let's use the internet for good—good research that is. To learn about the roles, identify the candidates that we align with and to make sure our voices are heard. Being an informed voter does take effort and commitment, but we all have to do it. We can start by going to IndianaVoters.com and finding out what offices are on our ballot, what those roles do, research who wants the job, and finally work to understand who best aligns with your interests.
If we all start there, we're most likely to stay clear of group-think, voting just because, and supporting candidates that are not in favor of our interests. I challenge you to try it! More to come on these issues in the coming months.•
__________
Slash is a diversity and inclusion consultant in the health care industry and is president of The Exchange at the Indianapolis Urban League. Send comments to ibjedit@ibj.com.

Click here for more Forefront columns.
Please enable JavaScript to view this content.