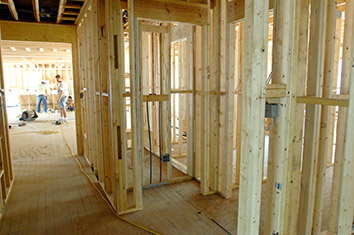 Central Indiana's homebuilding slowdown continued to escalate last month, according to the Builders Association of Greater Indianapolis.
Builders in the nine-county Indianapolis area filed only 500 single-family building permits in September, down 33% from the same month of 2021.
Permit filings have fallen on a year-over-year basis for the past nine months and in 12 of the past 14 months. September's year-over-year decrease was by far the largest in any month this year.
Builders have filed 6,760 permits during the first nine months of the year, a 16% decrease from the same period a year ago.
Rising mortgage rates, supply-chain issues, increasing costs and limited lot availability are hampering the market, according to industry experts.
County numbers
– Marion County bucked the area trend, with 102 single-family building permit filings in September, a year-over-year increase of 9%. Filings in the county are up 3% for the year, to 1,064.
– Hamilton County, typically the busiest area county for home construction, saw filings sink 33% in September, from 184 to 124. Year-to-date filings are down 24% in the county.
– Hendricks County's numbers fell 73% last month, to 29.
– Hancock County saw September permits decline 49%, to 60.
– Johnson County experienced an 18% increase in filings last month, to 100.
– Filings fell 28% in Boone County last month, to 38.
– Madison County filings were down 40%, to 25.
– Morgan County filings dropped 80%, to 11.
– Shelby County filings rose from six to 11.
Please enable JavaScript to view this content.