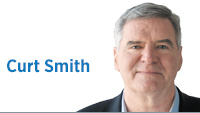 With the municipal elections concluded, political hands begin looking to 2020. A few primary battles will be decided in May, but most major races will be settled in the general election, 11 months away, or at the party conventions next summer.
The governor's race is the crown jewel of Indiana politics. Gov. Eric Holcomb appears to be in fine shape, with no significant primary challenger likely and a clear advantage against the Democratic field. He remains a bit unknown to less-engaged voters, with 26% having no opinion of him in a Morning Consult poll conducted in October. His backers believe he enjoys better numbers than that poll reported.
This indicates Holcomb is more vulnerable to political shocks than a typical incumbent governor, and it's likely in part because GOP officials selected him to replace Lt. Gov. Sue Ellspermann and then again to top the ticket when Mike Pence became Donald Trump's running mate. Still, his risks are limited to events like a complete meltdown of the GOP brand because of Washington, D.C., politics; a sharp economic downturn; or a major scandal in state government that would not be of his making but could still stick.
Given his current standing, financial edge and work ethic, however, Holcomb is the clear favorite.
A more interesting Republican contest is shaping up in the attorney general race, where the nominee is chosen by delegates to the June convention. Incumbent Curtis Hill is running again, despite a pending potential disciplinary action before the Indiana Supreme Court related to an incident where he was accused of inappropriately touching several women in a crowded bar during an early-morning celebration marking the end of the 2018 legislative session.
The state inspector general found no cause for action. Nor did a special prosecutor find any grounds for criminal charges. The judicial disciplinary hearing reviewed all the unsavory aspects of the event, but essentially nothing has changed.
The Indiana Supreme Court recently suspended three judges who, while attending a judicial conference in Indianapolis, participated in and might have sparked an incident downtown that included shootings, hospitalizations and alcohol-fueled taunts. Two judges were suspended for two months without pay, the third for one month.
By that standard, Hill is unlikely to face anything that will end his candidacy, although how the court characterizes the incident could influence delegates' thinking. Party insiders worry Hill is vulnerable, and the Democratic nominee could run a negative campaign with plenty of fodder from these investigations, plus pending lawsuits, to take Hill out. That victor could then have a foothold for Democrats to begin rebuilding its statewide presence, which is currently lacking.
Hill has responded to these concerns by rallying his base, which includes the more conservative elements of the GOP coalition, including tea party, anti-tax and evangelical voters. Typically, these strands of the coalition are overrepresented in the GOP convention since activists participate. Pushing hard to get Hill out risks upsetting these stalwarts. This contest bears watching.
A third barometer is the open 5th District congressional seat. Early fundraising and organizing confirm this will be an interesting GOP primary, with six or more candidates. State Treasurer Kelly Mitchell led all fundraising in early efforts with winsome newcomer Micah Beckwith placing a respectable second. (Full disclosure: This author is backing Beckwith.)
This race might well be the one to watch both in the May GOP primary and the fall general election to determine if Indiana's rock-solid red reputation is showing some purple hues or even pockets of blue.•
__________
Smith is chairman of the Indiana Family Institute and author of "Deicide: Why Eliminating The Deity is Destroying America." Send comments to ibjedit@ibj.com.

Click here for more Forefront columns.
Please enable JavaScript to view this content.