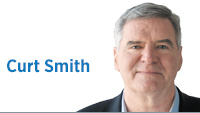 Indiana played an outsized role in the 2016 presidential primaries, securing Mike Pence's opportunity to serve as vice president. Now this educational community of perhaps 6,000 souls adjacent to South Bend could thrust Indiana into a central role again in the upcoming presidential election.
How, you ask? First, its namesake university will host the initial debate. Second, neighboring South Bend Mayor Pete Buttigieg, reared on this campus, is a credible Democratic presidential candidate. But most intriguingly, third, this hamlet hosted U.S. Attorney General William Barr for a speech of remarkable clarity and courage about the left's war on religious liberty. This issue—religious liberty—certainly will be a defining one in next year's national campaign.
Barr's Oct. 11 address at the Law School of Notre Dame University offers the clearest critique yet of the status and significance of the left's decades-long assault on religious liberty. Barr underscored how President Trump's administration will defend Americans of faith, especially if voters grant it four more years.
In contrast, the left's thinking was clearly revealed during an Oct. 10 CNN Town Hall meeting focused on LGBTQ+ issues. Former Democratic contender Beto O'Rourke grabbed the headlines with his call to eliminate tax exemptions for churches and houses of worship, other not-for-profits and colleges and universities whose sincerely held religious beliefs teach marriage is uniquely only one man and one woman.
"There can be no reward, no benefit, no tax break for anyone or any institution, any organization in America that denies the full human rights and the full civil rights of every single one of us," O'Rourke declared.
As if on cue, Barr spoke just hours after O'Rourke in a speech that should be required reading for every high school student. After a brilliant and succinct summary of the religious foundations of American self-government, he said:
"The problem is not that religion is being forced on others. The problem is that irreligion and secular values are being forced on people of faith."
After a reference to Roman emperors coercing sacrilege among early Christians, he added:
"Similarly, militant secularists today do not have a live-and-let-live spirit—they are not content to leave religious people alone to practice their faith. Instead, they seem to delight in compelling people to violate their conscience."
Think of all the bakers, florists, counselors, private schools receiving vouchers, photographers, adoption agencies and others hounded through the courts since the landmark Obergefell same-sex marriage case (2015). In that decision, Justice Anthony Kennedy wrote that people of good will—faithful and irreligious alike—may disagree on giving same-sex unions the full recognition of the state. So Kennedy declared tolerance for all, and the courts have been working overtime since to deliver on that assurance.
When people ask why traditional Catholics and evangelical protestants so overwhelmingly support the Trump administration, despite the president's personal shortcomings and impolitic rhetoric, the answer should be obvious.
We support an administration and a president who supports the policies and practices most consistent with the freedoms promised from Plymouth Rock through 1776 to Gettysburg to D-Day and on to Afghanistan today. These rights are more at risk now than at any time in our 400-year history. We need Barr's reasoning to prevail over Beto's pandering when the presidential candidates debate in Notre Dame, Indiana, on Sept. 29, 2020.•
__________
Smith is chairman of the Indiana Family Institute and author of "Deicide: Why Eliminating The Deity is Destroying America." Send comments to [email protected]

Click here for more Forefront columns.
Please enable JavaScript to view this content.