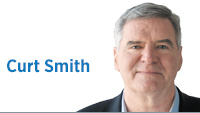 How President Biden responds to the extreme circumstances of the war Russia is waging against Ukraine will define his presidency as well as America's initial place in a rapidly emerging new world order.
The early indications are, the West is in for the long slog, not to mention the beleaguered Ukrainian people. Russia, specifically Vladimir Putin as its autocratic leader, seriously miscalculated the costs and consequences of this naked, evil aggression. Now that he is cornered, with his economy tanking and Ukrainian resistance stiffening, Putin must press on to what will certainly be a Pyrrhic victory.
This clash of civilizations, as the president has rightly observed, is autocracy vs. democracy. But the real protagonists are America and China, not Ukraine and Russia. And the stakes are as high as human freedom and dignity itself.
If Putin prevails without paying an unacceptable cost, China will be emboldened to more aggressively assert its claim over Taiwan. That is an alarming possibility, as most U.S. military and intelligence war planning scenarios that lead to World War III begin with China invading Taiwan.
The early indications are somewhat reassuring even as we await the clearing of the first fog of war. Russia was less effective on the battlefield than anticipated, Ukraine was more effective on defense, and the West is far more unified.
Russia's supporters include Syria, North Korea, Venezuela and Belarus, with tepid neutrality from China's officials. This club of autocrats must pause and recalculate. Advantage Ukraine and the West.
But the stakes over the outcome of this contest go beyond war and peace. The autocrats assert they know best as benevolent philosopher kings, to cite Plato. They do have an advantage in moving fast and making quick, final decisions.
Democracies, too, have an advantage. We might move slowly, but decisions are based on the wisdom of the crowd (elections and public opinion) and foster greater buy-in from the citizenry once implemented, including in the toughest of times. We own our decisions, in other words, because they are "our" decisions.
So, autocrats are efficient while democrats build consensus.
The war in Ukraine highlights this issue, putting it in sharp relief. But there is another defining dynamic at work, one that is rooted in human nature and is better explained by the philosophers and theologians, not the military commanders or the political scientists. Evil always overreaches. Always.
True, despots do great harm. In just the 20th century, Hitler, Stalin, Pol Pot and Mao, among others, married political ideology with military technology, murdering maybe as many as 100 million souls.
But the unadulterated evil caused by their isolation and hubris galvanizes a world response. With subjects, not citizens, serving them, their weakness emerges. We see this in these early days of the first major land war in Europe since 1945.
One immediate step the West must take, despite Biden's reluctance, is to exploit our own energy sources. It is borderline insanity that we fuel Russia's war machine with European and American cash to fuel our cars, factories and power plants. But over the longer term, we must see this unwelcome war as a clarifying event, an opportunity to oppose not just the monster evil of Russia, but also the regional wrongs of Syria, Venezuela, Iran and North Korea as autocratic affronts to freedom.
Western civilization, founded on the promise of freedom and the worth of each individual, does not always meet its high calling. But this clarion call brings us back to our best selves, suggesting a new birth of freedom as we collectively confront China's worldwide autocratic ambitions.•
__________
Smith is chairman of the Indiana Family Institute and author of "Deicide: Why Eliminating The Deity is Destroying America." Send comments to ibjedit@ibj.com.

Click here for more Forefront columns.
Please enable JavaScript to view this content.