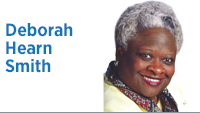 In the early 1970s, my husband's military assignment was security along the Berlin Wall. While the focus at that time was on Vietnam, the border between the east and west was an active fire zone.
When I visited Germany during Christmas in 1972, I could not make sense out of the long-standing traditions surrounding the most sacred of holidays in a place not yet a generation away from the Holocaust. I walked through the world-famous markets and talked to Germans about their centuries-old holiday traditions. I wondered, but never voiced to them, "Where were you while Hitler led your country down a path of destruction?"
Recently, I returned to Berlin and the wall along with my husband and two of my grandchildren. The wall now is a gathering place full of life. I pondered how much was lost by so many. My young adult grandchild has an academic and historical perspective of the wall and its meaning. My 9-year-old has no concept of what could justify the need for a wall. But my husband and I feel profound sadness when we watch history repeating itself in our lifetime before our very eyes. We unfortunately understand in a way we did not in the 1970s how this type of dehumanization happens.
The sad reality is that we value economic concerns more highly than we even comprehend. We are able to justify and accept almost anything on a full stomach, warm home and secure employment. And conversely, in the absence of these, we are willing to assign blame to the most powerless among us—especially if somehow the group is easy to identify as different. This is much easier if the group chosen for blame is not able to assimilate into the mainstream because of religious practice, color or some other manifestation of the group.
So as Germany used the Jewish people as its scapegoat, the United States is using people of color. A recent project by The New York Times pointed out that Africans arrived in 1619, predating most immigrant groups. And the Native American is the true nonimmigrant. It's not about when a group arrived.
This brings us to today. It is the start of the public phase of the impeachment hearings. Poll after poll confirms that Americans have already decided their stand and have no interest in hearing the facts. The leadership of the country has lined up based on party affiliation.
I think back to Germany and remember the sequence of events that led to the loss of countless lives and the generations it has taken to begin the healing process.
I weep for my country, as we are unwilling to understand our current circumstances. We are searching to assign blame outside our own responsibility. We have become blind to the truth and open to our own version of reality, no matter how flawed. We are with moral conviction assigning blame to others, as we devalue their humanity because of our differences.
How far down this path will we go? I believe in the words of Martin Luther King Jr.: "The arc of the moral universe is long but it bends toward justice." The question is: At what cost?
Like the Germany I visited, we are now in preparation for our most important religious holidays. As we honor the birth of a Jewish infant, from poor parents, and an immigrant, is it for show? Or will we remember, understand and value the true meaning of love and peace to all?•
__________
Smith is former CEO of the Girl Scouts of Central Indiana. Send comments toibjedit@ibj.com.

Click here for more Forefront columns.
Please enable JavaScript to view this content.