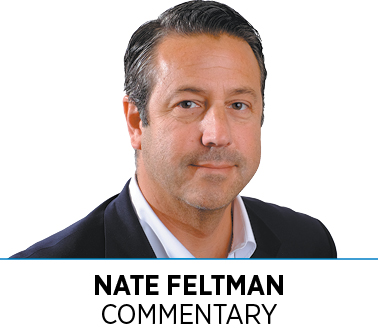 Congresswoman-elect Victoria Spartz just made history. Spartz's victory in Indiana's 5th Congressional District marks the first time we have elected a naturalized citizen to Congress in Indiana. Spartz will also be the first Ukrainian-born person to serve in the U.S. Congress. Her victory is remarkable in so many ways.
At a time when many claim that xenophobia reigns at the national level, Hoosiers of the 5th District have sent a message nationally that ideas matter much more than where a person happened to be born.
Having spent her first 20 years growing up in the former Soviet Union, Spartz witnessed firsthand how socialist policies ruin a society. Her credibility, passion and authenticity shined through as she advocated for, and campaigned on, the importance of personal liberty, limited government and economic opportunity for all Hoosiers.
Spartz's victory highlights a core Hoosier value that does not get enough attention—we embrace and support smart, hard-working people who want to engage civically no matter where they are from. This is not the case in some cities and states and is a distinguishing feature that will help drive Indiana's economy in the coming years. Spartz's quick rise in Indiana politics is an awesome example for Hoosiers (and non-Hoosiers) living on the coasts who are contemplating returning to Indiana in a "work-remotely from anywhere" world. Come to Indiana no matter where you are from and we will welcome you and support you.
Another exciting aspect of Spartz's victory is the example she is setting for Hoosier women. A mother of two girls and a business owner, Spartz's ability to balance family, business and politics is impressive. It is a credit to her and her family that they were willing to not only invest personal funds for a cause bigger than themselves, but also endure the loss of personal freedom that comes with running for office. Her determination, toughness and positive attitude are a wonderful model for women considering entering the political arena.
Spartz will enter her freshman year in Congress along with a record-breaking number of Republican women. She replaces Rep. Susan Brooks, who was charged with recruiting Republican women to run for Congress by the National Republican Congressional Committee in the year she announced her decision to not seek a fifth term. Brooks leaves on a high note as her efforts resulted in 36 Republican women being elected, up from just 13 two years ago.
The diversity of GOP women who will join Spartz in the 117th Congress is equally impressive. Yvette Herrell from New Mexico is a member of the Cherokee Nation. Maria Salazar from Miami is a Cuban American. Nicole Malliotakis from Brooklyn, New York, is the daughter of Greek and Cuban immigrants. Stephanie Bice of Oklahoma is the first Iranian-American elected to Congress. Young Kim and Michelle Steel are two of the first three Korean-American women elected to Congress.
This group of diverse Republican women, many of whom either personally or through their families have experienced socialism, are contemplating forming a "Freedom Squad" as a counter to the Rep. Alexandria Ocasio-Cortez-led "Squad" that has advocated for socialist policies. While AOC's Squad feeds off of identity politics, look for Spartz and her freshman colleagues to focus less on their ethnicity and gender and more on policies that promote economic opportunities for all Americans.
Spartz's win is inspiring at a time America needs more from our public officials. It is fitting that a country built by immigrants in search of liberty is turning to immigrants and first-generation Americans to remind us of America's founding principles.•
__________
Note: Feltman donated to Spartz's campaign and is serving on her transition committee.
Feltman is IBJ Media's CEO and a shareholder of the company. Send comments to nfeltman@ibj.com.
Please enable JavaScript to view this content.