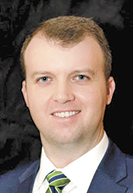 Indiana State Treasurer Daniel Elliott has named Jacob Blasdel executive director of the Indiana Bond Bank, succeeding acting executive director Ron Mangus.
The state bond bank works with local government agencies throughout Indiana to lower borrowing costs for public projects.
Most recently, Blasdel served as clerk-treasurer and utilities manager for the town of Speedway. He was elected to the post in February 2020. He previously served as town manager, an appointed position.
"As someone who has worked in municipal government, I'm aware of the challenges that exist to accessing needed capital, and look forward to making sure communities and other qualified entities are able to utilize our services," said Blasdel.
He said the bond bank is a valuable took for local governments, especially in rural Indiana.
The Speedway Town Council said Blasdel oversaw numerous initiatives when he worked for the town that made it a "better place to live." The council said under his leadership, the town has kept expenditures below budget, received successful financial audits, and paid down more than $3.5 million in debt.
"It has been a pleasure working with Jacob and witnessing the key roles he has played in the economic growth and financial security of Speedway," said Town Council President Vince Noblet in written comments. "Jacob has been a dedicated public servant and the Town of Speedway has been positively impacted by his work. On behalf of the council, I want to thank Jacob for his many contributions and wish him and his family much success."
A caucus will be held to fill the vacancy of the office of clerk-treasurer of the town. A date has not been set.
Please enable JavaScript to view this content.