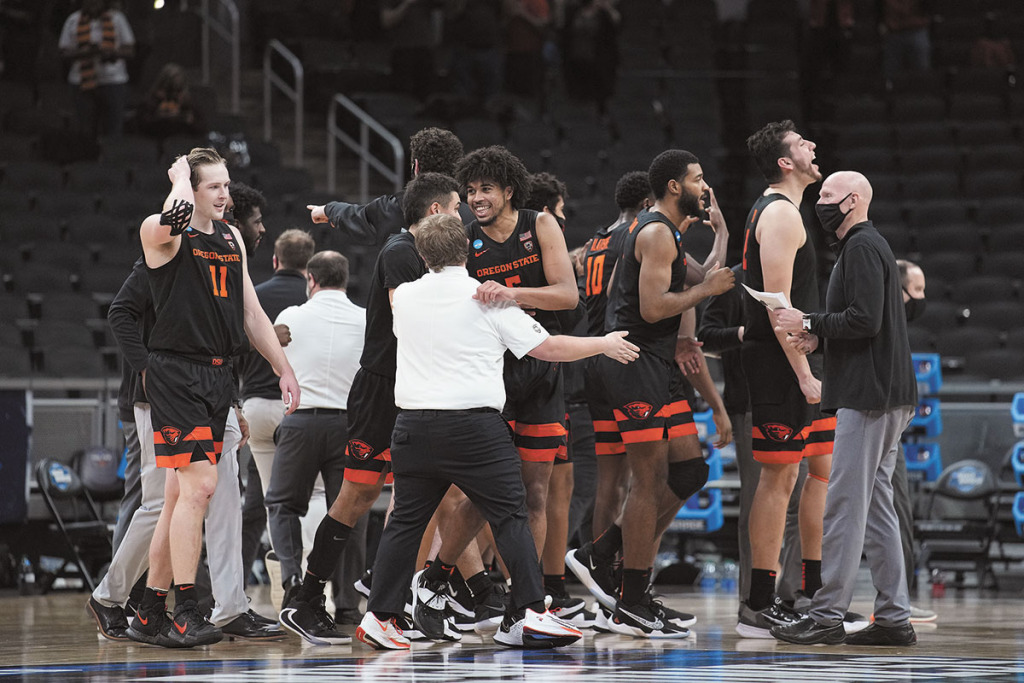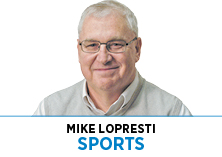 In the end, it's the moments that linger. Not COVID test results or bubble restrictions or even final scores. Just moments.
How to remember the past three weeks in Indianapolis? By the JW Marriott bracket lighting the night? By police escorts always turning the corner, sheep-dogging team buses—never just one bus or two, but always three? By people walking where empty streets used to be?
Sure, but here also are 20 keeper moments, not all of them pleasant, from the tournament that will never happen again. Not here, not anywhere.
Arkansas vs. Colgate at Bankers Life Fieldhouse. Colgate has an early lead with a flurry of 3-pointers from Jack Ferguson, whose middle name is Naismith. His father once researched both the family and James Naismith's roots and both trails led back to Scotland in the 17th century. So, yeah, a descendent of the man who invented the game of basketball could well be down there on the court. Colgate loses, anyway.
Baylor vs. Hartford at Lucas Oil Stadium. The Hartford Hawks are so excited. This is the school's first NCAA Tournament game in history and they're waving to their crowd while lineups are announced. The game starts, and on the first possession guard D.J. Mitchell streaks to the corner, lands wrong, and badly hurts his ankle. He spends the rest of the game with his head in his hands on the bench. His tournament experience has lasted 16 seconds.
Loyola vs. Georgia Tech in Hinkle Fieldhouse. Sitting in the southwest corner is Sister Jean, the 101-year-old Loyola team chaplain who was 8 years old when Hinkle was built. She might as well be a rock star, for all the people who stop by to snap a picture. She mentions meeting Blue, the Butler bulldog, before the game. Even had her photo taken with him. For once, Sister Jean has asked to pose with someone, rather than the other way around.
Purdue vs. North Texas at Lucas Oil Stadium. And just like that, the state of Indiana is gone from the bracket, lock, stock and Boilermakers. The tournament is only 30 hours old, and the Big Ten has already had three teams—Michigan State, Ohio State, Purdue—lose in overtime.
Colorado vs. Georgetown at Hinkle Fieldhouse. The building at its most Hinkle-ish; the afternoon sun coming through the windows and reflecting on the court. Some suggest that might be a distraction. Not to Colorado. The Buffs make 64% of their 3-point shots.
Iowa vs. Grand Canyon at Indiana Farmers Coliseum. Grand Canyon has a forward named Oscar Frayer, who scores eight points in 25 minutes of playing time. Three days later, having returned home with his team, he would die with his sister in a car accident. On championship Monday, when "One Shining Moment" is played with lots of Baylor and Gonzaga highlights, time is saved for an image of Frayer.
Oregon vs. VCU at the Coliseum. All is quiet, and the Coliseum sits empty. No contest is the final score. VCU has gone home with four positive virus tests, the first team in history to show up at an NCAA Tournament and not play. A few days later, at a downtown souvenir stand displaying shirts for every team in the bracket, there seems only one to buy. VCU.
Abilene Christian vs. Texas at Lucas Oil Stadium. Imagine IU losing to Purdue Fort Wayne. Wait a minute, the Hoosiers recently did that. Twice. But imagine losing in the NCAA Tournament. That's how the Longhorns feel.
Loyola vs. Illinois in Bankers Life Fieldhouse. And the splash from the great Big Ten bellyflop of 2021 gets larger.
Oral Roberts vs. Florida at the Coliseum. A No. 15 seed in the Sweet 16. That's been seen only once before. Ever.
Oregon State vs. Loyola at Bankers Life Fieldhouse. The Beavers were picked to finish last in the Pac-12. They're seeded a lowly 12th. They're in the Elite Eight. Fairy-tale stuff.
Victory Field on a sunny day. Kickball over here, Frisbee over there, and look how many people are walking on the warning track. Victory Field has become the unexpected star of this tournament as the outdoor hot spot for bubbled-up teams. Without it, there would have been many more stories of coaches and players gasping for fresh air.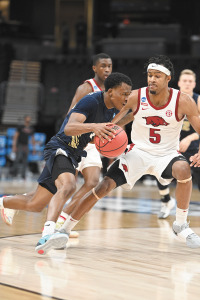 Oral Roberts vs. Arkansas. The big scorer for Oral Roberts is a biomedical chemistry student the Razorbacks can't stop. Max Abmas scores 29, 26 and 25 points in his three Indy games, and nearly makes a game-winning shot to bring down Arkansas. He is the star of the month whom many will never know.
UCLA vs. Alabama at Hinkle Fieldhouse. The Tide is momentarily saved by a buzzer-beater but UCLA rolls in overtime. Somewhere in the crowd is an Alabama fan named Luke Ratliff. He would go home and die of COVID the next week.
Baylor vs. Arkansas at Lucas Oil Stadium. A bizarre pre-game warmup that only 2021 could provide. The Bears and Razorbacks are warming up on the south court for their Elite Eight game while on the scoreboard overhead are scenes of the Houston Cougars cutting down the nets on the north court, already in the Final Four.
UCLA vs. Michigan at Lucas Oil Stadium. Nine Big Ten teams in, now nine Big Ten teams out. At No. 11, UCLA matches the lowest seed ever to get to the Final Four. It has come to this in 2021: The Cinderella story of the tournament is the program with 11 national championships.
USC vs. Gonzaga in Lucas Oil Stadium. The quietest moment of the month. Easy. The arena is hushed as medical personnel lean over referee Bert Smith, who has suddenly collapsed. He is eventually wheeled off and returns home to Cincinnati two days later, but it is an utterly frightening five minutes.
The streets of downtown on April 3. The national semifinals are at Lucas Oil, the state high school finals at Bankers Life Fieldhouse. The sidewalks are a mixture of Barr-Reeve black and Baylor green. One thing the high school games have that the Final Four does not: cheerleaders.
Gonzaga vs. UCLA at Lucas Oil Stadium. For all its noise, the tournament has yet to have a truly classic ending. Until now. Probably every Indiana person watching Jalen Suggs' 3-pointer for the ages for Gonzaga notices that it looks an awful lot like Gordon Hayward's Hail Mary for Butler against Duke. Same Lucas Oil Stadium, same side of the court. Only, alas, this one went in.
Gonzaga vs. Baylor at Lucas Stadium. It's Baylor by a mile, with coach Scott Drew a Butler grad; his brother Bryce a former Indiana Mr. Basketball; their father, Homer, a Valparaiso legend. The 1976 Indiana Hoosiers are still history's reigning perfect champions as the Indianapolis curse claims another history-book wannabee. UNLV lost here in 1991 … Kentucky in 2015 … Gonzaga in 2021 … this is the last place on Earth an unbeaten team wants to try to finish the job.
But as the past three weeks have proven, it's the first place on Earth to hold a one-site NCAA Tournament.•
__________
Lopresti is a lifelong resident of Richmond and a graduate of Ball State University. He was a columnist for USA Today and Gannett newspapers for 31 years; he covered 34 Final Fours, 30 Super Bowls, 32 World Series and 16 Olympics. His column appears weekly. He can be reached at mjl5853@aol.com.
Please enable JavaScript to view this content.