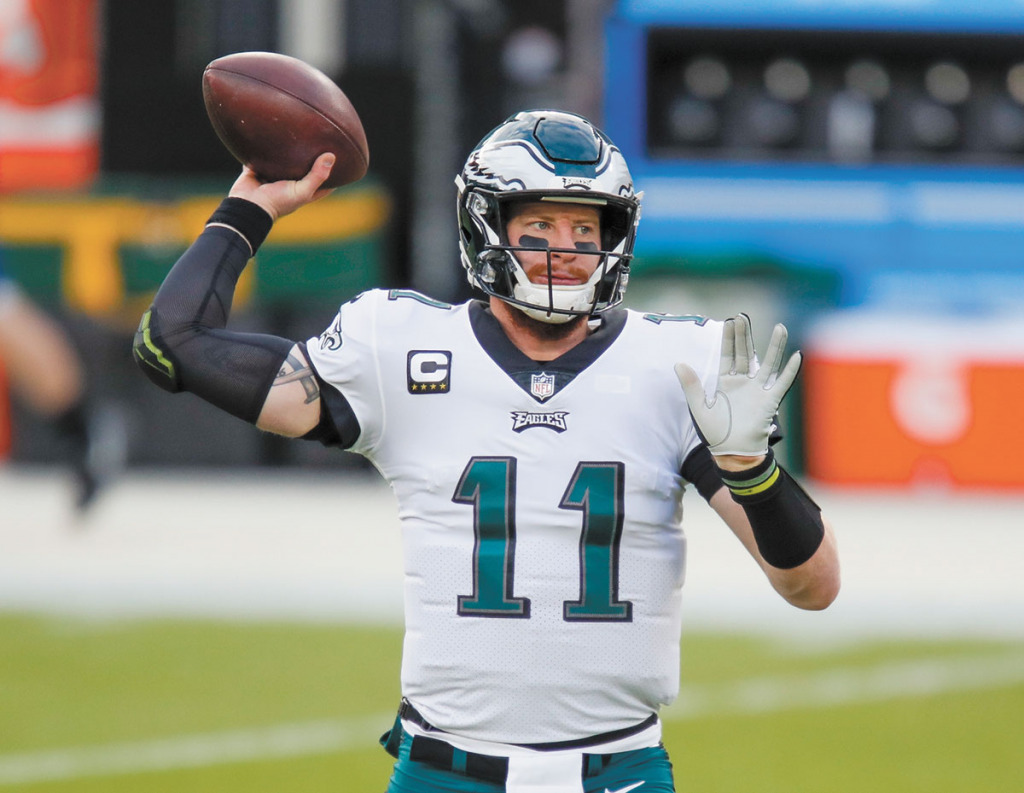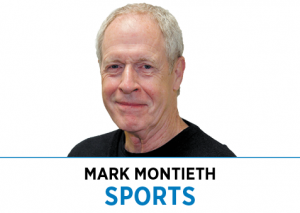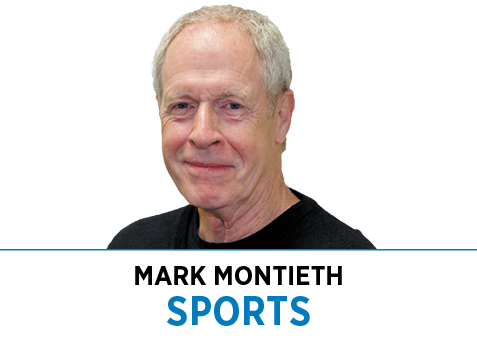 The trade that sent Carson Wentz to the Colts has a familiar ring to it, doesn't it? A once highly regarded professional athlete has faltered and is in need of a reboot. He comes to Indianapolis, hoping to regain what once was, or to become what could be.
Whether it's a need for better health, a better circumstance or simply more opportunity, reclamation projects have found this to be a welcoming city over the years. It has been a place to get dusted off, mended and used again, if not fixed. Maybe someone should put up a sign inviting the tired, the poor, the huddled masses yearning to breathe free, or has that been taken already? Maybe get one for the beaten-up, the beaten-down, the benched masses yearning to achieve again.
It happens in other cities, too. Athletes rebuilding careers. As far as we know, the water here has no healing properties, although Pat McAfee might disagree. That 5 a.m. drunken dip he took in the Broad Ripple canal in October 2010 might have been the best thing that ever happened to him—a hydrating wakeup call that proved to be a positive turning point in his life for the publicity it generated and the awareness it awarded.
Should it work out for Wentz with the Colts, he will join a notable group of salvaged souls whose careers were boosted, saved or validated by their experience in Indianapolis—souls such as Jim Harbaugh, Jalen Rose, John "Champ" Summers and Tony Mandarich. Wentz hopes to join that club because a career once fast-tracking toward greatness has run off the road.
The second overall pick by Philadelphia in the 2016 NFL draft, he had a solid rookie season and an outstanding second season. He was a leading contender for the league's Most Valuable Player until he tore his anterior cruciate ligament in Week 14. Backup Nick Foles took it from there and led the Eagles to the 2017 championship.
Wentz was limited to 11 games by a back injury in 2018, but the Eagles still thought enough of him to award him a four-year, $128 million contract before the following season. He earned it, becoming the first Eagles quarterback to pass for more than 4,000 yards, but he was knocked out of their first-round playoff game with a concussion.
Last season was a disaster—physically and emotionally. He played in only 12 games, but such was the ineptitude of the Eagles' offensive line that he led the NFL in interceptions thrown (15) and sacks taken (50).
Call Harbaugh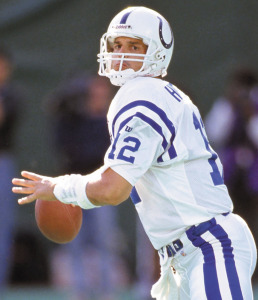 He clearly needs a fresh start. Perhaps he should call Harbaugh for advice, because Harbaugh came to the Colts similarly wrecked in 1994 following seven tumultuous seasons with Chicago. His final one resulted in seven touchdown passes with 11 interceptions and 43 sacks.
The Bears' passing attack ranked last in the NFL that season, so it was no wonder 89% of the record 11,482 responders to a Chicago Sun-Times telephone poll voted for him to be gone. The Bears agreed and signed free agent Erik Kramer toreplace him.
"I got fired from my job. My dog was sick and dying. My girlfriend dumped me. I felt like I was living a country-music song," he would later recall.
The poll numbers weren't good for Harbaugh in Indy at first, either. An Indianapolis Star survey drew 2,680 responses from readers after the Colts signed him in April, and nearly 80% voted thumbs-down. Star columnist Robin Miller wrote, "From phone calls to street talk to polls, Indianapolis is anything but receptive to the former Bears quarterback."
Harbaugh, however, had a solid first season with the Colts, starting nine of the 12 games he played. He then earned the starting job the following season. That turned out to be the highlight of his career and, to that point, the highlight of the Colts' 12 seasons in Indy. Throwing 17 touchdown passes and just five interceptions, he led the NFL in interception percentage as well as yards per attempt (8.2) and quarterback rating (100.7).
It was the best single-season performance an Indianapolis Colts quarterback had yet produced, and one that wouldn't be surpassed until 2004 when 28-year-old Peyton Manning was in his seventh season. Two years after his woeful exit from Chicago, Harbaugh was voted AFC Player of the Year and runner-up in the voting for league MVP.
Best of all, he led the Colts to the AFC championship game and nearly into the Super Bowl. His desperate heave into the end zone on the game's final play rolled off the chest of a prone Aaron Bailey, leaving them agonizingly close to something downtrodden Colts fans could barely imagine at the time.
Harbaugh played five more seasons—two for the Colts, one for Baltimore and two for San Diego. He never came close to matching his magical run in 2005, but it propelled him to a 14-season career before he took the plunge into coaching.
Rose blossoms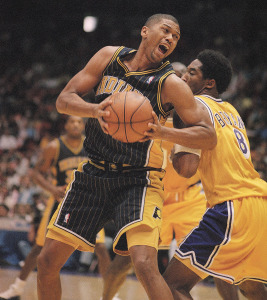 Rose wasn't as down and out as Harbaugh when he came to Indianapolis, but he was pointed in that direction.
The 13th overall selection in the 1994 draft, Rose's two seasons with Denver didn't go well for him or the team. He averaged 10 points and started just 37 of 82 games in his second season with the Nuggets, who finished with a spirit-sapping 35-47 record.
"I didn't play with the same enthusiasm and emotion that I'm accustomed to playing with," Rose admitted afterward.
He was delighted to be traded to the Pacers in the summer of 1996 but had to endure another disappointing season as he and Coach Larry Brown clashed from the outset. Rose played sparingly and was left on the bench by the coach's decision in 14 games. Brown's departure, however, shifted him to the right place at the right time as Larry Bird took over with a positive attitude toward him.
Rose blossomed over his three years with Bird and moved into the starting lineup in the 1999-2000 season, when the Pacers made their only run to the NBA Finals. He led the team in scoring, supplanting Reggie Miller, and was voted the league's Most Improved Player. He was a free agent at the end of that season and signed a seven-year contract that paid more than $90 million.
A wave of young talent made him expendable three years later, and he was traded to Chicago as part of a seven-player deal. By then, however, he had become an established player with lifetime financial security. He played 13 NBA seasons in all, setting up his current career as a national broadcast analyst.
Had he stayed in Denver or been traded to another losing franchise, he might have wound up a journeyman with a much shorter playing career followed by who knows what. He, like Harbaugh, was proof of the importance of being surrounded by ample talent and having a boss who believes in you.
"Larry [Bird] was the guy who helped validate me," Rose once said. "My career needed to be refreshed. It needed to be remixed.
"He helped revitalize me to the point where now [I can eat] all the steak and lobster I want."
A summer with the Indians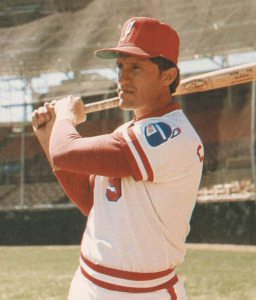 Summers was a journeyman when he joined the Indians in 1978, having shown no evidence of possessing Major League talent in brief stints with Oakland, the Chicago White Sox and Cincinnati. A former paratrooper in the Vietnam War, he didn't begin his professional baseball career until he was 25 years old, and he was 32 by the time he got to Indianapolis.
Everything came together for him that summer, however. Summers batted .368 with 34 home runs and 124 RBI to lead the Indians to the division championship and playoffs. He was voted Most Valuable Player of not only the league but of all minor league baseball.
He also executed the regular season's most dramatic moment in the second-to-last game, when the Indians were fighting for the division championship. They trailed by two runs with two outs and no baserunners in the bottom of the ninth, so he retreated to the clubhouse. The next three Indians batters reached base, however, and he was called back to the field to take his turn. After putting on his jersey and putting down his beer, he proceeded to smack a triple off the top of the right-field wall for the game-winning hit.
He was called up to the Reds for their final 13 games following the Indians' season and never wore a minor league uniform again. He played six more seasons before retiring at age 38, eternally grateful for the summer spent with the Indians.
"It probably turned my whole life around," he said.
A reboot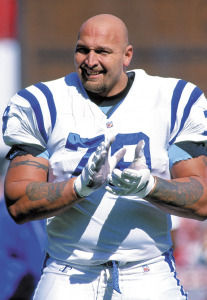 If those stories of rejuvenation don't impress you, consider the unlikely one Tony Mandarich wrote with the Colts.
He was the second pick in the 1989 NFL draft, selected ahead of future Hall of Famers such as Barry Sanders and Deion Sanders, and was widely regarded as the best offensive line prospect. Not just that year, but ever. As a prematurely balding and acne-scarred All-American out of Michigan State, he also was widely suspected of being artificially enhanced by steroids.
His standard response was, "I've never tested positive." It wasn't a lie, but it didn't tell the whole truth. That didn't come out until 2008, when he admitted what had seemed obvious.
Mandarich was cut loose after three seasons with the Packers because of what the franchise called non-football injuries. He immediately became the poster child for NFL failures, even appearing on a Sports Illustrated cover in 1992 next to the headline "The NFL's Incredible Bust."
He sat out four seasons, drifting from the public conscience, then stunned the football world by signing with the Colts in 1996. It was later learned he had spent two years in a Michigan rehabilitation facility to rid himself of an addiction to painkillers that had sapped his strength and motivation in Green Bay. With his attitude and bloodstream renewed, he wanted to prove himself in football again.
The Colts' improbable move was naturally greeted with skepticism, but their risk was minimal. They signed Mandarich to a two-year contract barely beyond the NFL's minimum wage and sat back to see what he could do. He moved into the starting lineup for the final six games of the 1996 season and remained there for 31 consecutive games—the same number he had started for Green Bay—before back and shoulder injuries forced him out late in the 1998 season.
Mandarich failed his physical in training camp in 1999 because of an arthritic shoulder and was forced into retirement. Bill Polian had awarded him a three-year, $3 million contract after taking over as general manager before the previous season, a major boom for the former bust. He was paid for only one season of the contract, along with a $200,000 injury bonus, but he had earned a greater reward.
"The most important thing to me is, I proved to myself I could play," he said. "Nobody likes to leave the game with an injury, but the taste in my mouth is a lot better now than when I left Green Bay. I feel like I'm leaving with some respect."
The same thing Wentz is coming to regain.•
__________
Montieth, an Indianapolis native, is a longtime newspaper reporter and freelance writer. He is the author of three books: "Passion Play: Coach Gene Keady and the Purdue Boilermakers," "Reborn: The Pacers and the Return of Pro Basketball to Indianapolis," and "Extra Innings: My Life in Baseball," with former Indianapolis Indians president Max Schumacher.
Please enable JavaScript to view this content.