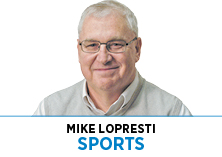 This is your cue, Lucas Oil Stadium. You're on. Again.
You might be barely a teenager, but you've seen a lot. You've been around for Peyton Manning to get to a Super Bowl, and Tom Brady to lose one. You presided over Butler's fairy tale with an almost happy ending, and you were the epicenter of the made-in-Indiana pandemic NCAA Tournament of 2021. You've seen more Colts ups and downs than Jim Irsay could shake a horseshoe at. You've seen 12 different starting quarterbacks in blue.
You can be difficult for legendary coaches. You've put a scowl on Bill Belichick's face a few times. OK, that's not so hard to do, but still. You were the place that 4th-and-2 gamble at New England's 28 blew up in his face like an exploding cigar. The Colts turned it into a game-winning touchdown. You are where college basketball perfect seasons have come to die: Kentucky in 2015, Gonzaga last April.
Then again, you've been especially kind to Mike Krzyzewski, hosting his two most recent Duke national basketball championship bashes.
Now here's University of Alabama football coach Nick Saban. Just imagine Krzyzewski in a headset. Actually, Saban's haul of hardware is even more astonishing. Imagine John Wooden in a headset. In the 13 years you've been open, Saban has won six national championships—and lost only 18 games. He might have seven titles by late Monday night. His Alabama teams have been ranked No. 1 for at least one week all 13 years.
Anyway, you're about to be invaded by the SEC hordes, and these parts aren't used to that. Alabama has never played IU or Purdue in football. Georgia has beaten the Boilermakers twice in bowl games, both in overtime. Throughout SEC-land, contending for national football championships is a natural way of life. You have to go east to Columbus, Ohio, or north to South Bend to find much of that around here. When you're dealing with football titles, it's usually on behalf of the IHSAA. The Crimson Tide and Bulldogs will have to earn their trophy on the same field Center Grove and Gibson Southern did.
Not all of your hours have been grand, of course. In 2013, one of your railings collapsed and two fans were injured. The Colts had just beaten the Oakland Raiders in the first game of the year. They have lost eight consecutive season-openers since. But no one's blaming you.
By the way, did you know Indianapolis was cold and expensive and a general downer? That's what a guy in the Atlanta newspaper suggested, dumping on your hometown. Geez. Given the mess Atlanta made of the 1996 Olympics, that should be the last city questioning anyone else's ability to host a major event. And, yeah, it's January. Pssst. That's why you have a roof. Oh, and did you know sunny and warm Atlanta hosted a Super Bowl in 2000? There was a big ice storm and game week was frozen over. The NFL hasn't been back.
Anyway, time to host another memorable moment. Here's a list of some ofyour best.
The mother of all near-misses …
Butler's remarkable ride to the 2010 Final Four, six miles from campus, will live forever because of the semifinal gut check win over Michigan State, the national runner-up trophy nobody expected … and most of all, the Gordon Hayward Hail Mary against Duke that almost went in. You were this close to being the site of the most unforgettable shot in NCAATournament history.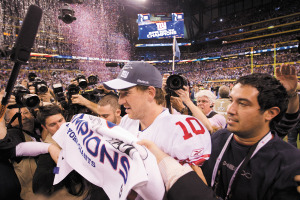 Super Bowl week in 2012 …
Mild weather, a vibrant downtown and a great game, with Eli Manning driving the New York Giants to a winning touchdown in the final minute against the New England Patriots. Plus, nobody fell off the zip line. Indianapolis, and you, hit the jackpot.
The NCAA Tournament that never had been, and presumably never will be again …
The pandemic forced the NCAA to gather its March Madness in one protected area in 2021, and Indianapolis was the chosen one. The drama played out in six sites, but you, Lucas Oil, were the anchor. The Gonzaga half-courter to beat UCLA in overtime provided the epic game for a centerpiece. That, and the might of the champion Baylor Bears, who were coached by a native Hoosier.
The last Super Bowl ticket …
The Colts wiped away an early 17-6 New York lead and rolled past the Jets 30-17 in the AFC Championship Game in early 2010, for their second Super Bowl trip in four years. Peyton Manning passed for 377 yards, and it seemed like the good times would never end. "Obviously, they're the cream of the crop right now," Jets coach Rex Ryan said that day. But fate can change with the wind. One year later, the Jets knocked the Colts out of the playoffs with a last-second field goal, and Manning played his final game for Indianapolis.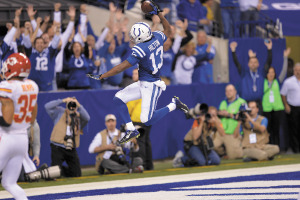 The comeback …
In the first half of the Colts playoff game against Kansas City in January 2014, it seemed as if Andrew Luck was passing with the wrong arm. His woes led to a 38-10 Chiefs lead early in the third period. A blowout, by any definition. But suddenly, it wasn't. Luck started throwing to people in the same-color uniform, and 90 shocking minutes later, he passed 64 yards to T.Y. Hilton for a 45-44 victory, securing the second-biggest comeback in NFL postseason history. "One for the ages," coach Chuck Pagano said.
The decision …
Here was another record for you, on Dec. 27, 2009: Loudest boos ever aimed by the home crowd at its own 14-0 team. The dreams of a perfect season were still very much alive when the Colts took a 15-10 lead against the Jets in the second half. But that's when Jim Caldwell started lifting key players—one of them named Peyton Manning. The idea was to rest the troops for the playoffs, since the postseason meant more than any 16-0 record. The customers did not agree, especially when the Jets rallied to win 29-15, and the boos were thunderous. "I probably would have booed, too," center Jeff Saturday said afterward. "I don't blame them."
The injury …
There might never have been a more horrific sight in an NCAA Tournament game than Kevin Ware's shattered leg in the first half of the Louisville-Duke regional championship in 2013. The Cardinals, inspired to win for their teammate, blasted past Duke. They would end up national champions the next week.
The inexplicable Big Ten championship …
Wisconsin was 7-5 and had finished third in its division, so what were the Badgers doing in town for the 2012 Big Ten football championship game? Ohio State and Penn State had finished above them, but both were ineligible for the postseason, so Wisconsin was Plan C—and the designated victim for No. 14 Nebraska. Final score: Wisconsin 70, Nebraska 31. You've seen closer Big Ten title games but none more shocking.
And now, Alabama vs. Georgia. Nick Saban. The SEC. You're home to college football royalty for a night, and you've never done that before. Make it good.•
__________
Lopresti is a lifelong resident of Richmond and a graduate of Ball State University. He was a columnist for USA Today and Gannett newspapers for 31 years; he covered 34 Final Fours, 30 Super Bowls, 32 World Series and 16 Olympics. His column appears weekly. He can be reached at mjl5853@aol.com.
Please enable JavaScript to view this content.