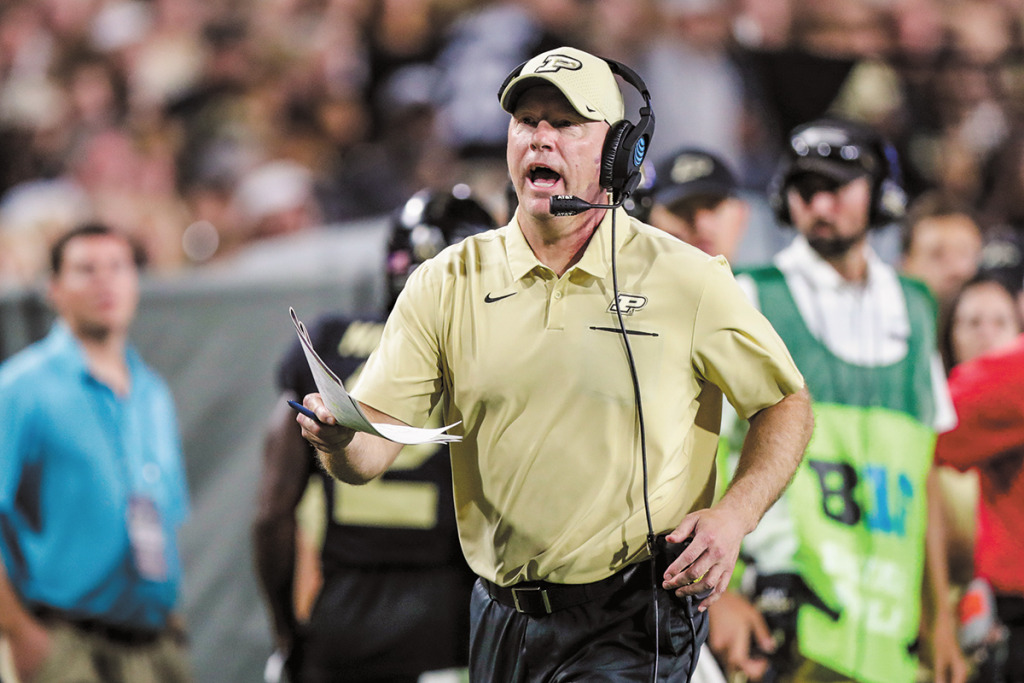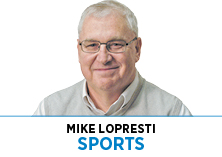 Welcome to the party, Big Ten. Popcorn is optional. Masks are not.
It's week eight of the college football season, but you know what they say—especially in the accounting office: Better late with those TV checks than never. You might notice how things are a little different this year. A pandemic runs the show in a strange world.
There are images on the scoreboard of marching bands playing majestically, but they're not on the field. There is piped-in loud crowd thunder, but few fans, scattered among empty sections. Don't even think about tailgating in the IU parking lots Saturday. Purdue's opener with Iowa is the Boilermakers' first football game in 329 days. This will be the 104th meeting between Minnesota and Michigan in the Little Brown Jug rivalry, but the first to open the season. Temperatures in Minneapolis Saturday might slip below freezing. The Gophers opened last season in 70-degree weather.
At last count, 33 games had been postponed or canceled. Houston was due to open against Rice, Baylor and North Texas, and didn't get to play any of them. Rice was supposed to begin its season on Sept. 3. The Owls will finally take the field for the first time this Saturday, seven weeks later. Cincinnati blew out to an exhilarating 3-0 start to jump into the top 10 but hasn't been seen on the field in three weeks. Houston Baptist is 1-3 and already finished with its season, figuring four games was about all the Huskies were going to squeeze in.
You know how Notre Dame already has games on its schedule for the 2034 season? A lot of programs can't say the same. Massachusetts didn't announce it had found a game for this season until Oct. 8. The Minutemen set it up for Oct. 17 against Georgia Southern—and lost 41-0.
The virus has had coaches scrambling coast to coast. Florida's Dan Mullen made news by calling for a full stadium for the Gators' game against LSU, pandemic be damned. Four days later, the game was postponed when 18 Florida players tested positive. Three days after that, Mullen came back positive himself.
Nick Saban tested positive Oct. 14. The state of Alabama trembled, with the Georgia game three days away. Then three consecutive negatives came back, and Saban was cleared for the sideline—hours before kickoff.
In keeping with the who-knows-what's-next motif of the season, Purdue started Iowa game week by announcing Coach Jeff Brohm had tested positive. "It's a year that flexibility and adjustment and adaptability is sort of what it takes in order to get through things," Athletic Director Mike Bobinski said. "We've seen that around the country, and now we're in it ourselves here."
Yes, it seems a little odd, the league starting play 70 days before the Rose Bowl. If there is a Rose Bowl. Matter of fact, a lot has already been going on out there in football. Should the Big Ten require a quick orientation to the season before the first kickoffs, here goes …
See those frazzled guys standing over there? They're defensive coordinators. A lot of them have had bad Saturdays, as the offenses have been more pervasive than political TV ads. Take Oct. 10. Mississippi scored 48 points; Virginia Tech and Texas, 45 each; LSU, 41; and Florida, 38. They all lost.
When Mississippi put up 48 points against Alabama, that was the most the Tide had allowed an unranked opponent since 1936.
When Oklahoma outgunned Texas 53-45, it was the highest-scoring game in series history, and they've played 115 times dating back to 1900.
In Mississippi State's first game, K.J. Costello passed for 623 yards, making LSU the first defending national champion to lose its season opener in 22 years. The Tigers would go on to cough up 96 points in their first three games.
Kansas gave up 132 points in three defeats, and Coach Les Miles tested positive for the virus. Other than that, things were swell in Lawrence. When does basketball start?
Arkansas State threw eight touchdown passes in one game. Clemson rolled up 73 points at Georgia Tech, the Tigers' most on the road in 105 years. That was 14 more points than the Clemson basketball team scored at Georgia Tech last season.
Memphis beat UCF 50-49 in a game that had 75 first downs, 1,087 passing yards, 11 touchdown passes, and no interceptions. That's the day UCF could say it gained 798 yards of total offense—and lost.
The first game of this entire crazed season was South Alabama against Southern Mississippi. The third play from scrimmage was a 73-yard touchdown. Omen.
There has been some good. Kentucky won at Tennessee for the first time in 36 years. South Carolina beat Auburn for the first time since 1933. Coastal Carolina, 13-23 its first three seasons on the FBS level, started its fourth year 4-0 and had its first win over a ranked opponent (Louisiana) in history. When Alabama and Saban beat Georgia and Kirby Smart, it made Saban 22-0 against his former assistants.
There has been some bad. Tennessee had the nation's longest winning streak among power-5 programs at eight games and led Georgia at halftime. The Vols were then outscored 61-7 in the next six quarters.
And there has been some ugly. Louisiana Monroe started the season 0-5. Included was a 40-7 loss to Liberty when the Warhawks dropped a punt snap for a touchdown, had a punt blocked for a touchdown, and a punt returned for a touchdown. Maybe they should have just gone for it on fourth down.
So, climb aboard, Big Ten. But don't expect anything normal.
Maybe that means Indiana beats Penn State Saturday. That'd be abnormal enough, given that the Nittany Lions are 22-1 against the Hoosiers. Maybe Purdue—the identity of its starting quarterback kept as secret as the name of a new pope—will beat Iowa. Brohm might become the first Boilermaker coach to ever win a season opener while sitting in his basement, or wherever he's quarantined.
Maybe Minnesota makes a run at the championship. The last Gophers Big Ten title was 1967, when they shared it with Indiana.
Maybe Michigan beats Ohio State this season, and the long nightmare to the north will be over. You could argue the most amazing current stat in college football—given the grandeur of the rivalry—is the Buckeyes 17-2 the past 19 games against the Wolverines.
The Big Ten plan will play eight games in eight weeks to determine its final standings. Good luck on that one. If the league pulls that off with no cancellations, it should get the Anthony Fauci Award for Mask Wearing, Social Distancing, Hand Washing and Dumb Luck.
Also, remember that one state school still has another week-plus left in its long preeeeeeeeseason. Ball State opens against Miami on Wednesday, Nov. 4. On Nov. 4, 2019, the Cardinals were 4-4. They'll play two more Wednesday nights and won't even see a weekend game until the Saturday after Thanksgiving.
That's the schedule, anyway. Whatever that means in 2020.•
__________
Lopresti is a lifelong resident of Richmond and a graduate of Ball State University. He was a columnist for USA Today and Gannett newspapers for 31 years; he covered 34 Final Fours, 30 Super Bowls, 32 World Series and 16 Olympics. His column appears weekly. He can be reached at mjl5853@aol.com.
Please enable JavaScript to view this content.