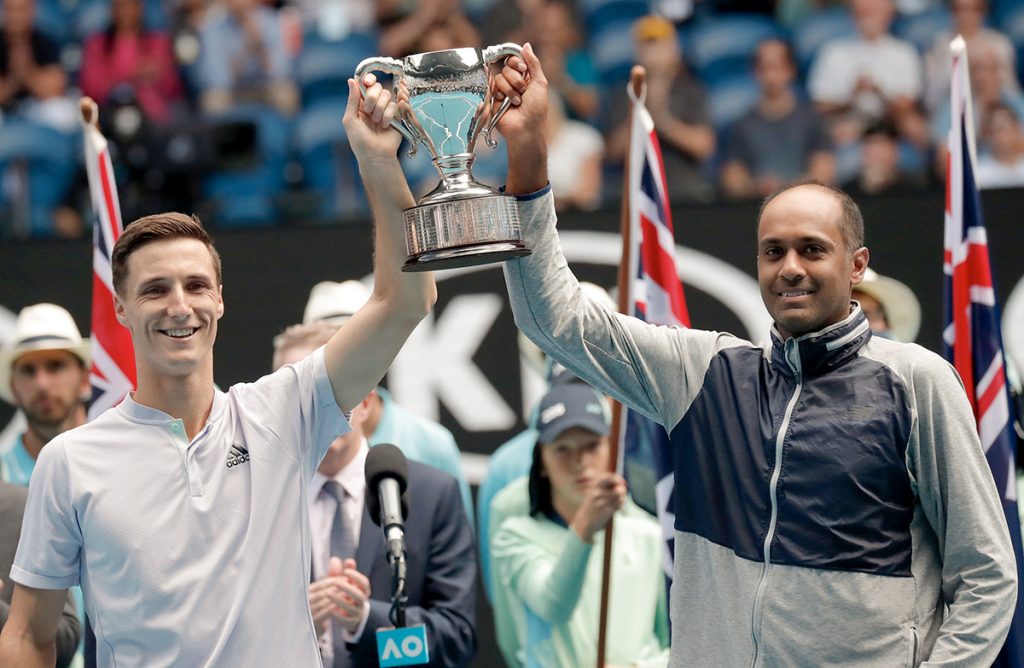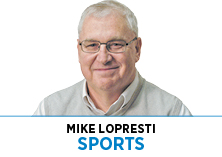 Here's the good news about Rajeev Ram, Carmel's gift to professional tennis. He spent a lot of his time lately back home again in Indiana.
Now here's the bad news. He spent a lot of his time lately back home again in Indiana.
Such is the double-edged sword and winding road of Ram's life during the coronavirus. In early February, Ram had one of the greatest moments of his career, winning a Grand Slam men's doubles title at the Australian Open, something no Hoosier had ever done. Six weeks before that, he had flown to the other side of the planet to take his father's ashes home to India. Six weeks after, a pandemic shut down his sport, and the only thing left to do was go back to the house where he grew up in Carmel and wait for whatever comes next.
"It's been … strange," Ram was saying over the phone the other day. In a week when he'd normally be thinking about Wimbledon, sure, he had time to talk, since there was no Wimbledon.
Ram's doubles title in Melbourne with teammate Joe Salisbury of Great Britain was a big deal, for several reasons. Though he'd won a mixed-doubles title in Australia the year before, this was his specialty event, where he has planted himself in the top 10 rankings in the world. It was his 58th try at a Grand Slam championship in men's doubles, and no player in the history of the Open Era in tennis—which goes back a half-century—had waited so long. So, he had not only a trophy, but also a record for persistence, on one of the main stages of the sport. That's a long way from winning the boys' high school singles title as a Carmel sophomore in 1999.
"The four majors are the pillars of our sport. To get my name on one of the trophies like that and to be able to be a very small part of history, but part of history nonetheless, was really cool," he said. "I believe I'm the first person from Indiana to win a major title, so I'm proud to represent my family, my state, everything. It meant the world."
It was a glorious start to what looked like a stellar season. Ram just turned 36. Who knows when he would have momentum like this again? Then, everything stopped. He came home to Indiana.
Actually, he and his wife now live in northern California. His mother, Sushma, was stranded in Denver when the virus began to play havoc with travel, so Rajeev and his wife jumped in the car and headed east, picking up his mother on the way to Carmel. There the new Grand Slam doubles champion was, rolling along Interstate 70, driving 33 hours with no tournament to play, but home to get to. Bitter, and sweet.
"These kind of things always seem to put life in general in perspective," he said. "There's a lot of bad things; people have been suffering not only with the disease but economically and financially. I get all that and I'm not blind to it, but something for me that has been positive is, I have gotten to spend four weeks in a row at home in Indiana. I don't know if I've gotten to do that since I was a kid.
"It's sort of been refreshing in a way, and it does give a new love for the competition and for the travel. I never thought I'd be looking forward to getting on a plane again, but I actually am like that."
Ram has been working on his body, hoping to extend his career, which is what 36-year-old athletes must do. He hit with young players around Indy. He loved being back in Carmel, wishing only Raghav Ram had been around. Rajeev lost his father in 2019. He felt the loss acutely in Australia, when at that grand moment, he looked into the stands and knew someone was missing.
"My dad was the first person to play tennis with me. It was a thing that we did as a father-son activity. He'd come home from work and we'd go out to the courts and play. He was really the only person I played with until I was about 12 years old. I would have loved to have had him see me win this one, but I know he's watching from somewhere."
Ram was born in Colorado but, by his middle school years, the family was in Indiana to stay. Carmel High School, with its tennis juggernaut, was only seven minutes from the house. He became a Greyhound star for a bit, though training and competition would quickly take him hither and yon.
But the house in Carmel has always been home. A foundation he began—EntouRaj for Kids—continues to supply support for Indiana youth and school tennis. A new scholarship will be given in memory of Raghav Ram. No need to explain how much that means to Rajeev.
Most of the tennis victory hardware from his early years is still in Carmel; only the 2016 Olympics silver medal and new Australian doubles title trophy are in California. Silver medal? Ram and Venus Williams won that in mixed doubles in Rio in 2016.
It was not only a team of Americans, but it turns out, future IU alums. Indiana University East to be exact, since the campus in Richmond has put together a popular program for tennis pros to earn college degrees while traveling on tour. Ram even made it back to IU East for a personal graduation ceremony in 2018, cap and gown and all.
The future is a little murky, with coronavirus conditions changing by the week. Ram is hoping to start play with the Chicago team in World Team Tennis this month. The U.S. Open is still on for late summer. But who knows?
"Safety is the first thing that goes through my mind. I think this is a time when we have to realize what we do is not essential," he said. "When you see golf returning and there's a positive test, and there's been a couple of positive tests in tennis [including the world's No. 1 player, Novak Djokovic], if we do come back, I think we all have to be really wary of what's going on, and be super diligent. I think there's going to be more twists and turns than what it is right now."
He might not have a U.S. Open to play. If that happens, how could he not wonder "what if," in a year that started so swimmingly?
"I would have been so much more feeling that way had I lost in the semis or the finals in Australia. The fact [that] I was able to get there, and Joe and I were able to win that tournament is almost like—not a weight had been lifted off my shoulders—but a milestone had been reached.
"We're still feeling like we belong at the top of the game, and we're going to be ready to play whenever it starts."
So Ram fills his time and waits to see what happens next. Don't we all?•
__________
Lopresti is a lifelong resident of Richmond and a graduate of Ball State University. He was a columnist for USA Today and Gannett newspapers for 31 years; he covered 34 Final Fours, 30 Super Bowls, 32 World Series and 16 Olympics. His column appears weekly. He can be reached at mjl5853@aol.com.
Please enable JavaScript to view this content.