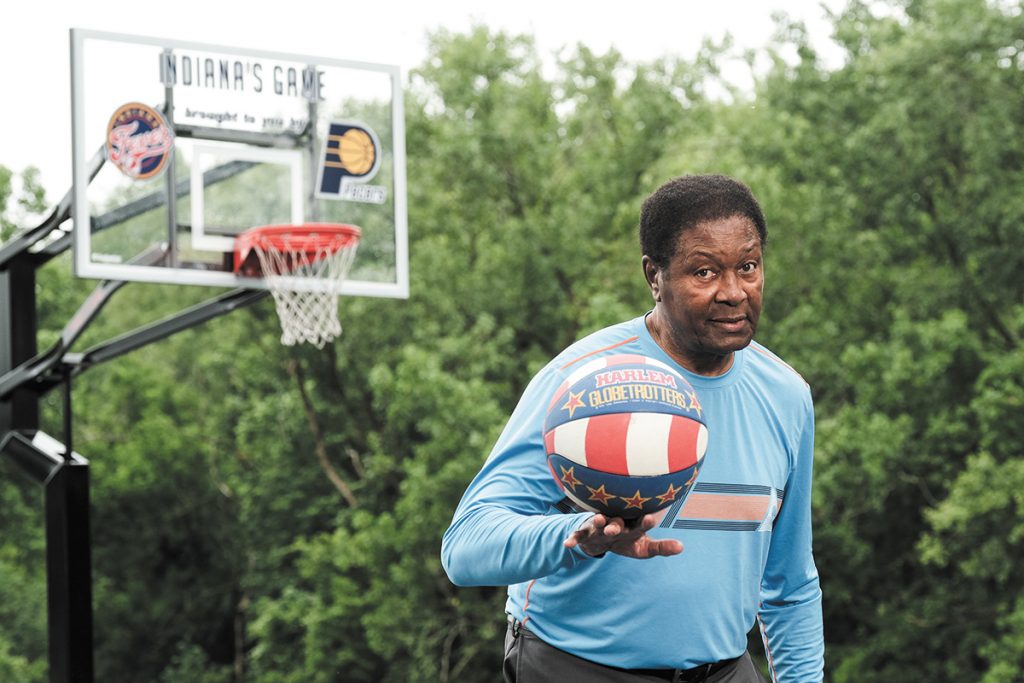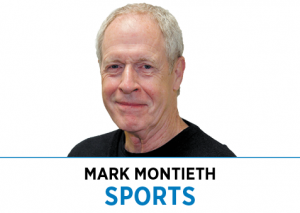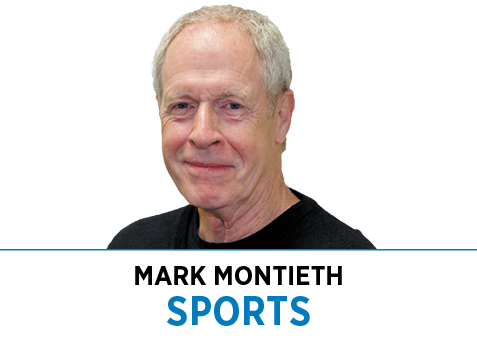 He likes to call it "Shade Tree University." Back in the '40s and early '50s, when he was a kid playing at the legendary Dust Bowl court on what is now the IUPUI campus, he sat beneath the tree near the court and listened to the older guys. Some life lessons were learned that way.
Now, Hallie Bryant, an 86-year-old historical monument in the flesh, is sitting under the tree next to a court about a mile north—at the Graham Martin Park on West 16th Street off of Dr. Martin Luther King Jr. Street—watching someone shooting at a basket.
"Come over here, young man!"
The kid's name is Dennis Tate. He's only here to kill time before picking up his mother from work, but he has unwittingly stepped into a classroom. Bryant sizes him up quickly, asking where he lives, whether he has older relatives Bryant might know, where he went to high school, where he hopes to continue his education and what he wants to study. Dennis, who hopes to attend Marian University and study business, answers each question directly.
"You can do it," Bryant says. "I was blessed to get a scholarship. You can get a scholarship, too. You speak well, you have manners … as long as the girls don't chase you down too hard.
"I had the same situation."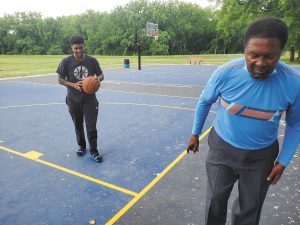 Bryant laughs heartily at that one, although he's speaking the truth. A young guy like Dennis wouldn't know it, but Bryant was quite the local celebrity in his day, a basketball star with matinee-idol looks, a quiet and mature demeanor, and unquestioned character. He still stands tall as Indiana's oldest living Mr. Basketball and the oldest living Harlem Globetrotter.
His relentlessly positive demeanor gives the impression of a charmed, blissful life, and in some ways it has been. If you ask, "How are you?" he'll respond with an upbeat and carefully enunciated "Amaaaaaazing." Ask him when he turns 87, he'll say, "In about six years." He drops poems, verses and pearls of wisdom into every conversation and never complains.
Bryant grew up with four siblings, a stepmother and a father who was a custodian at Riley Hospital for Children. They lived in a two-bedroom house that didn't have running water at first, and Bryant learned to earn his way. He supplemented the family's income by carrying routes for both the morning Indianapolis Star and the afternoon Indianapolis News. He occasionally took a shoeshine box downtown in search of more income.
Basketball, though, lit his dreams of a better life. He spent most of his free time at the Dust Bowl, the legendary court at Lockefield Gardens (now called Lockefield Green) that consisted of dirt before it was paved. He honed his skills against older players and later helped mentor younger ones such as Oscar Robertson, three years his junior. Some of his fondest memories, though, are of the hours he spent by himself, shooting baskets late into moonlit nights while wondering where the game could take him.
The Dust Bowl made him. After he was voted Mr. Basketball in 1953, a newspaper article described him as "the quiet, mild-mannered youth who rose from the netless hoop league of Lockefield's 'Dustbowl' to become one of the most popular and publicized high school athletes in Indiana's history."
'A credit to any race'
Bryant set city scoring records for a single game (43 points, three times), season (569) and career (1,408) at Attucks High School. He went on to become the first Mr. Basketball to be voted "Star of Stars" in the annual all-star series with Kentucky, in both the official game in Indianapolis and an independently sponsored follow-up in Louisville.
He scored 21 points in 90-degree heat inside Butler's fieldhouse despite (1) sitting out the second quarter and (2) receiving a typed note from a gambler threatening harm to him or a family member if he played. He scored 30 points in the second game in Louisville, including the game-winning basket after stealing an inbound pass.
Bryant also ranked in the upper fourth of his class academically, never missed a day of school in four years and was widely recognized for his citizenship. Local sportswriters admired him so much, their prose took on hues of purple in their attempts to find the right words of praise.
Jimmy Angelopolous of the Indianapolis Times, freelancing for a national magazine, wrote, "The goodwill in cementing race relationships by Bryant's never-changing mental attitude has had immeasurable value. To say Bryant's behavior on and off the floor was a credit only to the Negro race would be severely breaching the dignity of many. Bryant is a credit to any race."
Although nationally recruited, Bryant attended Indiana University. His three varsity seasons there failed to meet expectations, leaning closer to good than great. He averaged 14.4 points as a junior, including a 31-point outing against Cincinnati, and 11.1 as a senior when the Hoosiers shared the Big Ten title with Michigan State. He set a school record for career free-throw percentage (.817) and received honorable mention all-Big Ten recognition. He's a member of IU's Athletic Hall of Fame, although more because of his overall body of work than for his college performance.
He prefers to "let sleeping dogs lie" when the subject of that period comes up. Bottom line, he doesn't believe he got a fair shot regarding role and playing time. It wasn't a matter of work ethic. A teammate, Pete Obremskey, says Bryant was the one player who stayed after practice to put up shots while the rest of them were moving benches into the shower because they were too tired to stand.
Perhaps he wasn't a good fit for Branch McCracken's up-tempo system. Perhaps there were other factors. Bryant was just the third Black player recruited by McCracken, who began his coaching career at IU in 1938, and McCracken remained forever hesitant in that regard. Even his final IU team, in the 1964-1965 season, included just one Black player.
A few years after Bryant graduated, he saw McCracken in a hallway in the Union building. He recalls his former coach throwing an arm around him and apologizing, saying, "Hallie, I'm so sorry. I just didn't know you."
Globetrotting
Undrafted, he tried out for the NBA St. Louis Hawks, but the odds were so long as to be virtually impossible. Bryant was praised in a St. Louis newspaper article for his play in practice and he scored a team-high 14 points in a shortened, low-scoring intrasquad game after hitting the game-winning shot.
But he didn't survive the final cut. The Hawks were among the slowest NBA teams to integrate. They had drafted Bill Russell a year earlier and immediately traded him to Boston for two white players. Their rosters for both the previous season and the duration of the season for which Bryant tried out included no Black players.
Still, Bryant believes it's all worked out for the best. After two years in the Army, including a year in Korea, he joined the Globetrotters. He played 13 seasons, traveling to more than 80 countries, then worked in public relations for the organization for 14 years. He got to see the world and help break down racial barriers in places where people had never seen a Black person. The physical toll on his body wasn't nearly as great, racial quotas were non-existent, and he was paid about as well as the average NBA player.
His association with the Globetrotters also gave him opportunities to earn side income as a public speaker and entertainer. He took his one-man ball-handling show throughout Indiana, combining it with a message. At his peak, he would perform three shows a day at a shopping mall and earn $600. He appeared at Taylor University's basketball camp for 58 consecutive summers. He performed at senior centers, for youth organizations, at Indianapolis Indians games, for any group that would have him.
No matter where he went, he brought people together, sometimes verbally and sometimes literally for amateurish re-creations of the Globetrotters' famous pre-game Magic Circle ball-handling exhibition. Such was his charisma that, once, in Phoenix, he got away with bouncing a ball off the posterior of Ethyl Kennedy, widow of former presidential candidate Robert F. Kennedy.
Bryant hasn't been immune to harsh realities. He's heard racial epithets shouted by people passing at a safe distance, even as an adult. He's been pulled over by police officers simply because he was driving a nice car. Over the years, he's witnessed how Black people who lacked the asset of name recognition can be treated.
That's why he supports all peaceful forms of resistance today. And that's why he tries to continue to spread positive messages.
"I've tried to be conscious of the human factor," he says. "I was brought up with the idea that we were all brought here by the same maker. That's reality to me. My dad used to say, 'If people put you down and curse you out, love them anyway. Love is its own reward.'"
Pass it on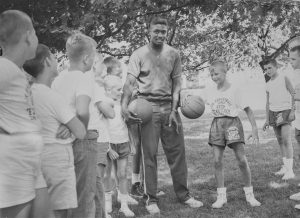 It would be impossible for Bryant to truly come full circle, because the "Dust Bowl" court at Lockefield has long since been bulldozed. The Graham Martin court doesn't leave much of a gap in the connection, though.
He's come to this park, named for a former Attucks football coach he knew well, for several years, sporadically. He usually rides a bicycle from his house on 11th Street with a ball tucked into a backpack, holding a whistle in his mouth to toot at pedestrians on the sidewalk if they can't see him approaching from behind.
The Dust Bowl DNA remains in his soul. Sitting under a shade tree on a park bench and talking to young people is as good a way as any for him to have an impact today. He'll put up a few shots from close range now and then, but he's more interested in watching kids do what he did more than 70 years ago.
It's a different environment. AAU competition absorbs the best players, so those playing in a park are likely less serious about the game. Sometimes it's just a place to hang out. Bryant says he once broke up an argument between two kids who were carrying guns. They knew him from his appearances at the park and they listened.
"I said, 'Come ooooon!'" he recalls. "I was scared, but I told them that showing strength is not being involved in that. You should hug the guy and shake hands. I'm sure I've saved some lives out here because these guys will go get a gun in a minute."
Most conversations, however, are calmer. Such as the one with Dennis Tate.
"Let me give you a couple secrets, OK?"
Bryant offers Dennis several bits of advice, about his shooting form, his footwork and his ball handling. Dennis catches on quickly to each one.
"Yeah!" Bryant shouts. "Yeah! That's it! I'll help you if you want it."
Before leaving, Bryant gives Dennis his business card and encourages him to stay in touch. And, lo and behold, a couple of hours later, Dennis sends Bryant a text with his phone number.
Perhaps they'll meet again someday.
That's all we can do is pass it on," Bryant says. "Pick your spots and pass it on."•
__________
Indianapolis native Mark Montieth is a longtime newspaper reporter and freelance writer. He is the author of three books: "Passion Play: Coach Gene Keady and the Purdue Boilermakers," "Reborn: The Pacers and the Return of Pro Basketball to Indianapolis," and "Extra Innings: My Life in Baseball" with former Indianapolis Indians President Max Schumacher.
Please enable JavaScript to view this content.