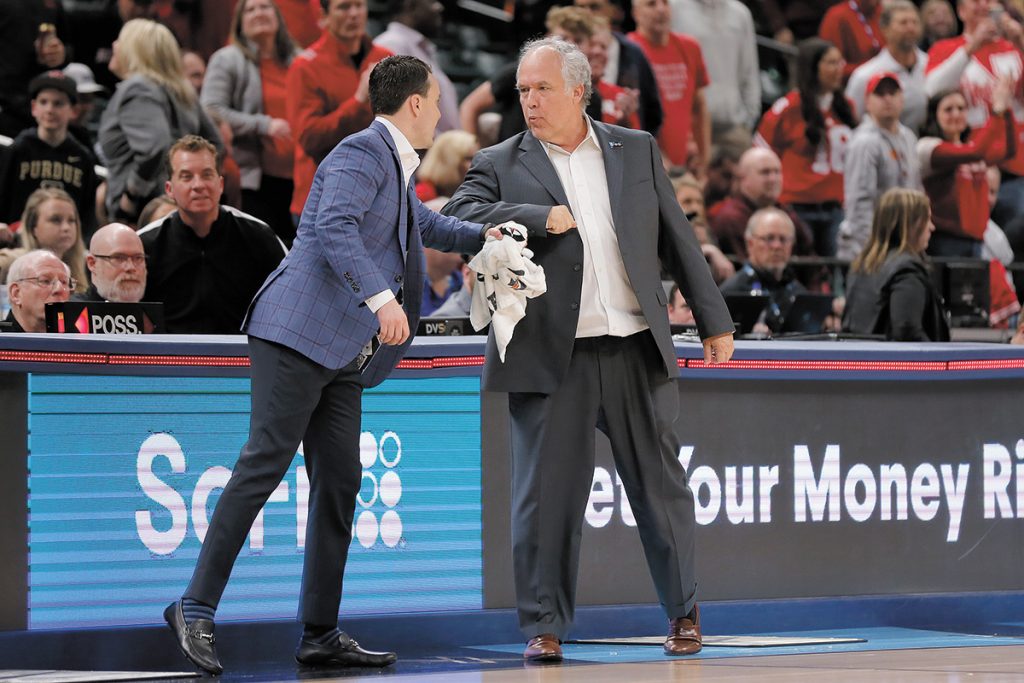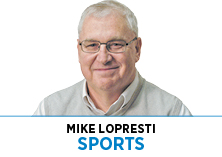 "Everything is blooie-blooie as far as college football is concerned."
Ain't that the truth? And we're not even talking about now. That was from the Indianapolis Star in October of … 1918. In other words, this isn't the first time a pandemic has galloped over the sports landscape. Consider this headline from the Star on Oct. 13, 1918:
"War Regulations and Flu Epidemic Knock College Sports into a Cocked Hat."
The Spanish flu, they called it. Killed tens of millions worldwide. The epidemic closed schools, shut down campuses and wiped out sports. IU got in only four football games that season. Purdue was delayed opening until Oct. 26. Notre Dame played on Sept. 28 and didn't have another kickoff until Nov. 2. Health officials wouldn't even allow the Irish to practice, which was quite a complication for their rookie head coach. Some guy named Knute Rockne.
And this might sound familiar: Conditions changed from week to week. Between the flu and World War I demands, sports schedules were on the fluid side, which is why there were headlines such as these:
"Wabash Eleven May Meet Butler Men Next Saturday."
"DePauw Hopes To Battle Purdue."
"May." "Hopes." Nothing was certain. Or as someone back then wrote about the Hoosiers of '18, "Nobody knows what the day will bring forth in football at Indiana anymore."
Meanwhile, a newspaper in Bloomington reported half the promising high school basketball team was sidelined by flu. A good chunk of the early season would have to be wiped out. When the varsity scheduled a scrimmage with alumni, the doors had to be closed to the general public. The next spring, with the epidemic waning, Bloomington would win the state championship.
So, this is not unprecedented. But it sure feels like very strange chaos, doesn't it?
This is to be the Year of the Asterisk. Just think of how many record books will include this line in the future: "*No 2020 season because of the coronavirus." And we're talking some of the most venerable names out there. If you want a measure of just how jarring this can seem …
They've had a blood drive and ice cream social in Victory Field this summer. What they haven't done is played Indians games. The franchise has had uninterrupted baseball since 1902, before the World Series was even born, stretching through 20 of 45 U.S. presidents. But not anymore.
The Boston Marathon began in 1897, just after the modern Olympics were introduced. The first race included 15 entrants. In 2019, there were 30,000. This year, there were none, for there is to be no Boston Marathon for the first time in 124 years.
There will be no baseball All-Star Game. They even had one of those in 1994, when a strike wiped out the World Series. It could be played amid a labor war, but not amid the coronavirus.
Wimbledon began in 1877, during the reign of Queen Victoria, and has been stopped only three times since. The first was 1915-1918 with World War I, just as an Englishman named Anthony Wilding was dominating the tournament with four titles in five years. In 1915, he died in the trenches of France. The second was the 1940s and World War II, when the tennis complex was hit by 16 German bombs during the Blitz. To help the war effort, animals were raised on the grounds, Centre Court given over to hens and rabbits and donkeys. The third time is now.
There was no boys' high school state basketball championship decided in Indiana this March. The last time that happened was 1910, the year John Wooden was born. That was only 19 years after James Naismith nailed up his first peach baskets.
There was no boys' state track and field title, either. The last spring in Indiana without a track champion was 1903, seven months before the Wright brothers flew a plane at Kitty Hawk.
The British Open began in October 1860, the year Abraham Lincoln was elected president. Only two world wars stopped play in the 160 years since. Until now.
The first Kentucky Derby was run in 1875, the year before Custer's command was wiped out at the Little Bighorn. It was to be a spring staple for the next 145 years. This year, it will be in September.
The Belmont Stakes began in 1867, two years after Lee surrendered to Grant at Appomattox. It had never led off horse racing's Triple Crown. Not once in a century and half. But it did this year, with the Kentucky Derby and Preakness postponed.
There was no NCAA national champion in college basketball. The last time that happened was 1938. Hitler marched into Austria, the population of the United States was under 130 million, and Hollywood was working on a film project called "The Wizard of Oz."
There was no College World Series. You think Indianapolis misses its sports? Omaha has hosted this event since 1950—the same June the Korean War began. By one civic estimate, the College World Series has a $70 million annual impact on the city of Omaha. But not this year.
The Masters began in 1934, the same year the FBI finally caught up with a Hoosier named John Dillinger. It has been a rite of spring ever since. This year, they hope to play it in November, only five months before the next Masters.
And now look around, at a sports landscape that has gone into, well, a cocked hat. The dog days of summer are now supposed to be something like a spring of rebirth. The Stanley Cup playoffs will begin on the first day of next month. Nothing says Aug. 1 like hockey. The NBA has occupied a chunk of Disney World as a bubble, to resume its season, 4-1/2 months after its last game. Just outside the bubble gates is a state in the throes of a massive virus spike. Baseball's first games will be played nearly four months after Opening Day passed dark and empty. The season is to be a 60-game trophy dash.
The Indianapolis 500 is still on for August, delayed by three months and designed for restricted attendance. The theory is, 125,000 people can show up in the same speedway and not pass around the virus like a box of fried chicken. It will be the first Indy 500 where safety for fans is as big an issue as safety for the drivers.
Then there's football, just down the road. Heaven knows what happens then. The Big Ten has eliminated non-conference play, though it is a little hard to figure out why Wisconsin vs. Iowa is any safer than Purdue vs. Air Force. If things get bad, might there be no Rose Bowl for the first time since 1915, or no IU season since the late 19th century—and the Benjamin Harrison administration?
Somehow, presumably, it'll all work out one day and sports will move on. They have before. But right now, everything looks pretty blooie-blooie out there.•
__________
Lopresti is a lifelong resident of Richmond and a graduate of Ball State University. He was a columnist for USA Today and Gannett newspapers for 31 years; he covered 34 Final Fours, 30 Super Bowls, 32 World Series and 16 Olympics. His column appears weekly. He can be reached at mjl5853@aol.com.
Please enable JavaScript to view this content.