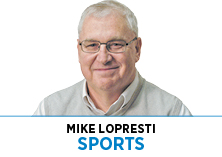 The subject is basketball, and don't we think we've seen it all in Indiana? We've savored Oscar Robertson and Larry Bird, Reggie Miller and Rick Mount. We saw Bob Knight pile up three national championships and throw one chair. We put 41,000 in the Hoosier Dome for the high school state finals, and watched Butler fall one basket shy of completing maybe the greatest Cinderella tournament story ever told. We've never forgotten Bobby Plump making a jump shot that changed his life, nor Jimmy Chitwood reenacting it for Hollywood.
We like to think we own this game.
But we ain't ever seen this. Nobody has ever seen this.
An entire NCAA Tournament in one place. First Four to One Shining Moment, and all of it as Indiana as Orville Redenbacher. That's the plan, anyway, if all the t's get crossed. Unheard of. That didn't happen even when this whole idea was a newborn. The first tournament in 1939, as the war clouds gathered in Europe, was played in San Francisco, Philadelphia and Evanston. March Madness has always been shared by many hosts, like a progressive dinner. But not this year.
Think of it this way. Through 81 years of the tournament, the entire state has hosted 136 NCAA games—from South Bend to Evansville, from Terre Haute to Fort Wayne and Indianapolis. There might now be 67 games played here in barely three weeks.
Indianapolis could really catch a break on this one after months of bad news. Lots of cities have lost big in the pandemic. You should see what no College World Series did to Omaha. Indy has taken it in the teeth, since it thrives on sidewalks and hotels filled with visitors, often in town to watch something bounced or thrown or raced. But the 500 had to be run in August, to empty stands. The Big Ten men's basketball tournament was lost, as was an NCAA regional, and the state boys finals, and big-time swimming events. The NBA All-Star Game is probably a goner. The Big Ten football championship game, assuming the season gets that far, will be mostly fan-less.
But now, here comes March Madness, made in Indiana. Crowds might be optional, but the focus on the game, and the tradition of the host, won't be. Somewhere, John Wooden is smiling, and James Naismith probably doesn't mind, either. He always liked the way the state worshipped his peach baskets.
If it has to be anywhere, why not here? They're working on the details now, the NCAA and the Indy folks. Who knows if anything and everything is on the table? But if we're in the mood to dream, here are a few suggestions.
◗ Schedule as many games as possible into Hinkle Fieldhouse.
The grand old lady deserves that. It's unfortunate that no NCAA Tournament game has been there since 1940. It's an absolute crime that no high school tournament games are there anymore. Take advantage of this unique situation and allow Hinkle a national stage. Imagine the first-round games in the afternoon, with the light coming through the windows, as Hinkle should be experienced. The players would love it. The chance won't come again.
◗ Sprinkle a few games into high school gyms.
The NCAA might not be big on the notion, but it has an undeniable charm. If any of the coaches or players are cranky at the idea—"We're playing in a high school gym?"—they just don't understand Indiana. In no other state could you even suggest such a thing, which is exactly why they should do it. The first choice would probably be Southport, but the one that ought to go first is New Castle. World's largest high school gym, when it was 9,000, and now it has been shaved to just under 8,000. If attendance is restricted, capacity won't matter, anyway. It'd just be a nice place to play. Ask Steve Alford or Kent Benson.
While we're on the subject of high school basketball, the IHSAA might have to do some fast thinking about its state finals, assuming they happen. A vacant arena might be a little tough to find that weekend in Indianapolis.
◗ Maybe NCAA games at the "Hoosiers" gym in Knightstown?
Yeah, yeah, it's way too small. Hickory won't be in the field. But the movie buffs would love us for asking.
◗ Send a few teams south to IU and north to Purdue.
It's been a long time since either welcomed an NCAA Tournament.
Bloomington's last hosting duty was the 1981 regional, otherwise known as the Indiana Classic. The Isiah Thomas-led Hoosiers got to play on their Assembly Hall floor and were expected to face a blue-ribbon field of top-ranked DePaul, Kentucky and Wake Forest. All three were upset the first week. Sooooo … Indiana played UAB and St. Joseph's, and won by 15 and 32.
The only tournament Mackey Arena ever saw was the 1980 first and second rounds, when Purdue was allowed to play at home and beat La Salle and St. John's. Two weeks later, the Boilermakers showed up in the Final Four in Market Square Arena. Indiana State had a first round in 1974 at the Hulman Center. No Larry Bird statue by the gate back then. He was in high school.
◗ Leave the Convention Center out of it.
You can't beat the location, and there certainly would be enough space. But a ballroom is a ballroom is a ballroom, no matter how much you try to basketball it up. The NCAA Tournament would seem a little too much like the Battle 4 Atlantis. Why do that, when there are so many basketball arenas handy?
◗ Put the bracket on the side of the JW Marriott again.
It'll be the first and likely only time in history that every player in the field can actually see it.
◗ Change the street signs downtown, like they do for the Big Ten tournament.
True, that'll be a challenge with 68 teams instead of 14. But you've got to like the idea of driving down Fairleigh Dickinson Avenue, or Iona Street.
◗ Keep the costs lower than the NBA bubble in Orlando.
The final tab for that was reportedly in the $180 million range, but they got the playoffs completed without one positive virus test. The NCAA would pay a lot for that happy ending.
◗ Answer the health questions.
Just how are they going to pull this off safely? The NBA was pretty self-contained at Disney World, and it was easier to protect the congregation from outside microbes. We're talking downtown Indianapolis, and maybe beyond. Lots and lots of logistics to this. Then again, one thing Indy knows is logistics for a big event, and that experience should be invaluable. It's just that—well, not to belabor the point—but nobody has ever seen this.
◗ Really hope a vaccine has started to make a difference by then.
It'd be great enough to have 68 teams roll into town, four of them here for three weeks. But imagine the boost to Indianapolis if they're all allowed to bring some fans with them? That could be the light at the end of a very, very long tunnel.•
__________
Lopresti is a lifelong resident of Richmond and a graduate of Ball State University. He was a columnist for USA Today and Gannett newspapers for 31 years; he covered 34 Final Fours, 30 Super Bowls, 32 World Series and 16 Olympics. His column appears weekly. He can be reached at mjl5853@aol.com.
Please enable JavaScript to view this content.