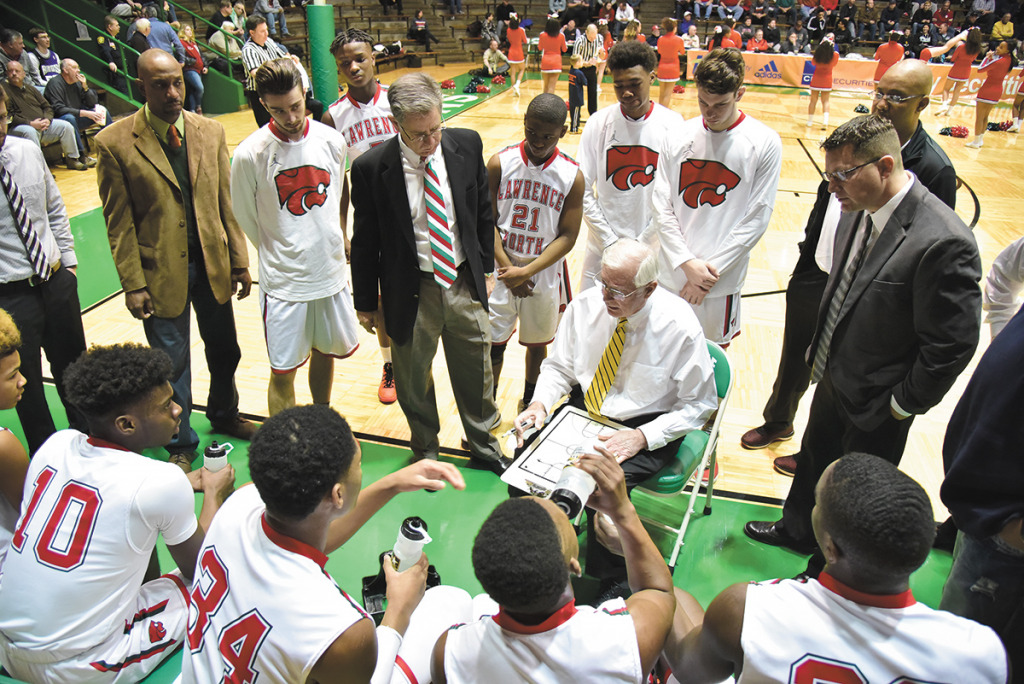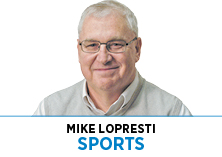 The virus is still out there, cutting a swath through the land. If you're of a certain age, certainly in your 70s, they keep repeating how vulnerable you are, how careful you should be.
Which brings us to the two winningest coaches in the history of Indiana boys high school basketball. In these chaotic days, what is going through the minds of Bloomington South's J.R. Holmes and Lawrence North's Jack Keefer?
Holmes, who began this season No. 1 on the all-time list with 836 victories, is 73 years old. Keefer, 16 wins behind at No. 2, is 77. The medical folks would warn you that these guys are squarely in the COVID crosshairs.
"I suppose I am. It's there," Keefer said. "If people would just do what they're supposed to do, we'd get rid of this stuff, but we don't. That's the sad thing.
"I had COVID during the sectional last year. I didn't have it bad, but I've had it. I had that antibody test, so the question is, how long will that [immunity] last? Do I still have it or am I going to lose it? And no one seems to know that answer. So, I can't be assured I won't get [the virus] again."
But he coaches on, as does Holmes. There have been so many victims, and high school gyms are not immune. Remember the deadly outbreak possibly linked to the Lawrence Central sectional last March? Might Holmes be a tad … worried?
"No," Holmes said. "My wife and I are going about our business the way it is. If it's time for the good Lord to take me, it's time to take me. We've tried to stay the same the best we could. I played many, many, many rounds of golf in the springtime because school was out and it was the only place you could go to get some exercise. I have tried not to worry about, 'What if?'"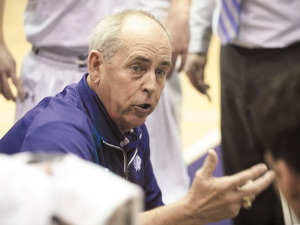 These two have never let age stop them before, and why should they now? Being past 70 doesn't mean you still can't win big. The new president-elect of the United States just turned 78. And have you noticed ACC basketball? North Carolina's Roy Williams turned 70 this year, and he's a relative kid. Florida State's Leonard Hamilton is 72. Duke's Mike Krzyzewski is 73 and has been around so long, he won national championships in his 40s, 50s and 60s, the first, fourth and fifth in Indianapolis. The granddaddy of them all in the ACC is Syracuse's Jim Boeheim at 75. Who, by the way, tested positive for COVID the other day.
So, it's no surprise that the fire should still be burning for Holmes and Keefer. "If it wasn't, I've got a little cabin down in Brown County. I'd be down there sucking air," Keefer said. "Now if I walk in the front door at home, everybody's like, 'Sit down, take it easy.'"
Still, Holmes and Keefer might have coached for 98 seasons and 2,323 games combined, but they have never been through anything like this.
Keefer: "It's crazy. School's boring, kids have to come after being home all day, and can't get here half the time because they don't drive and their parents have to come home and take them. It just goes on and on.
"We just have as few people around as possible. Absolutely nobody in the gym except the 12 players I'm dealing with and my assistants. We scrub the balls down daily. We all wear masks except when we're on the floor. Then when we get done, they put their masks back on and get out of here as fast as they can."
Holmes: "You don't know if you're going to be here tomorrow or not. One person can have a case and knock your whole team out. We went through the fall with our fall sports, worrying every day if they were going to be able to come back the next day. In football, we lost our last two regular-season games. I think it's very hard mentally to stay focused in, knowing it could be over tomorrow. We try to make it the same, but it does have a different feel to it to me."
They are wildly successful coaches, which means they have mastered the concept of trying to control only what they can control. But what happens when they can't control nearly anything?
Keefer: "I preach to them daily, 'Stay away from these women and stay home.' These are 16-year-old boys. College boys have figured out they can't do that. I think the ones who really care pay a lot of attention. I think they do stay home; I don't think they go to parties. Now, I don't know if all 12 of them do that, but the majority do."
Holmes: "I think that's the big frustration of all coaches. We preach this; we make them wear masks. But when they get out of the building and get together, you can't control that.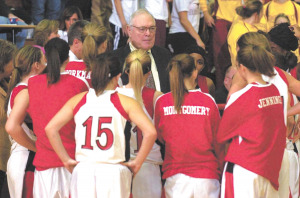 "Like I told the team the other day, 'I don't know if we'll ever get to game 1. But we've got to make sure it's not our reason that we're not playing. We have to make smart decisions [about] what we're doing, where we're going. We can only do what we can control.' When the game starts, you just hope that other coach has done the same thing with his team."
Both men were sectional champions last March and will never know how far they might have gone. Bloomington South was No. 1 and the state's lone unbeaten. Lawrence North was 22-2 and No. 3. Among the many things lost in the aborted tournament was the delicious possibility that the two winningest coaches of all time might have gone against each other in the semistate.
"We were on a little bit of a roll there," Holmes said. "So, when they called it off, it sunk in; we still were the only undefeated team in the state of Indiana. We met all of our challenges. I'm not saying we would have won it, but I think we would have had a good chance.
"Now with that said, we did get 26 games in. The spring sports got zero. So as athletic director, I really feel for the spring sports people. We had kids who were only half a second off setting school records in track, a lot of kids who were on the verge of getting scholarship offers if they had a good spring but didn't get the chance to do that."
So, both septuagenarians are back, trying to stay safe and stay focused and stay sane, like the rest of us. But the peril is real. Blackford's Jerry Hoover, lured out of retirement to coach his grandson and state scoring leader Luke Brown, led the Bruins to their first sectional title in 29 years last March. This is Brown's senior season, the year his grandfather had so eagerly awaited.
But Hoover is 86 and had pneumonia last winter. The COVID threat was too serious, and he decided to step aside.
Coaches understood more than most how that had to hurt. But, no, Keefer is not stopping for age, or for any virus. Neither is Holmes. You can be sure, though, they're never far from their masks.•
__________
Lopresti is a lifelong resident of Richmond and a graduate of Ball State University. He was a columnist for USA Today and Gannett newspapers for 31 years; he covered 34 Final Fours, 30 Super Bowls, 32 World Series and 16 Olympics. His column appears weekly. He can be reached at mjl5853@aol.com.
Please enable JavaScript to view this content.