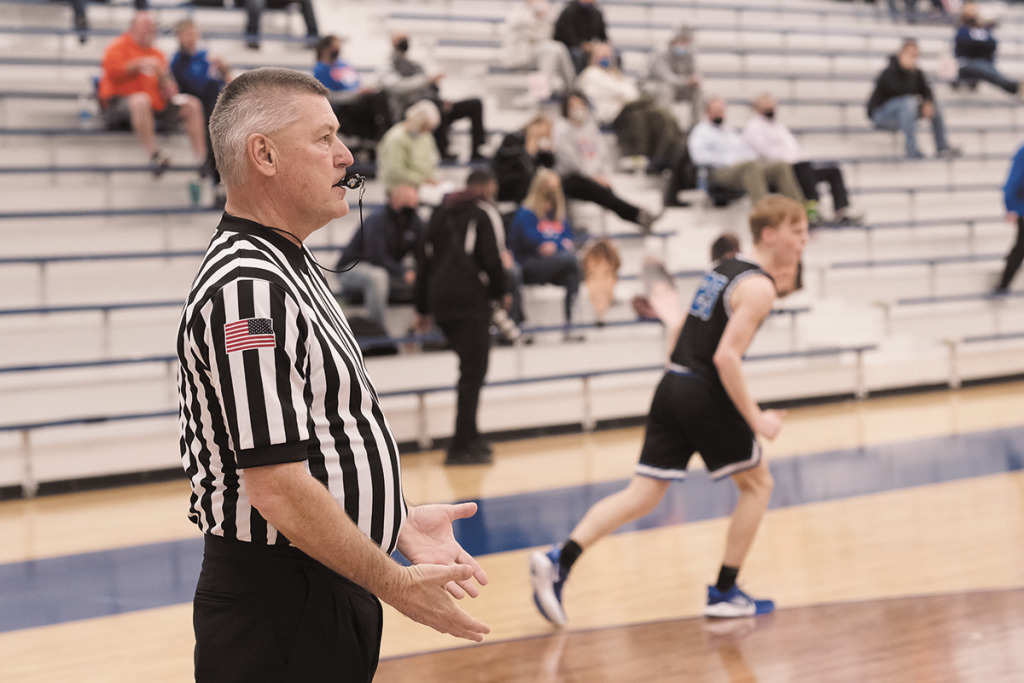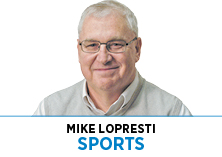 For the man who assigns officials to work high school basketball games, the COVID age has meant an infected wife and a cell phone that never stops ringing. What's it like out there this season, with all the postponements, the last-minute changes, the positive tests, the schedule constantly blowing in the wind?
Let's ask Gary Hamilton.
"Is this a recorded line?" he began. If so, he'll have to watch his adjectives.
"Interesting, unique, very difficult, trying, exhausting."
He's been working as an official for 40 years. He has assigned referees for 22 seasons, with more than 300 officials on his list, servicing 29 schools from Bloomington North in the south to Logansport in the north. He has never seen anything close to this.
"In a non-COVID year, I would probably have five changes a week due to guys getting injured, snow-outs, different reasons. I quit counting this year on one day in December, where I sat in my home office for 11 straight hours and never left, making changes. Teams were put in quarantine, officials were put in quarantine, changes of games, changes of times, changes of location. We're two months into the season now, and I've had over 500 changes."
Such as?
"We've had a game canceled where the officials were in route to the game. … I had one official tell me he took the entire day off on Dec. 29 so he could go work two games. Both his games got canceled … There's many times I'll go out and referee the first half, come in and my phone will have 13 text messages. I told my partners, 'If I'm not very good this half, it's because I'm trying to figure out who to send to another school at 4 o'clock, and it's noon.' So I'm multi-tasking all the time."
Hamilton is also a sporting goods salesman and operates a company that provides apparel to officials, but his assigning duties have become an all-encompassing grind. His cell phone went off at 11:45 p.m. the other night. It was an athletic director canceling a game the next day at 10 a.m. But the AD was trying to find another opponent, so could Hamilton round up some officials for maybe later in the day? Or maybe not.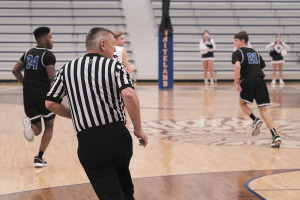 One of Hamilton's assignees is Mike Fox, who has been calling high school games since the 1980s and worked the state finals. For him, this has become a strange world, as athletic directors frantically search for officials. You need masks and hand sanitizer to play the games now, but you also still need referees.
"I get 15 emails a day—'Can you work here?'" Fox said. "It's not just me; it's a mass email. It's everything from middle school to boys' varsity. You could work every single night if you wanted to. Kokomo was supposed to have a tournament. The whole tournament was canceled, so now I don't have a game. Next thing you know, I've got offers for three different games."
And nothing is guaranteed. Nothing.
"I know a guy who works girls' games; he's had 22 games canceled," Fox said.
"You just never know who you're going to have when you walk into a gym. It might say Richmond and Connersville, and you walk in, and you've got Richmond and Hagerstown. What happened to Connersville? Well, they went on COVID yesterday. I was supposed to have McCutcheon at Harrison. I check in the day before, yep, still on. I get there to the game and it's at Harrison, but it's not McCutcheon, it's Rossville. I go to their AD: 'What happened?' Well, at 4 o'clock yesterday, McCutcheon called and said they had a coach test positive.
"And it's not just teams, it's referees, too. On the way to the school, your partners might change. You kind of like to know who you're working with before you get to the gym."
Something else is different, too: all the empty seats. Barren gyms on game nights have become a stark example of the swath cut by the virus.
Hamilton: "It is not Indiana basketball. It's like going back to our days of refereeing at the Boys Club or AAU, where there's 50 people in the stands, there's no band, no students. It's a different feeling—one we're not accustomed to, one we don't like."
Fox: "It's basically just families, depending on where you go. In my pre-game conference with coaches and players, I make sure they know that every word they say, every word the coach says, every word the referee says, is going to be heard by the guy on the 10th row. All of us, including referees, have to watch what we say."
Hamilton has sensed an increase in fan ejections. There are still knuckleheads in the stands and always will be; only now, there is little noise to hide the venom.
Another reality is the risk for officials. Fox is 58; Hamilton just turned 61. They're not in the red zone for the virus but still understand it can be serious at their age. Hamilton has direct experience; his wife, Mary, was infected in March.
"Fifteen days of hell, 104-degree temperature, all the aches and pains," he said. So, he's careful but understands nothing in a pandemic is for certain. "I know officials who have been ultra, ultra conservative. One of the guys on my football crew drove to every game by himself and wears a mask about 95% of the time. He came down with it."
Fox: "I wear a mask in the officials' locker room the entire time. I don't shower at the schools anymore, no matter where they are. I just go dressed so I can minimize my time in the locker room."
Fox said he was once like many officials, keeping a spare whistle in his pocket, and changing it from side to side to remind himself which team had rotating possession on the next jump ball. He still does—only, instead of a spare whistle, he uses a bottle of hand sanitizer. "COVID is absolutely a serious thing and it's killed hundreds of thousands of people, but I still think high school kids are about the least susceptible, and that's kind of what I rest on. If this was an industrial league down at the Y, with a bunch of 60-year-olds playing, I probably wouldn't referee."
Which brings up another problem, Fox said. There aren't enough officials.
The body of officials in Indiana is aging and dwindling, with not enough young replacements. The problem has been growing for years, but COVID made it worse. Hamilton had 21 officials opt out of this season because of virus fears. He thinks the shortage will be most acute on the junior varsity and freshman levels in years to come.
But just getting through this season is the immediate goal. There's a mini-crisis every hour, it seems. "Almost now, to be honest, I expect it. I know something's going to happen," Hamilton said. He is a man on a constant vigil, waiting for the phone to go off. He pretty much knows what it'll be about.•
__________
Lopresti is a lifelong resident of Richmond and a graduate of Ball State University. He was a columnist for USA Today and Gannett newspapers for 31 years; he covered 34 Final Fours, 30 Super Bowls, 32 World Series and 16 Olympics. His column appears weekly. He can be reached at mjl5853@aol.com.
Please enable JavaScript to view this content.