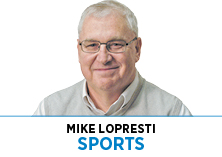 It was so quiet in Speedway the other day, a squirrel ambled across 16th Street at noon, not even needing to run to avoid traffic.
And this is May?
Yep. A very different May, where not one lap will be raced nor one chicken leg eaten at Indianapolis Motor Speedway, and you go to Walmart not for ice to fill the cooler, but a coronavirus test. Ladies and gentlemen, start your nasal swabs. There hasn't been a month like this since …
In lieu of heading to the Speedway this weekend, let's hop in the turbocharged time machine and return to the last raceless May, just to see what was happening.
It is Memorial Day, 1945.
The fighting just ended in Europe, but it still rages in the Pacific. On the home front, gas costs barely 20 cents a gallon, but the average citizen still is allowed to buy but four gallons a week. The idle Indy 500 competitors aren't the only guys who won't be driving fast this holiday—the national speed limit is 35 miles an hour, in an effort to preserve fuel and rubber. With travel so limited, only 10 Americans will die on the highways on Memorial Day, just three more than will drown.
There was no Masters last month, and there will be no Wimbledon next month. The Kentucky Derby had been in jeopardy, but with Germany's surrender, has been moved to June. A form of the French Open is still on the docket, for French players only, as it was during most of the years of Nazi occupation. The tournament was played in Paris in 1944, before Allied armies closed on the city.
The National Basketball League was just won again by the Fort Wayne Zollner Pistons, a professional team that plays its games in Northside High School's gymnasium. It won't be long—two years—until something called the NBA is born. The Green Bay Packers are defending NFL champions, competing in a 10-team league that includes the Boston Yanks and Brooklyn Tigers. Oklahoma A&M—to one day be called Oklahoma State—won the NCAA Tournament, which invited eight teams and took only six days to complete. Both Indiana and Purdue had sub-.500 basketball seasons, the Hoosiers losing to DePauw.
On the north side of Indianapolis, Butler's famous Fieldhouse hasn't seen a basketball game in years, having been turned into a barracks for military recruits. In a different part of town, a 6-year-old is learning to love the game. His name is Oscar Robertson. Another young Hoosier, John Wooden, is in the Navy. Earlier this year, an appendectomy prevented him from taking an assignment on the aircraft carrier USS Franklin. Two months later, the ship was heavily damaged by a Japanese air attack, and the man who took Wooden's place was killed. He was Fred Stalcup Jr., and was Wooden's fraternity brother at Purdue.
Baseball has continued through the war, at the express wish of President Roosevelt. True, the All-Star Game for 1945 is canceed, but someone has come up with the idea of interleague exhibition games in July. So it'll be the New York Yankees against the Giants, Boston Braves against the Red Sox, St. Louis Cardinals vs. Browns, and so on. Interleague games won't count, of course. Whoever heard of such a crazy thing?
The Indianapolis Indians are in second place in the American Association. The team they trail is the Milwaukee Brewers.
The war has emptied clubhouses, with thousands of major and minor league players serving in the armed forces, including stars such as Ted Williams and Bob Feller. Another player-turned-pilot is Bert Shepard, from Dana, Indiana, in Vermillion County.
Shepard interrupted his baseball plans to join the Army Air Force, was shot down on a mission over Germany and lost part of his right leg, a German doctor performing an amputation to save Shepard's life. The Hoosier learned to pitch with an artificial leg in a POW camp, and now that he's back home, he's still dreaming of the big time.
A major leaguer with one leg? Not a chance, surely. But with so many players gone to the war, teams have had to fill rosters as best they could. In 1944, the Cincinnati Reds called up pitcher Joe Nuxhall, who was 15 years old. The 1945 season will see Pete Gray, a one-armed outfielder, play in 77 games for the St. Louis Browns and hit .218. Pete Schreiber will pitch for the Yankees. His last major league appearance was 1923. Joe Heving will take the mound for the Braves. He's 45—and a grandfather. The level of baseball might be suffering, but the public doesn't seem to mind. The 1945 season will set an all-time attendance record.
So might there yet be a spot for Shepard and his impossible dream? Yep. In August, he will pitch 5-1/3 innings for the Washington Senators, giving up only a run and three hits. Japan will surrender 11 days later to end World War II. He'll never play in a big-league game again.
Actually, he's the second Dana native to make headlines in 1945. In April, another famous Dana native son had been killed during the fighting on Okinawa. Beloved war correspondent Ernie Pyle.
Auto racing? Forget about it, with gas and tires so precious. The 30th running of the Indianapolis 500 had been scrubbed three weeks after Pearl Harbor, and there had been no race in the three years since. Speedway owner Eddie Rickenbacker knows a thing or two about conflict. He was a fighter pilot ace in World War I.
But in the May 30 edition of The Indianapolis Star, there is a small story at the bottom of page 16. Only three paragraphs. The headline reads, "Speedway Race May Be Revived In 1946 or 1947." The war should be over by then, and there will be eagerness for racing again. But will the speedway be usable? The stands are dilapidated, weeds grow among the bricks. Some fear it will never reopen.
Still, on this Memorial Day in 1945, there is a crowd headed for the speedway. Bing Crosby and Bob Hope will be giving a show and golf exhibition in the afternoon, with proceeds going to a rehabilitation fund for war veterans. More than 6,000 people will pay $2 to watch. Won't be a race, but it should be good forsome laughs.
The end is in sight in the Pacific. Like the story on page 16 suggests, maybe racing can resume soon. But something must be done about the Speedway …
We're back in 2020. We know now that six months after the no-race Memorial Day of 1945, the track was sold to savvy businessman Tony Hulman, who had a renaissance in mind. This Memorial Day weekend is so quiet on 16th Street, even the squirrels aren't hurrying. The parking lots are empty, the acres of stands vacant—and another savvy businessman is newly in charge. Like Hulman 75 years ago, Roger Penske looks at a dark Speedway this barren May, and envisions brighter and louder days ahead. The Brickyard in July, the 500 in August.
He hopes.•
__________
Lopresti is a lifelong resident of Richmond and a graduate of Ball State University. He was a columnist for USA Today and Gannett newspapers for 31 years; he covered 34 Final Fours, 30 Super Bowls, 32 World Series and 16 Olympics. His column appears weekly. He can be reached at mjl5853@aol.com.
Please enable JavaScript to view this content.