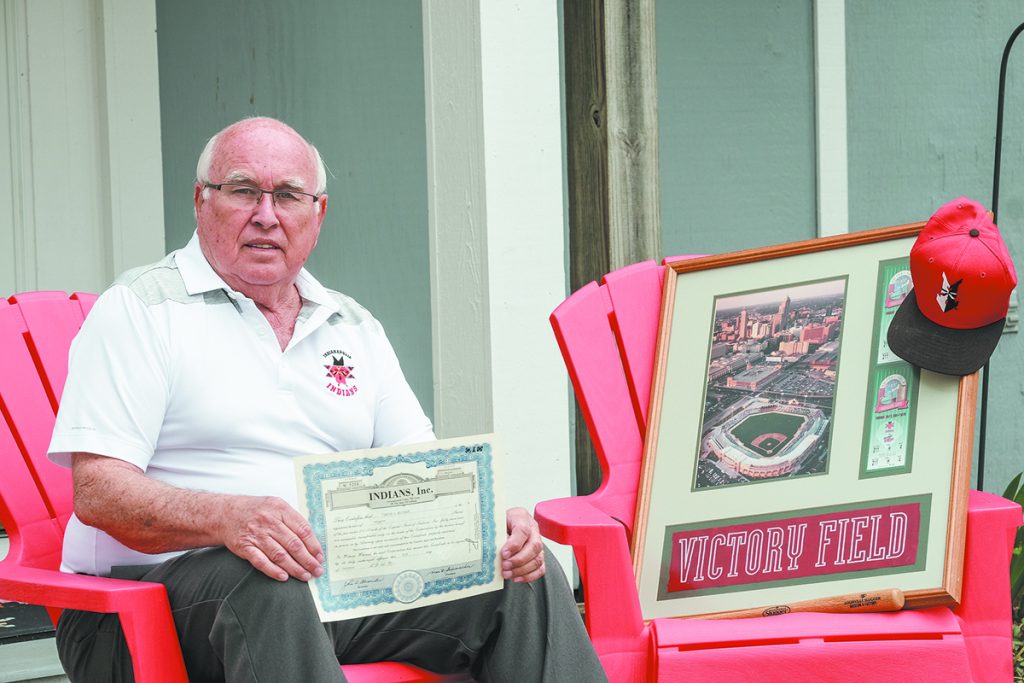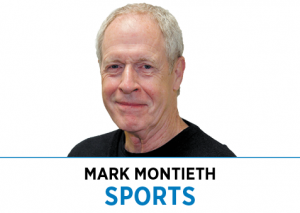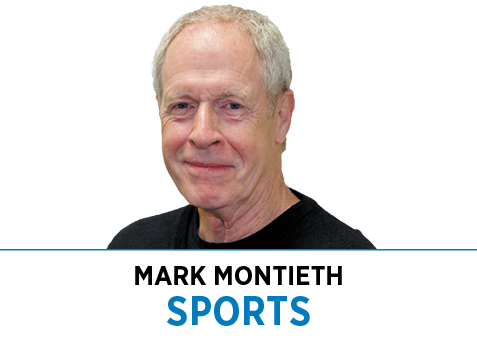 Amid the passing of six decades, a reverse split, annual buyback offers and countless discarded and lost stock certificates, the story of one of local history's greatest investments comes down to this:
Back in 1955, 13-year-old Tim Whitaker learned the future of the Indianapolis Indians was in doubt. He was a baseball fan. He also was an industrious kid with a paper route. So, when he heard about the rally on the Circle to sell stock to save the franchise, he convinced his mother to ride with him on a city bus from their northeast-side home so he could perform his civic duty. He emptied the $10 worth of coins he had collected in a bag and purchased one share.
He still has one share.
At last report, that share was worth $46,000.
No, he's not planning to sell it.
"It's more sentiment than it is dollars to me," he said.
Such sentiment fueled the drive that saved the Indians for Indianapolis when they were in danger of being moved or sold by their parent club in Cleveland. It was not unlike the telethon that saved the Indiana Pacers over the Fourth of July weekend in 1977, a community rallying around a team to keep it from leaving the city.
The Indians, however, had more time to prepare for their game-saving grab than the Pacers, so they didn't seek donations. They offered an investment opportunity that has paid off astonishingly well—at least for the minority of shareholders who treated it like an investment rather than a donation.
The Indians were owned by their major league affiliate, the Cleveland Indians, from 1951-1955, but the relationship deteriorated. After the Indianapolis franchise lost about $150,000 during the '55 season, Cleveland officials declared they would move the team or sell it to a buyer in another city if someone in Indianapolis didn't step up.
The purchase price was $60,000, but more would be required to keep it afloat. Repairs were needed at the old Victory Field on West 16th Street. Spring training expenses had to be covered as well, and some of the player contracts would have to be purchased from Cleveland. A fundraising goal of $160,000 was established and, on Nov. 8, a "Save Baseball in Indianapolis" stock drive was announced in the local newspapers.
Local banker Frank McKinney, who had owned the franchise before selling it to Cleveland, devised a program in which 16,000 shares would be made available to the public for $10 each, with a maximum allowable purchase of 100 shares.
The effort was directed by the Chamber of Commerce board: Chairman Robert Kirby, a funeral home director; automobile dealers Thomas O'Brien and William Krafft; real estate developer Thomas Moynahan; and attorney David Lewis. They each put up $1,000 to incorporate the fundraising organization, Indians Inc., and were awarded20 shares.
The rest of the money would have to come from the masses. A deadline of Nov. 26 was established, by which time 75% of the goal would have to be achieved. If not, the drive would end, all money would be returned, and the team would be moved elsewhere.
The motivation to retain the Indians ran wide and deep. Their lineage dates back to 1887, so even in 1955 they were a local institution, 68 years old. Baseball was by far the nation's most popular sport at the time and the Indians were the city's predominant professional franchise—the only one, in fact. The Olympians of the National Basketball Association had folded in 1953 and the Capitals of the American Hockey League collapsed in 1952. Losing the Indians would have been a crushing blow, even for civic-minded folks with no interest in sports.
"If we hadn't stepped up, they'd have been gone," recalls Whitaker, a retired Indianapolis firefighter. "Back in that day, we didn't have the Colts or the Pacers. We didn't have any sports except the Indians. They were getting ready to take the last team out of Indianapolis."
The outpouring from the citizenry was sparked and maintained by a concerted media push that would violate today's journalistic norms. All three Indianapolis newspapers—the Star, the News and the Times—published coupons to send in with money to purchase stock, along with frequent articles to update and encourage the progress. Some ran on the front page of the newspaper and editorial-page pleas went out as well.
A Star sports columnist wrote: "The very prospect of losing baseball should strike terror into the heart of every real sports fan. Now is the time for the public-spirited citizens who are in a financial position to buy stock in big blocks to do so.
"Time is running out. Don't let baseball slip through the hourglass with it."
To pay tribute to the investors and create peer pressure, the name and address of every stock buyer was published in boldfaced agate type, along with the number of shares purchased.
Fans of the team stepped forward in other ways, too.
Hank Clouse, a former Indians bat boy making his living as a portrait photographer, offered to go to the home of anyone who purchased even one share and take a color family photo at no charge.
Some fans posed for staged photos that ran in the newspaper. A Star photo showed Nettie Bay in her home holding the receipts for her stock purchase in her left hand and holding her right hand to her forehead to point out where she had been struck by a foul ball at an Indians game when she was 17 years old.
Donald Krueger, president of the Jaycees, owned a hearse that was used for various promotional activities in the city; he drove it to the Circle to help attract prospective buyers. Jaycees members wore baseball caps and Indian headdress to liven up the event. The headline for the story in the News announcing the attraction read, "Hearse on Hand So Indians Won't Die."
Sufficiently aroused, the public met the Nov. 26 deadline for reaching 75% of the final target. The drive continued through the end of the year and resulted in 6,672 people buying shares that raised nearly $205,000.
The Indians were saved. More than saved, actually. They received a generous bonus to provide a rainy-day cushion—which was a good thing, because they would lose $90,000 in the 1956 season.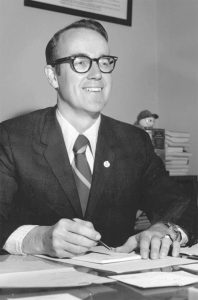 At the time, nobody could have predicted what would become of the Indians or their shares of stock. Who could have foreseen that the franchise, under the direction of General Manager Max Schumacher, would further ingrain itself in the city's culture and become a model minor league operation? Who could have known the team would one day move into a sparkling downtown stadium that contained suites and other revenue-producing amenities? And who could have guessed that one day major league affiliates would assume ownership of the player contracts, significantly reducing the overhead for minor league teams?
Most of all, nobody would have bet the Indians would today own a streak of profitable seasons that goes back at least to 1982, according to CEO Bruce Schumacher.
Having 6,672 shareholders was a source of great pride at first and even was made part of the team's logo for several years. But they became a problem over time, difficult to round up and communicate with. So many of the stock certificates had been lost or discarded over the years because they had been purchased as a donation rather than as an investment. They rarely were included in wills, and if they were, many of the beneficiaries paid no attention. Who cares about a $10 stock certificate?
About 3,000 of the original shareholders owned just one share, and another 2,000 had bought two or three. To consolidate their shareholding group, the Indians executed a five-for-one reverse split in 1985. Those who owned fewer than five shares could cash them in for $29.67 apiece, nearly triple the original value, or could pay $106.80 for each share they wanted to retain.
Whitaker did just that, but many shareholders cashed out or simply did nothing, figuring it was too much bother for such a small amount of money that would generate a capital gain to be declared on their income tax form. Many others couldn't be reached because they had not fulfilled their obligation to notify the franchise of address changes or inheritances. That further reduced the supply and greatly increased the value of the identifiable shares.
The Indians have also reduced the count with annual buyback offers. Today, there are slightly more than 200 shareholders who control slightly more than 700 shares, each of which carried a buyback price of $46,000 and paid a dividend of $1,400 per share according to last November's shareholder report. That dividend was about half of those in some recent years, reduced primarily by the expense of a major suite reconstruction project at Victory Field. The undetermined loss of games this summer due to the coronavirus obviously will have a major impact on next year's buyback price and dividend.
Still, it's been a grand slam investment. Buy a share for 10 bucks, wait 30 years and kick in another $106.80, wait another 34 years and have the option to cash it in for $46,000? Seems fictional.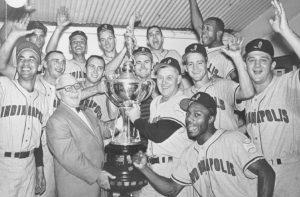 Want in on it? You'll need plenty of luck and persistence. The Indians don't sell shares and they are no longer listed on the Pink Sheets, an over-the-counter exchange. One would have to scrounge for them, perhaps buying from another shareholder or acquiring from an estate.
That's how Chris Gassen of Grosse Pointe Woods, Michigan, a suburb of Detroit, has managed to accumulate a single-digit number of shares. A baseball fan and retired mutual fund manager with an interest in closely held stocks of smaller companies, he investigated securities firms and similar sources in search of Indians shares. He bought his first one about 15 years ago for $20,000.
He's become emotionally attached to his collection, but only to a practical limit. He attends the annual shareholders meeting in February along with 20 or 30 other people and catches a few Indians games at Victory Field every season on his way to visit his son, who attends Rose-Hulman Institute of Technology.
Those visits make him feel good about his investment. He's impressed by the fact that spilled drinks are immediately mopped up and restrooms are still clean in the eighth inning. And once, while attending a Fourth of July game, the decorative bunting was slightly blocking his view. He politely objected and it was lowered for him.
"That just doesn't happen at a ballpark," he said. "It almost reminds you of Disney World, where they go the extra mile to do everything in a fan-friendly way."
That's not to say he wouldn't sell for the right price. He just doesn't consider the buyback offers to be reflective of the true value.
Joe Drescher is among the original shareholders who accepted a buyback offer. Like Whitaker, he was a kid (16) and a serious baseball fan who wanted to do his part to keep the Indians in Indianapolis. He mailed $10 from his home in Spencer to buy one share. It was no small amount of money for a teenager in 1955, the equivalent of about $96.50 today.
"My mother had an absolute fit," Drescher said. "She thought that was like pouring $10 down the drain."
Drescher sold his share in 2012 for $26,265 when he thought changes could be forthcoming in the capital gains tax rate. His loyalties to the team and the stock remain firm, however. He's attended every Indians home opener since 1952. He's also a former business teacher at Pike High School and a seasoned investor. Whenever students asked about his most successful investment, he had an immediate answer: the $10 share he purchased to help save the Indians.
"Nobody believed me, but it's true," he said.
Whitaker sees no way he'll ever part with his single share, expecting it will go to his wife via his will someday. In the meantime, he'll enjoy his hefty annual dividend and the knowledge he's part of the 6,672-member club that saved the franchise for Indianapolis.
"I have no intention of cashing it in," he said. "Why would I? I've been to several major league stadiums around the country and our little stadium compares to any of them. It's just a nice atmosphere. People have fun, it's clean, it's a good value for the money. And the hot dogs and popcorn are pretty good, too."•
__________
Indianapolis native Mark Montieth is a longtime newspaper reporter and freelance writer. He is the author of three books: "Passion Play: Coach Gene Keady and the Purdue Boilermakers," "Reborn: The Pacers and the Return of Pro Basketball to Indianapolis," and "Extra Innings: My Life in Baseball" with former Indianapolis Indians president Max Schumacher.
Please enable JavaScript to view this content.