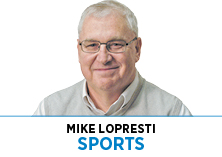 This was Christmas 1971. Dinner was on the table, so why were so many guests still parked around the television in the family room? It would be a topic of national conversation later how many holiday meals were delayed that evening—until the longest game in NFL history could be decided by a 5-foot-7 kicker from Cyprus, who nearly became a Butler Bulldog …
But wait. That's getting ahead of the story.
Christmas is coming, which is a big day for toy stores, gift shops, and of course, the NBA. It's the annual quintupleheader, involving all the usual starry suspects, but certainly not the Indiana Pacers. They haven't been invited in 16 years, since that crazy holiday in Bankers Life Fieldhouse, when security was at Defcon 1 because of …
But that's also getting ahead of the story.
Sports do not take Dec. 25 off. They never have. German and British troops supposedly played soccer in no-man's land on the Western Front during the unofficial Christmas Truce in 1914, then returned to their trenches, picked up their bayonets and gas masks, and resumed killing each other. So, to mark the season, here are 12 Days of Christmas. A dozen sports moments that lingered long after the last of the pie.
1947: The NBA was new and looking for marketing gimmicks and someone came up with a swell idea: Play games on Christmas! As far as players and coaches and referees and arena workers having to spend the day away from home and their families, well, that was regrettable but necessary in the pursuit of making a buck. It still is.
Anyway, among the winners that day were the Chicago Stags, Washington Capitols and Providence Steamrollers. They're all long gone, but the tradition of the NBA on Christmas has been alive ever since. Only now, they stack games on top of one another like dinner plates, seeking to squeeze out the last possible Nielsen rating.
1961: Wilt Chamberlain's numbers often made him a one-man video game. This Christmas, he piled up 59 points and 36 rebounds. Still, they weren't enough to win, as his Philadelphia Warriors lost to the Knicks 136-135 in two overtimes.
1963: The Cincinnati Royals outlasted the St. Louis Hawks with 37 points, 15 rebounds and 16 assists from Mr. Triple Double himself. You know him better as an Indianapolis kid, Oscar Robertson.
1984: Bernard King scored 60 points for the Knicks in a 120-114 loss to New Jersey. Still the NBA Christmas record.
1985: Led by 32 points from rookie Patrick Ewing, the Knicks came from 25 points behind to beat the Boston Celtics. It was something of his NBA coming-out party. Watching at home, and no doubt mumbling into their holiday punch, were the Pacers. Just a few months earlier, they had finished second in the draft lottery, missing the chance to take Ewing. The NBA loved Ewing in New York, which provided conspiracy fodder and made a good many Pacers fans talk about the propriety of that lottery the way Donald Trump talks about the last election.
2003: It was always nice on a wintry Christmas to watch a few minutes of the Hawaii Bowl. Not for the game, but for the scenes of the sunny beaches. But this time, the football was the attraction, as Hawaii beat Houston 54-48 in three overtimes. It was the last Christmas for the Hawaii Bowl. The TV folks made it change dates to get out of the way of the NBA holiday buffet.
2004: The Los Angeles Lakers vs. the Miami Heat, otherwise known as the first meeting between Kobe Bryant and Shaquille O'Neal since their messy LA divorce. A surefire TV winner. Bryant scored 42 points, but Miami and O'Neal won 104-102 in overtime. This remains the highest-rated Christmas game.
2008: The Lakers came in a glittering 23-5, and that wasn't even the best record on the court. Boston was 27-2 and had won 19 in a row. But Los Angeles snapped the streak 92-83, giving Phil Jackson his 1,000th victory.
2010: There are two men you absolutely know you'll see on Christmas. One wears a red coat and drives a sleigh. The other is LeBron James. This was James' first holiday as a Miami Heat, and with his keen sense of timing, he promptly produced a triple double to beat the Lakers. This year will mark his 14th consecutive Christmas appearance.
2011: A lockout delayed the season, so the NBA opened on Christmas, with Miami at Dallas in a rematch of the previous June's chippy NBA Finals. The Heat probably didn't enjoy spending the holiday watching the Mavericks raise their championship banner in a pre-game ceremony, but they won the game.
2004: Now about the Pacers. The Malice at the Palace had happened on Nov. 19, when Indiana and the Detroit Pistons had embarrassed themselves and the NBA in a horrendous brawl that led to mass suspensions. Guess who was scheduled to come to town 36 days later for Christmas, and help the Pacers celebrate peace on Earth, goodwill toward men? Yep, their Palace sparring partners.
Bankers Life was prepared for unrest, including putting a tarp over the exit tunnel, to protect the Pistons from any hurled objects. But the spirit of Christmas held. Both teams passed out packages to kids before the game, and while there were some boos and unfriendly signs, nothing ugly happened.
"Just a kid asked for a headband, wasn't nothing more than that," Detroit's Rasheed Wallace said that day of his experience with fan reaction. Wallace's late 3-pointer led the Pistons to a 98-93 victory, despite Reggie Miller's 24 points. Jermaine O'Neal was just back from suspension and scored 21. "Everybody's happy this game is over," he said afterward. "Now we can move on."
1971: If we need a sports moment on top of the Christmas tree, this is it.
At 4 p.m., the Miami Dolphins and Kansas City Chiefs kicked off in an AFC playoff game. They had met only six times in history, Kansas City winning them all. Fourteen players on the field that day would end up in the Hall of Fame. So would both coaches, Kansas City's Hank Stram and Miami's Don Shula.
What they did together that holiday was magic, not to mention lengthy. Kansas City, playing at home, took leads of 10-0, 17-10 and 24-17. Each time, Miami came back to tie. The Chiefs appeared to have the clincher, when future Hall of Famer Jan Stenerud lined up for a short 32-yard field goal with 35 seconds left. He missed wide right. Overtime.
For 15 extra minutes, no score. Second overtime.
The nation's love affair with the NFL on TV was still blossoming in 1971, and all over America, viewers kept vigil. Day turned into night. Christmas dinner had to wait. "Everyone I knew in Miami told me they had to shut off their ovens to avoid ruining their Christmas turkeys," linebacker Nick Buoniconti told The New York Times years later. They didn't have that problem in Kansas City, with its local TV blackout. Chiefs fans at home were left to watch reruns of "Hee Haw."
Finally, in the 83rd minute, the Dolphins moved into field-goal range, thanks to a 29-yard run by Larry Csonka, a Christmas baby who was celebrating his 25th birthday. The issue was then left to little Garo Yepremian, who had come to this country from Cyprus and made extra money by making and selling ties.
About Yepremian. The story goes that he came here with an idea to play soccer, and was living in Indianapolis with his brother Krikor, who had gone to Indiana University and was studying law. Then Garo learned about football—They'd pay you to kick if you were good enough?—and found a place to work on his new passion. The Butler Bowl.
One summer day, a Bulldog player wandered into Tony Hinkle's office and suggested the coach take a look at the guy booming field goals in the stadium. Hinkle stopped by, saw enough, and the recruiting process began. Yepremian even participated in a preseason scrimmage. Except that all stopped when it was discovered the NCAA would not grant Yepremian eligibility, because he had played semipro soccer in England. Oh, well.
Yepremian ended the Christmas epic with a 37-yard field goal for Miami. But even then, there was one more holiday surprise. When the Dolphins returned home late that night, Shula's car battery was dead. He had to hitchhike home.
Match that, NBA. The league will have five games next week, from noon to midnight, Miami to LA. The Pacers? They'll be in action the next day, just like the after-Christmas sales.•
__________
Lopresti is a lifelong resident of Richmond and a graduate of Ball State University. He was a columnist for USA Today and Gannett newspapers for 31 years; he covered 34 Final Fours, 30 Super Bowls, 32 World Series and 16 Olympics. His column appears weekly. He can be reached at mjl5853@aol.com.
Please enable JavaScript to view this content.