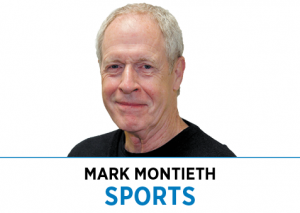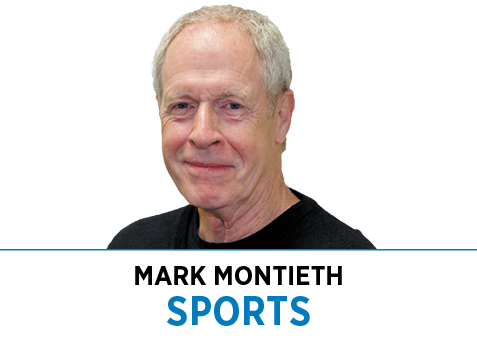 What causes athletes to have one shining moment and then fade away?
Malcolm Gladwell's modern classic, "Outliers: The Story of Success," explains what separates the high achievers from the masses. Not to give away the ending or anything, but it boils down to consistent and productive behavior over a long time, although other factors play a role.
It's certainly true in the sports world. Hall of Famers have genetic advantages, but they also have worked hard and for many years to get from the crowded mainstream to the exotic island of Induction. Uncontrollable circumstances matter, too.
But what about the athletes who rise above it all to produce a statistical anomaly just once and then fade back into obscurity? How do we classify them? Outlier temps? Simply lucky? Or, perhaps, unlucky for not getting more opportunities to show what they can do?
They are rare because most players good enough to excel once do it several more times, but we should appreciate the rarities also. They help make sporting events the greatest reality show. You never know when someone will rise Walter Mitty-like from the neighborhood of nowhere and have the game of his or her life. They are like the one-hit wonders of the music world who have their walk on the wild side and an oh, happy day.
Rob Phinisee, for example. Indiana's senior guard has largely been regarded as a disappointment throughout his career in Bloomington. He was averaging 4.6 points on 29% shooting through the first 14 games this season and had scored a combined two in the two games before the Jan. 20 game against Purdue.
Then he goes out and scores a career-high 20 points—17 in the first half—to lead an upset victory. Playing 26 minutes, he hit 8-of-13 shots, including 4-of-7 three-pointers, the last of which proved to be the game-winner with 16.9 seconds remaining.
Phinisee's breakout was the result of a heart-to-heart conversation with coach Mike Woodson the morning of the game.
"We really had a good talk, and it lifted my spirit," he said.
That's one way to do it. Usually, though, statistical outliers are a confluence of rare opportunity and a peak performance. Such was the case with these other unexceptional local athletes who once had exceptional games.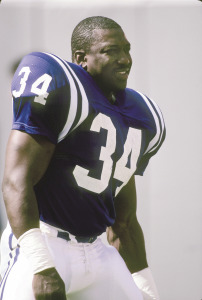 George Wonsley
Sept. 22, 1985
27 carries for 170 yards, five receptions for 32 yards
Fourth-round draft pick George Wonsley started just 15 of the 78 games he played for the Colts over five seasons. It always took an injury to provide that opportunity for the intended backup.
He got his first call in 1985 when starter Randy McMillan was injured and Wonsley proceeded to run wild and free in a 14-6 victory over Detroit. At the time, his 170-yard effort was the fifth-best in the 32-year history of the Colts franchise. He added another 32 yards on five receptions.
He had run for just 111 yards the previous season as a rookie. He went on to run for 716 yards in this season, so accumulating 170 of those yards in one afternoon was a major aberration.
"I had a lot of games like today in high school," Wonsley said afterward. "It's kind of funny, because it makes me feel like I'm in high school again."
Bruno Sundov
Jan. 30, 2001
17 points, nine rebounds
At 7-foot-2 with a soft shooting touch, Bruno Sundov was full of intrigue.
A second-round draft pick of Dallas, he played 17 games over two seasons for the Mavericks before they cut ties. The Pacers signed him as a free agent in 2000 and thought enough of his potential to give him a two-year contract.
Coach Isiah Thomas praised Sundov's "exceptional" offensive skills during training camp in Orlando, and international scout Misho Ostarcevic said Sundov was more advanced at age 20 than the Pacers' recently retired center Rik Smits had been. Reggie Miller weighed in with the opinion that Sundov needed a couple of years to develop, but said, "He can be a player."
Sundov wasn't a factor early in his first season with the Pacers, but then, on a particular night back in Orlando in late January, he looked like he might be ahead of schedule. Having played in just three games for a total of 19-1/2 minutes to that point, he got a starting opportunity against the Magic because of injuries and responded with 17 points on 8-of-14 shooting and nine rebounds in 33 minutes.
Intriguing, indeed.
"We need him to get stronger and everything, but I thought he was spectacular," Thomas said.
Sundov, though, kept a level head about it.
"I'm not worried about my offense," he said. "I need to work on defense and getting rebounds to stay in this league, and I know that."
James Mungro
Nov. 10, 2002
28 carries, 114 yards, two touchdowns
James Mungro was an undrafted running back who had been cut by Detroit in the preseason before coming to the Colts in 2002. He lasted four seasons in Indy and appeared in 43 games, but started only once—when injuries left no choice in the matter.
He made the most of it, rushing for 114 yards and scoring two touchdowns in a 35-13 victory at Philadelphia that ended a three-game losing streak. It must have come as a shock to Colts fans, because Mungro had not played in the season's first seven games and had gained 60 yards the previous week. It must have come as a shock to the Eagles, too.
"He ran like a Heisman Trophy candidate," defensive end Hugh Douglas said.
Mungro ran for 49 yards on his first carry and gained 84 yards in the first quarter. That forced the Eagles to adjust their defense to honor the Colts' running game that had been sluggish to that point of the season. That, in turn, helped enable Peyton Manning to throw for 319 yards and three touchdowns.
Mungro became just the sixth Colts player to rush for more than 100 yards in his first start. He put on his display before about 600 fans from his native East Stroudsberg, Pennsylvania, who attended the game.
"It's a dream come true," Mungro said in the locker room. "All my life, people have been telling me I'm too slow. I keep proving them wrong."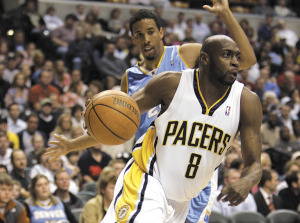 Anthony Johnson
May 4, 2006
40 points on 16-of-23 field goal attempts
Anthony Johnson was a classic journeyman point guard, a second-round draft pick whose 13-season NBA career took him from Sacramento to Atlanta to Orlando to Atlanta to Cleveland to New Jersey to Indianapolis to Dallas to Atlanta to Sacramento to Orlando before he hung up his atlas at age 35.
He was a backup mostly, a guy teams kept around (for a while at least) as a solid defender who didn't turn the ball over. For one game, however, and a playoff game at that, he was sensational. His 40-point outburst against New Jersey and its 10-time all-star point guard Jason Kidd was so stunning it took some of the edge off the Pacers' season-ending loss at then-Conseco Fieldhouse.
Johnson had never scored more than 29 points in a high school game or more than 25 in a college game. He had averaged 9.2 points during the regular season leading up to this playoff series.
"It's bittersweet," he said afterward. "It would be great if it was in a winning performance. I never shot this much in my life. … I never cared to shoot that much. But tonight, I had it going and I took it upon myself to lead us a little bit."
In a better world, these breakout games would have become turning points, confidence-boosting jolts that led to better careers. But they weren't. They were diamonds in a pile of pebbles.
Wonsley's euphoric feeling that reminded him of his high school football career didn't last long. He carried four times for 16 yards the following week. He played in 78 games in his career but never surpassed 100 yards again.
Sundov started the next three games after his "spectacular" debut as a starter but scored only six, four and two points. He rarely played the rest of the season. He came back to play in 22 games the following season but never scored more than six points. The Croatian had brief and uneventful stints with Boston, Cleveland and New York in the NBA before heading back to Europe, where he played until 2019.
Mungro's second-best rushing game with the Colts was 75 yards in the 2002 season. He also had a 60-yard game. He ran for 94 yards combined over his final three seasons, then suffered a major knee injury in training camp in 2006 and retired.
Johnson was blunt following his 40-point gem, which concluded a frustrating season for the Pacers. "I think the culture has to change," he said in his postgame press conference. "Sometimes, there's a lack of professionalism and a lack of understanding. We need to give more effort to the team situation and not think about individual wants and needs."
As it turned out, Johnson got swept up in that culture change. He was traded to Dallas in the off-season. He played four more seasons for four more teams but never again scored 40 points. Or 30 for that matter. He might be the only player in NBA history to score 40 or more points without ever stopping along the way to score in the 30s. He finished with a career-scoring average of 5.6 points.
As for Phinisee, he received a standing ovation from the Assembly Hall fans upon entering IU's game against Michigan two days after his heroic turn against Purdue. He proceeded to hit just 1-of-5 shots and finish with two points in 18 minutes in an 18-point loss.
He's fortunate, though. He's got more games to play, several opportunities to obliterate the outlier tag. The others are left with the one shining moment they never came close to equaling.
Which is one more than most of us get.•
__________
Montieth, an Indianapolis native, is a longtime reporter and freelance writer. He is the author of three books: "Passion Play: Coach Gene Keady and the Purdue Boilermakers," "Reborn: The Pacers and the Return of Pro Basketball to Indianapolis," and "Extra Innings: My Life in Baseball," with Max Schumacher.
Please enable JavaScript to view this content.