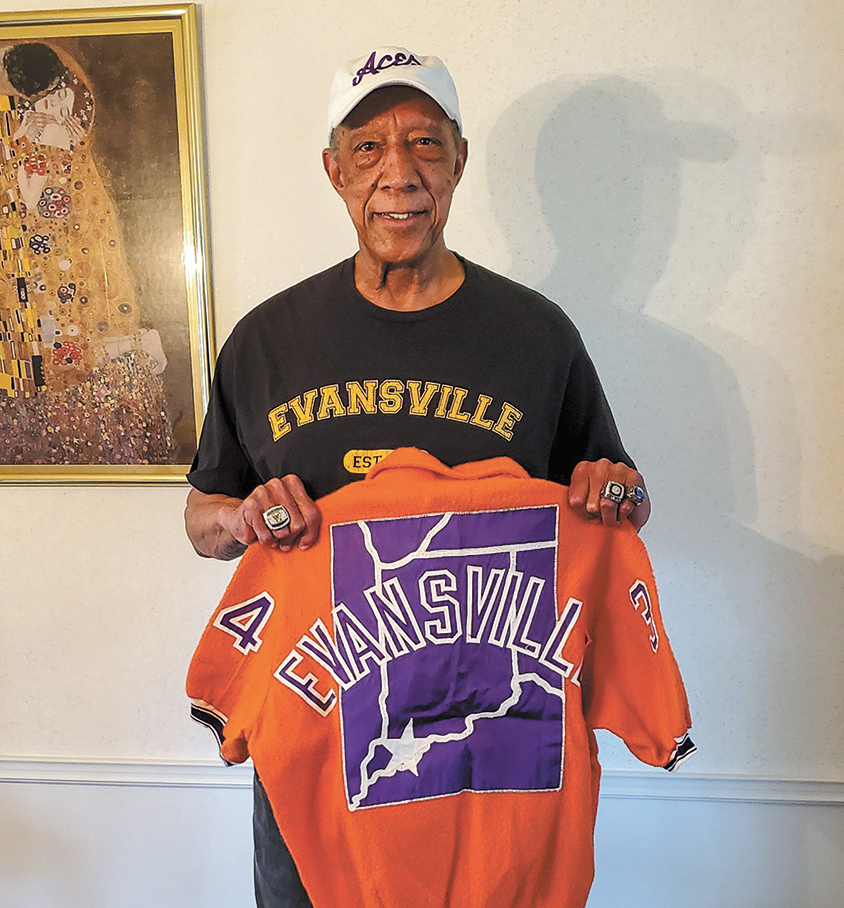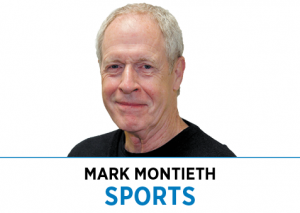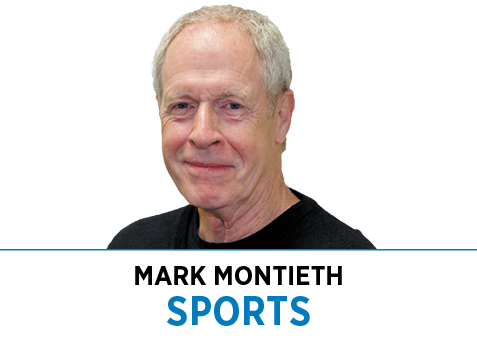 When I was a single-digit-age kid in the 1960s, I had Evansville pegged as a great city.
I had never been there, didn't know anyone from there and probably couldn't have found it on a map. But after seeing the university's basketball team play at Butler, I just knew any squad with uniforms that cool must surely come from a special place.
Maybe it was the fact that guys bearing the nickname "Purple Aces" wore orange uniforms. Not just orange uniforms, but uniforms with short-sleeve jerseys, trimmed in purple and white. And not just orange uniforms with short-sleeve jerseys trimmed in purple and white, but uniforms covered by full-length satin robes—robes!—in a rainbow-rivaling array of colors worn by players on the bench.
Basketball uniforms are a bigger deal than ever these days, an essential element of branding. NBA teams have a Kardashian closet's worth at their disposal, and many college teams spice up their apparel options with throwbacks and alternate colors.
But all these slaves to fashion might as well be wearing burlap sacks compared to what Evansville's basketball team once broke out. Back in the day—and it was a long-ago day—the Aces dressed so daringly and colorfully that nobody has come close to matching up with them in the sartorial sense.
If by now you're wondering why an Indianapolis business publication is running a story on a southern Indiana college basketball team's uniforms from more than 40 years ago, here's why: Those uniforms represented innovative thinking, daring experimentation and practical applications, with an added dose of fun-filled flair—success elements for any organization or business.
The man behind the fashion show was Arad McCutchan, who coached at Evansville from 1946 to 1977. At some point in the '50s, he instituted his trademark touches: the orange roadies with sleeves and the robes of many colors.
Go ahead and laugh if you wish—and certainly fans in opposing arenas did—but scoreboards usually flashed a silent rebuttal. McCutchan's teams won Small College (what now would be called Division II) national championships in 1959, '60, '64, '65 and '71. That, along with his career record of 514-314 and 14 Indiana Collegiate Conference titles, got him inducted into the Indiana Basketball Hall of Fame in 1973 and the Naismith Hall of Fame in 1981.
He didn't just feast on smaller schools, either. His 1963-1964 national championship team beat Purdue by 26 points. His undefeated (29-0) championship team of 1964-1965 opened the season with victories over six Division I opponents: Iowa, Northwestern, Notre Dame, George Washington, LSU and Massachusetts.
So, don't mistake McCutchan for some Midwestern Ralph Lauren wannabe who missed his calling. But don't call him a trend-setter, either. You're not setting trends if nobody follows your blueprint—you're a maverick.
'Ahead of the field'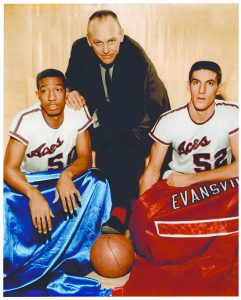 McCutchan, who grew up on a farm just north of Evansville, was both a hard-nosed fundamentalist whose teams ran hard and played rough and a high-minded intellectual who taught physical education and math classes at the university. On the one hand, he liked to joke that his Biblical first name, Arad, was Hebrew for "Wild Ass." On the other, he kept the games in perspective.
His son, Allen, who played for him, recalled his speech to the players the night before the 1965 championship game that was to be played on their home court at Roberts Stadium.
"Guys, I want you to realize what's going to happen tomorrow should we lose this game," he said.
The players snapped to attention, wondering what horrible fate might await them if they fell short before their home fans.
"We're going to get up in the morning and have breakfast," McCutchan said.
"He realized they were putting plenty of pressure on themselves, that he didn't need to add any," said Allen McCutchan, a retired medical professor who lives just outside of San Diego. "That's one of the secrets; you let the competitive spirit in your athletes motivate; you don't have to motivate them."
Most of all, Arad McCutchan was creative. He used analytics to evaluate personnel long before they were in vogue, assigning a point value to the various positive and negative aspects of a player's game. He maintained structure but gave freedom to the more skilled players. He used a platoon system for his 1964 championship team, alternating the starters with a backup unit, but didn't do that with the following season's champions.
His teams played an up-tempo game, always seeking fast-break opportunities, but excelled in the half court as well. And his players still brag about his innovative inbound plays.
"He was amazing, how much ahead of the field he was," said Columbus, Indiana, native Steve Welmer, a center on the Aces' 1971 title team. "He had a reason for doing everything."
Method to his madness
Evansville's uniforms, then, were not fashion statements. They were strategic elements designed to give his players an edge, while adding some panache that excited the paying customers—which gave his players an even greater edge.
Why orange?
His teams often played in poorly lit gyms, particularly in the '50s and '60s. The drab winter clothing worn by fans only made the background that much darker. By wearing orange, regarded as the most visible color, his players could more easily spot open teammates for passes.
"You get a rebound and turn around and look for an outlet pass—a darker color is going to blend in," Welmer said. "But you turn around and catch orange, you know where to throw it."
Why sleeved jerseys?
They helped keep the players warm in the drafty gymnasiums of the day and served the secondary purpose of camouflaging the puny builds of some of the players, thus making them less self-conscious.
"Guys coming out of high school usually weren't well-built, so the sleeves hid how thin they were," said Don Buse, another member of the '71 title team who played seven seasons for the Indiana Pacers.
OK, but the robes. Why full-length, satin robes?
They were partially a nod to flamboyance, but McCutchan had reasons for them as well. They kept the players warm on the bench and were easier to get on and off than traditional warmups.
The robes, made for boxers but customized for the Aces, were provided by a local sporting-goods-store owner, Gus Doerner, a former Evansville All-American who had played professionally for the Indianapolis Kautskys. They came in shiny hues of red, blue, green, purple, silver and yellow. The players wore traditional orange pullovers for pregame warmups—kind of difficult to run layup lines in robes, right?—but donned the robes on the bench after coming out of the game.
"I loved them," said Larry Humes, Indiana's Mr. Basketball in 1962 and a two-time All-American for the Aces. "All the guys on my team loved them. You stayed warm and you didn't feel naked."
"I tell you, those robes worked," added Rick Smith, a member of the 1971 championship team who keeps a purple robe in his closet at home. "They had six or eight snap buttons down the front. When the coach said, 'Go in,' you had that thing off in no time."
'A conversation piece'
The robes provided an easy target for heckling fans. At St. Joe, according to Darrell Buente, a former student manager who went on to become the university's equipment manager, about a half-dozen male students wore bathrobes to the game when the Aces came to town and sat directly across from the visitor bench in the front row of the upper level to mock Evansville's attire.
The uniforms also could distract opponents, at least for a while. Billy Shepherd, Indiana's Mr. Basketball in 1968 out of Carmel High School and then a star guard at Butler, remembers the robes well.
"You looked over at the bench and they looked like a bunch of Easter eggs," he said.
"It was just different. The first time you play against something like that, it could have a little effect on an opponent. But you got used to it after a while and it was just a conversation piece."
If opposing players considered the Evansville ensemble ridiculous, they didn't say it out loud. Most seasons, that would have been like tugging on Superman's cape. Or robe.
"I didn't hear any comments," said Humes, whose teaching, coaching and counseling career included stops at Shortridge, Howe and Attucks high schools, as well as the University of Indianapolis.
"Probably because we were beating their ass at the time. We were putting it to them."
The uniforms, particularly those precious robes, are a point of pride for McCutchan's players today. Jerry Sloan, who, like Humes, was a first-team All-American in 1965, visited campus during the NBA lockout in 1995 when he was coaching the Utah Jazz.
The robes were no longer a part of the Aces' uniform by then, having been abandoned after McCutchan retired in 1977. Sloan asked if any were still lying around, so Buente gave him the only one he could find, a silver model he was keeping for himself.
But wait, there's more.
The Red Army
McCutchan also introduced red to his program's palette. His wife gave him a pair of red and black socks for Christmas in the late '50s, so he wore them to the next game. Adults from the community made up the vast majority of the 13,000 or so fans who filled Roberts Stadium, and they sat lower than the students. They copied the coach. When he began wearing red vests and ties, many of them went all in by wearing as much red as possible.
They eventually became known as the Red Army. The students who sat higher up, however, were less inclined to play along.
Frank Deford, the legendary writer for Sports Illustrated, found his way to Evansville to write a feature article on the Purple Aces in February 1965. He described the scene as looking "like a bomb had burst at mid-court, the shrapnel drawing less blood higher up."
McCutchan further riled up the fans by making a tradition of crossing his legs to show off as much red sock as possible whenever victory was assured, a cocky, crowd-pleasing gesture much like Boston Celtics Coach Red Auerbach's lighting a cigar on the bench whenever his team locked up a win.
For anyone doubting the practical inspiration behind McCutchan's wardrobe choices, consider that he went the opposite direction when it came to footwear. He insisted his players wear plain white basketball shoes, even after styles that included stripes or other markings came to the marketplace. No colored shoelaces, either.
McCutchan thought plain models blended better with the playing surface and were less visible to referees, therefore drawing fewer traveling violations.
So, if you're scoring at home, here's the recap: The Purple Aces wore orange uniforms on the road trimmed in purple and white along with robes of blue, red, green, yellow and silver. They also wore robes at home over white uniforms trimmed in purple and orange, while their coach and fans wore various quantities of red.
It made for a daunting atmosphere, even for a future Hall of Famer such as Walt Frazier. He was a member of the Southern Illinois team that played Evansville three times in the 1964-1965 season, losing twice by one point and ultimately by three in the national championship game at Roberts Stadium.
"I was coming from Atlanta, where football is king," Frazier once said. "Now I come to Southern Illinois. We go to Evansville, and it was like going to Madison Square Garden. Ten thousand people screaming … and they come out in these boxing robes. It was like being in the Roman Coliseum, man. I was like, 'What is this?'
"It was intimidating, man. Very intimidating."
All because of an opportunistic coach who made it his business to find every possible advantage. If he happened to make a positive impression on some young kid sitting in the balcony at Hinkle Fieldhouse, all the better.•
__________
Indianapolis native Mark Montieth is a longtime newspaper reporter and freelance writer. He is the author of three books: "Passion Play: Coach Gene Keady and the Purdue Boilermakers," "Reborn: The Pacers and the Return of Pro Basketball to Indianapolis," and "Extra Innings: My Life in Baseball" with former Indianapolis Indians president Max Schumacher.
Please enable JavaScript to view this content.