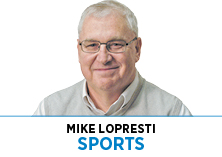 BLOOMINGTON—Here in aisle 19, no one else is around. Vacant rows stretch every direction, so there is an unobstructed view of a Memorial Stadium with thousands of empty seats. Down below, Indiana is playing Minnesota, seeking its third victory—same as the Hoosiers were doing when October began.
Last home game of the football season, and it wasn't supposed to be like this. But that was before the Great Bellyflop of 2021.
Here in aisle 19, the blue sky seems a heartless tease. The Hoosiers haven't seen sunshine in months. There is no bowl talk and no buzz. This weekend last year, the Hoosiers were 4-0 and in Columbus, scaring the scarlet and gray out of Ohio State. An alternate universe, it seems. At the end of this day, they will be 2-9.
The Old Oaken Bucket is imminent. They didn't play it last season, and nobody has been able to say that since 1920. The ancient rivalry will be rekindled, and in Indiana's case, it will be one last chance to find shelter from the Category 5 hurricane this season has become. That's what the Bucket has been good for in a lot of years—to be taken as a pain reliever.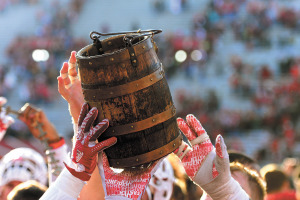 It is a numerical shock, to look back down the rocky road the Hoosiers have traveled and measure the magic of 2020 against the misery of 2021. It is one of the great swan dives of our time, going from No. 17 in the pre-season Associated Press poll to quite possibly a winless conference record.
How does a defense that intercepted 17 passes in eight games in 2020 come up with only five in 11 games in 2021?
How does an offense that produced 38, 36 and 35 points against ranked opponents in 2020 get held to two touchdowns or less by seven conference teams in 2021?
How does an average scoring differential go from plus 8.7 to minus 14 in one year?
How does the reigning Big Ten receiver of the year, Ty Fryfogle, have one touchdown catch after 11 games?
How does a team endure so many injuries that it has had to use four quarterbacks, including a walk-on? ("It's kind of come down to the point where it's the last man standing," coach Tom Allen said).
Hard luck. Bad execution. A brutal schedule—six IU opponents this season have been in the top 10. And now a sour taste for those who looked at this team in August and saw a contender, only to find out that was a mirage. The higher the optimism, the deeper the disappointment if it doesn't happen. That's one reason a stadium that saw crowds of 50,000 in October is so lonely up here in aisle 19.
One way to follow this trail of torment is with the Hoosiers' own words. You can sense the hope turning into worry, and the worry turning into dejection.
◗ Allen at pre-season Big Ten media day: "You cast a vision for what you believe you can become at a certain place, and I did that when I came to Indiana and talked so much about change in the expectations and creating belief, and those expectations are beginning to change. … It's about us building off of the success we had in 2020, because everything you did last year, it's awesome, it's great, but it's in the past."
◗ Allen after the opening loss at Iowa: "It's a long season. One game will not define us. … This was not Indiana football."
◗ Allen after the Cincinnati defeat: "Just like I shared with our guys in the locker room a few minutes ago, you got to look at yourself in the mirror, look yourself in the eye, you got to stand up and take responsibility. I got to own the 1-2 start. I'm the head football coach. … It's not where any of us wanted to be, expected to be at this point. As I said to them, 'Here we are; what are you going to do? How are you going to respond?'"
◗ Fryfogle after the shutout at Penn State: "This will be the turning point of our season, to find out how good we are. … It's to the point we have to decide how we want the season to end up."
◗ Allen after the close loss to Michigan State: "They're hurting right now. And I understand why. We can't sit here and feel sorry for ourselves, because nobody else is going to. … The negative thing about grit is, you have to learn it at hard times."
◗ Linebacker Micah McFadden after the 54-7 crunching by Ohio State: "We got to flush this. This is a start to a completely new season for the Hoosiers."
◗ Allen after the 38-35 defeat at Maryland: "We needed this win. … We got let down by our defense."
◗ Allen after more injuries in the 29-7 loss at Michigan: "I've never seen anything like it … an unfortunate theme of the whole season."
◗ Allen after the 38-3 collapse against Rutgers, a team that lost 52-3 the week before IU and 28-0 the week after: "It wasn't like a real positive message in the locker room. It was pretty in your face. And that's what it is because it's not acceptable. I get it. I understand this is hard. But you have to also take a strong, hard look at yourself and how you want to be known and remembered and identified by how you play the game."
◗ McFadden: "I think obviously injuries have affected this team in a way, and I think guys could have prepared a little bit harder. I think there could have been a little more effort throughout our fall camp preparations to really get everybody's minds ready for this season."
If it's any consolation, this sort of thing happened in other places, too. USC was No. 15 and fired its coach in September. Texas was No. 21 and has dropped six in a row, its longest losing streak in 65 years.
But nothing quite like this. On the field below, Minnesota has padded its lead. Soon it will be over and Memorial Stadium will go dark for 2021, and all that will be left is the Bucket game in West Lafayette and a last chance to salvage something from a train wreck.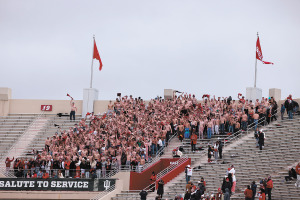 "Beat Purdue," Allen would say on his way out the door of his post-game press conference, which is held in a meeting room that still has the buoyant message of late summer on the wall: "What have you done today to win the Big Ten?"
In aisle 19, bare-chested students have shown up to wave their shirts. What else is there to do? You look at the IU crowd, so giddy with expectation in September and now melting away on Senior Day, and you wonder where hope comes next in Bloomington.
Oh, right. Next door is Assembly Hall.•
__________
Lopresti is a lifelong resident of Richmond and a graduate of Ball State University. He was a columnist for USA Today and Gannett newspapers for 31 years; he covered 34 Final Fours, 30 Super Bowls, 32 World Series and 16 Olympics. His column appears weekly. He can be reached at mjl5853@aol.com.
Please enable JavaScript to view this content.