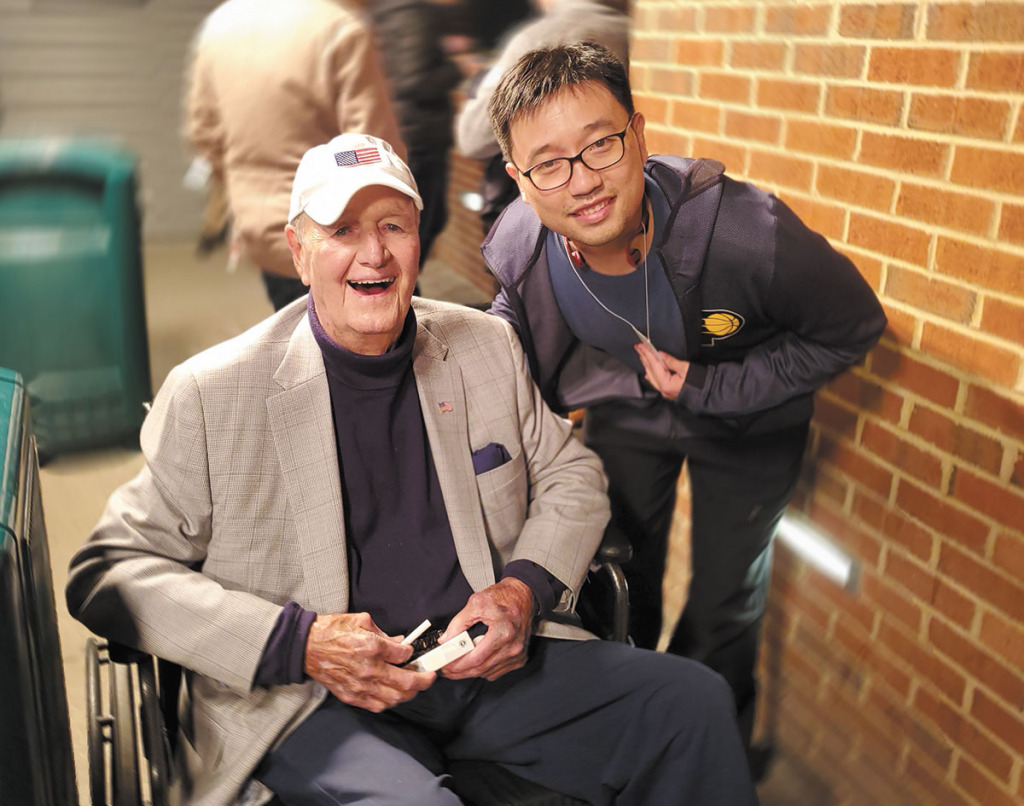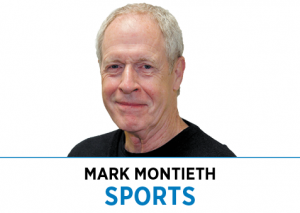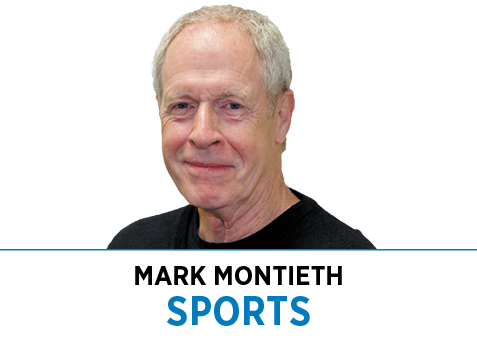 He was a high school basketball star in Terre Haute and a big man on campus at Indiana University, where he hit the free throw that won a national championship. He played in the NBA for seven seasons, coached there briefly and eventually took over an underachieving collection of Pacers in the ABA and reformed them into championship material three times over.
After the expiration date on his coaching career had passed, he gained new renown with a broadcasting career that spanned nearly 40 years. His trademark shout of "Boom Baby" after every made three-pointer became ingrained within the vocabulary of sports fans throughout the state, shouted on driveways, putting greens and anywhere else a long shot of some sort dropped.
But all of those accomplishments, nice as they were, have little to do with how Bobby "Slick" Leonard became Indiana's most beloved sports figure. The explanation for that was his ability to connect with the players he coached and the fans he met. To understand where that came from, you have to explore the Depression-era childhood that made him eternally grateful and humble. And, yes, a little crazy.
"They broke the mold when they made that one there," former Pacer Darnell Hillman once said.
Leonard passed away peacefully in his sleep on Tuesday in the Zionsville home he shared with his wife of 66 years, Nancy. He had weathered continuous health storms over the past decade, including heart attacks, a broken hip, bacterial infections, the COVID virus, an aortic aneurysm and a urinary tract infection. He spent most of his last months propped up in a recliner, cared for by Nancy and home health care personnel, but never lost his good memory, sense of humor and generous spirit.
He was a medical wonder in many ways, making it to age 88 despite engaging in nearly the full complement of legal vices. In his final years, no more than 30% of his heart was pumping blood and he was sustained by a smorgasbord of medications, but his congenial and accessible nature never failed him. He received a continual stream of visitors from his living-room reclining chair nearly to the end, and the landline phone—for which he and Nancy always kept a listed number so friends could reach them easily—was in constant use.
Put simply, he had people skills, probably unlike anyone you've ever met. And they took root in an unlikely hardscrabble upbringing that provided little in the way of material comforts but everything he would ever need to succeed in life.
Hard-earned lessons
Leonard's father had but a fourth-grade education and worked mostly as a ditch digger for $12 a week. That wasn't enough to provide for a family, so young Bobby often took a gunny sack to a lot near the railroad yards on Saturdays to have it filled with flour, sugar and canned goods.
He found plenty of ways to entertain himself, free of charge, and wondered in hindsight how he survived them all. He swam unmonitored in the rushing waters of the Wabash River. Once, he managed to fall through the lid of a vinegar barrel. Another time, he nearly sank in a sand pit in the railroad yards.
He found ways to exercise his imagination, too. He loved to watch the passenger trains pass through town. Where were those strangers on the other side of the windows going? What curiosities awaited him in the outside world that was a total mystery to him?
Basketball would become his vehicle for exploring that world. He couldn't help it, growing up in Indiana in the '30s and '40s. His introduction to playing the game came courtesy of a dozen local boys who had fought in World War II and made it back alive. Marines. Tough guys. A few of them welded a goal and attached it to a neighborhood garage. They strung a spotlight to an oak tree so they could play late into the night. Young Leonard, a skinny kid not yet in his teens, joined in as often as he could.
"They knocked the daylights out of me," he recalled. And he loved it.
He could dream on the basketball court, too. In March, he would plug in a radio to a nearby outlet and play to the backdrop of state tournament broadcasts. If nobody else was available to compete against, he settled for one-on-one matchups against an "imaginary friend." And he never lost.
'He had our backs'
That active and unspoiled upbringing, coupled with a natural gift for communication, served him well in life. He was a rare gift of leadership, balancing on the fine line between hard-driving taskmaster and player's coach. He could throw tantrums in the locker room, kicking chairs and screaming at his players, then drink beers with them in the hotel bar that evening. He advised them on personal matters, attended the funerals of their family members and took their money in card games on airplanes—but gave it back.
There was no need for him to author a book on organizational leadership or motivation. He could distill his coaching philosophy down to a couple of paragraphs, a legitimate lesson plan for all coaches if they had the personal tools to implement it.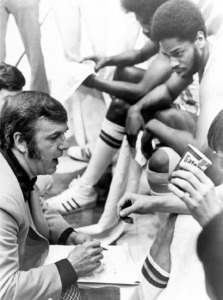 "If you're phoneying up on them, they'll figure you out pretty quick," he said of players. "You've got to let them know you sincerely care about them and their families. There's a time when you need to kick 'em in the butt and a time to hug 'em.
"Every player is an individual. You have to understand what kind of person they are. And you play to their strengths."
He challenged players but instilled confidence as well. "Walk out there like you own the damn place," he'd tell them before road playoff games. It was no coincidence they clinched all three ABA championships—in 1970, 1972 and 1973 —on the road.
His approach helped build championship teams and created a family atmosphere unique in professional sports. The players, front-office employees and stat crew members gathered for holiday parties at someone's house throughout the year, often the one belonging to him and Nancy. During the season, referees might even show up. The bonds remained intact long after the basketball careers ended.
"When we say we were a family, we really were," Pacers center Mel Daniels once said. "A lot of guys say that and it's like, 'Yeah, right.' But this was real."
Added Hillman: "It got to the point sometimes where it was like, 'You want me to knock the wall down? Show me where it's at,'" Hillman said. "We were ready to run through a wall for him. He had our backs."
Fan loyalty
Leonard's knack for relationships continued beyond his coaching career, which ended in 1980. Brought back as a color commentator for television broadcasts in 1985, and then shifting full time to the radio broadcasts with Mark Boyle in 1994, his reach extended worldwide. In recent seasons at Bankers Life Fieldhouse, after the radio broadcast crews were moved halfway up the arena, he sat in the concourse before games and visited the "smoker's porch" at halftime. He signed countless autographs and posed for countless photos. Seemingly every Pacers fan has a story of meeting him.
That includes fans from the other side of the globe. Those who managed to attend games routinely sought him out and were always rewarded. Holick Lee, a longtime Pacers fans from China, first met him at a game in Washington, D.C., in 2004. Made aware of Lee's presence, Leonard walked up into the stands before the game to say hello. They have met before every game Lee has attended since then, in 2012, 2013 and 2017. Leonard also met with Lee and a group of Pacers fans in Beijing when the team traveled there for exhibition games in 2009.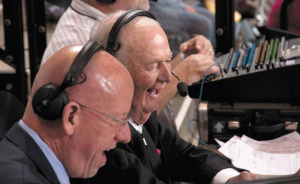 "Boom Baby is like God's words to fans here," Lee said.
Leonard also received autograph requests from international fans. France, the Philippines, you name it. There's no better example of his generous spirit than of the time a fan didn't include postage to cover the return. Leonard was willing to mail it back, anyway, and pick up the tab but couldn't read the return address. Rather than throw it away, he went to the post office to see if someone there could decipher it but without success.
That brand of Golden Rule decency won over fans in droves, but the idolatry Leonard received never affected his outlook. He remained at heart the poor kid who stood in line for food, the kid who took a pounding from ex-Marines, the man who kept a listed phone number at the peak of his fame. Even when he finally received basketball's highest individual honor in 2014, selection to the Naismith Basketball Hall of Fame, he took it in stride.
"They must have run out of old guys," he said.
Now time has run out on Leonard. He achieved his stated goal of exiting pain-free and in his sleep, and his legacy is secure. It will be cemented by accomplishment, sure, but even more by the down-home charisma that reached around the world.•
__________
Montieth, an Indianapolis native, is a longtime newspaper reporter and freelance writer.
Please enable JavaScript to view this content.